Content Creation
How Healthcare Solutions Providers are Driving Differentiation with Educational Content
By Megan Williams on June 27, 2023
With forces like the pandemic, patient consumerization, and waves of Boomer retirement emptying staff rolls and filling nursing homes, complexity in the healthcare field has gone well beyond the pale. The need for next-gen healthcare solutions is greater than ever. Yet, webinars and white papers from professional organizations and mainstay publications are no longer enough to support healthcare organizations and providers in their search for solutions. As a healthcare solutions provider, you're functioning in an era in which your prospects (and existing customers) need educational support that provides clarity in the midst of chaos.
That clarity should come from educational content marketing—content strategies from vendors who differentiate themselves as educators by strategically using their internal expertise and unique perspectives on industry challenges.
For most healthcare vendors, this means a shift in perspective in content marketing—learning to see content as a sophisticated and growing resource for customers who need your knowledge…a tool for building relationships by offering material support and market-specific insights.
So let's look at the payoff, some examples, and a few questions you can ask to create an end-to-end educational content experience for your healthcare customers.
How Educational B2B Healthcare Content Strategy Pays Off
Segment-specific educational content is critical to proving you can solve specific healthcare challenges—a critical access hospital in Oklahoma will have different issues and goals from a 3,000-bed health system in Southern California. Make an effort to focus your content strategy on the needs of your market, and you'll realize a range of benefits.
You're Feeding Your Entire Content Ecosystem
The beauty of an educational approach to your content marketing is that it aligns elegantly with an ecosystem-centric approach to content marketing. If you're producing marketing content asset-by-asset, you're likely making the research and purchase process more difficult for your customers by failing to connect the dots across your marketing funnel. In the process, you're missing the opportunity to build deep topic authority in the specific areas of expertise you could be known for. An educational content strategy tackles these problems head-on.
An educational approach means your assets interact organically, and authority emerges as a natural byproduct.
Positioning yourself as an educational brand also makes feeding the five components of the content ecosystem much easier.
Foundational Content: Educational content is an excellent way to familiarize readers with your brand while clearly outlining the pain point you solve—showing instead of telling in the process.
Search Content:

 Search content, by its nature, should focus on answering the questions your prospects need answers to, which means providing content that educates them about how to think about and begin to solve their challenges—in its purest form.

Thought Leadership Content: When educational content offers unique insights and leverages the thought leaders within your organization, it's also building your brand's reputation for thought leadership.
Product Content: These days, customers crave content that educates them on how your products stand out from similar solutions and how they can determine if your products are the right fit for their needs. This type of educational content is extremely helpful as decision-makers build the internal business case for investing in your solution(s).
Customer Content: Establishing yourself as an ongoing educational resource post-purchase is essential to customer loyalty and brand longevity. If you want to be perceived as a strategic partner, continue to educate customers about what's next and how to get the most out of your solutions long past when you secure signature in the sales process.
It's a Fast Track to B2B Authenticity in Healthcare Marketing
Authenticity in B2B content can be elusive when you aren't following the influencer model and want your customers to associate valuable advice with your brand, not necessarily an individual.
An educational approach helps to establish authentic interactions and connections with customers by prioritizing helpfulness above the promotion of taglines and brand PR.
You'll Be Documenting Institutional Knowledge
I'd guess that only about 10% of the knowledge that exists within most healthcare brands is accessible online. That's probably true at your organization, too. A staggering amount of information and insight is in people's heads—and when they leave, it goes with them. I hear about the "brain drain" in healthcare everywhere, from vendors to long-term care facilities. And it isn't surprising since one in three U.S. workers has considered a career change during the COVID-19 pandemic.
Taking an educational approach to content is an exercise in identifying, extracting, and documenting some of your most valuable institutional knowledge, reducing the risk of complete knowledge loss at your organization.
Your Product Marketing Will Thank You
If you're struggling with shifting from a product-driven mindset to a customer-first content strategy, prioritizing educational content just might be the push you need.
An educational mindset forces brands to focus on building authority and establishing a trust-based relationship first, meaning customer confidence in your products will come much more organically.
Who to Emulate in B2B Healthcare Educational Content
We already know that the educational approach works for professional institutions and publishers.
Established professional organizations and publications already use education as the core of their content strategy to attract healthcare decision-makers, generate revenue, and keep them coming back for years if not decades. You've seen the constant flow of sponsored blogs and webinars they produce and have likely even sponsored some yourself.
Now is the time to stop paying to "borrow" their authority and the subscriber base they've built and, instead, invest in building an owned audience that you can continue to grow organically.
The good news is you can gain a wealth of strategic insights from looking at how these institutional players operate. When it comes to educational content, the trail is already blazed for you—the trick is knowing how to apply these principles while carving out your brand's unique educational niche. Let's look at some examples you can use for inspiration.
I've been reading The Healthcare Financial Management Association (HFMA) content since undergrad. HFMA is the go-to in hospital finance education, and a quick look at their course catalog illuminates why.
What I Love
The topics offer fantastic insight into healthcare finance challenges and concerns. You'll find titles like "Chargemaster Connections: Auditing and Maintenance" and "Reboot Your Revenue Cycle with Prior Authorization Automation."
I also appreciate that the structure is built for people to learn rather than being built to 'sell.' You can sort by topic, delivery methods like "self-study" and "group internet-based," program level (basic to advanced), and even the roles the topics are recommended for, from operations management to patient financial services, to physician practice.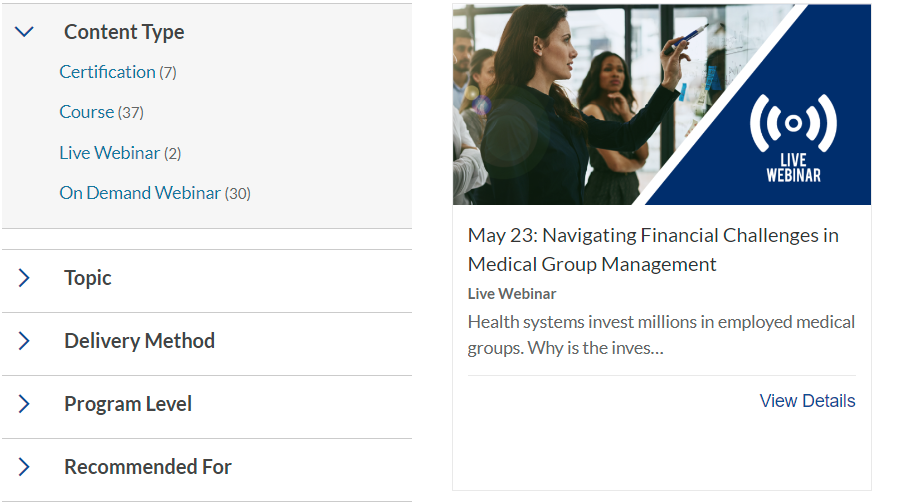 How I'd Use Them for Inspiration
They're always a source of clarity around the educational themes healthcare finance professionals are already flocking to. I'm a fan of using their topics as a starting point to drill down to my target market needs as a source of content inspiration.
This is a commercial source but also a beautiful example of skills-based education for professionals. It provides technical training, learning paths, and community connections through blogs, events, and forums.
What I love
The straightforwardness of this developer blog is worth making a note of. It's branded as a resource for developers, something that could be duplicated in healthcare for analysts, managers, or even industry-specialized coders.
How I'd Use Them for Inspiration
While only the behemoth vendors like EHR providers might see benefit from offering this kind of training, the education-forward format can be instructive. They're also a solid lesson in aligning products with training materials (more applicable on the customer marketing content side).
Becker's is a mainstay of healthcare content, covering hospitals, ASCs, dental, CFOs, Health IT, and beyond. Its webinars are a constant stream of challenge-based topic inspiration, for example, preparing hospital labs for the end of the COVID-19 public health emergency (PHE) and cutting staff overtime.
What I Love
Becker's is its own universe of content and events. They do a great job of encouraging movement through their funnel by collecting email addresses and promoting associated white papers in a targeted way.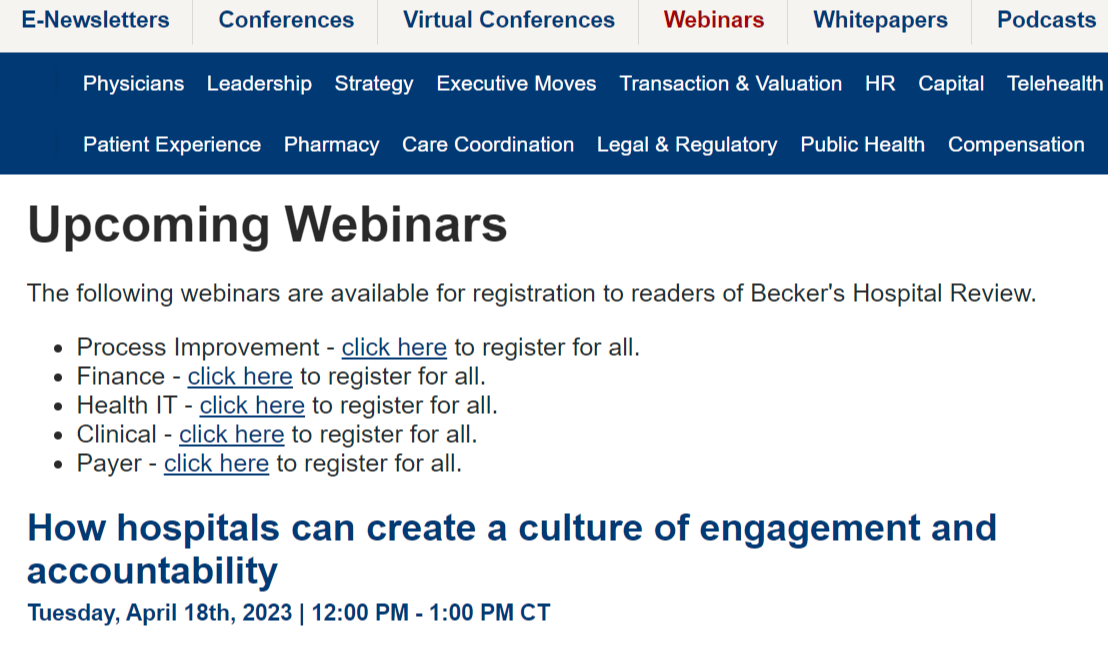 How I'd Use Them for Inspiration
If you have anyone on staff attending their webinars, you've got an excellent opportunity to gauge market interest in the associated topics. Also, like HFMA, the topics themselves are solid starting points from which to drill down into your customer segments' specific market challenges (more on that in just a bit.)
Keep in mind that the goal here isn't to be a replacement for any of the more established players in healthcare educational content—it's about making your own content strategy more precise in a way that aligns your business goals with your customers' informational needs and preferred learning pathways.
Questions to Differentiate Your Educational Content
Building your own (differentiated) base of educational healthcare content begins with answering a few essential questions. Here's where I start when trying to find a point of differentiation for my clients.
What Does Commitment Look Like for Us?
An occasional webinar isn't enough. You want to build an end-to-end content experience that extends across your entire customer lifecycle.
This means identifying the types of healthcare marketing content you'll offer, the staffing and resources you'll need (from writers to content strategists to vendor partners), and what leadership support will look like to bring that content to life on an ongoing basis. The hardest part is consistently getting time with the deepest sources of knowledge in your organization, but there are ways to make this more simple and sustainable.
What Does Our Internal Knowledge Look Like?
Where is your deepest and most unique expertise? What do you know and do well as an organization that your competitors don't? Who are the people everyone at your organization calls on to answer questions? Whose absence or retirement would be felt most?
Answering these questions will help you narrow down where you have the most potential inertia in your educational content efforts. Remember to include the points at which you do or can collect wisdom and insights from across your customer base.
What Does Our Market Need?
It's helpful to start this exercise at the persona level.
For example, if you want to create an educational campaign for IT leaders at hospitals, map out their most urgent challenges related to their role's responsibilities. They might be tasked with staying on top of an increasingly complex healthcare tech matrix, meaning they need education on robotic process automation in the revenue cycle, or to understand the pros and cons of cloud deployments for hospitals who want to minimize cyber security risk.
Then, conduct competitive research into which related topics professional organizations that have been successful with educational content are successfully covering and where there may be greenfield opportunities for your brand to fill informational gaps.
What are the 
Timely 
Challenges or Disruptions taking place?
The healthcare headlines are a wealth of new issues that should inspire your content.
For example, Medicaid unwinding after the end of the PHE is a national issue, but each state will be impacted differently. You might have an opportunity to create a series just for prospects in your non-Medicaid expansion states or for providers with high levels of Medicaid enrollees in their patient mix.
Being a thought leader worth following today means providing educational content at two speeds: 1) A steady drumbeat of always-on, educational content with lasting relevance, 2) Timely bursts of educational content that helps your customers get ahead of the latest changes in their markets as they unfold.
What Problems Do Our Solutions Fix?
This question is best answered after you've answered a few of the previous questions. But once you've narrowed down topics based on customer needs, you can further refine by looking for intersections with the problems your solutions solve.
For example, you might have discovered that margin analysis is a hot topic with hospital CFOs. If you offer software that helps rural hospitals with cost accounting, your educational content might need to start there instead of tackling the margin analysis at a broader level.
Educational content can be high-reward but also demanding on internal resources. If you're looking for a partner who can help you develop an educational content blueprint that's tailored to your target customers and the technology and resources to unlock your brand's internal subject matter expertise, consider booking a Skyword consultation.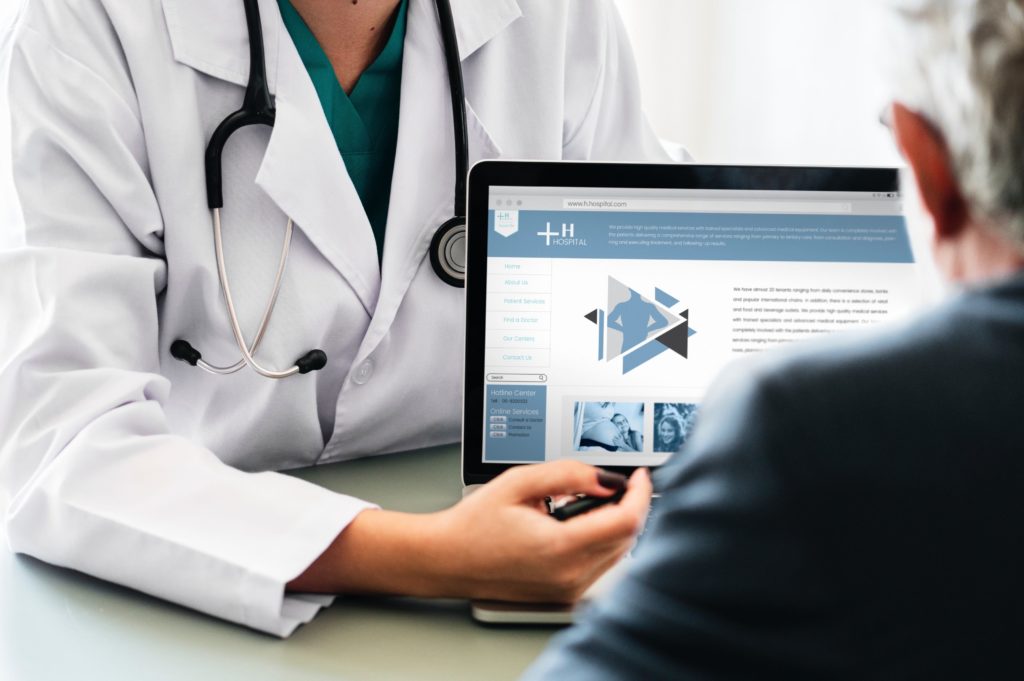 https://www.skyword.com/contentstandard/how-healthcare-solutions-providers-are-driving-differentiation-with-educational-content/
https://www.skyword.com/contentstandard/how-healthcare-solutions-providers-are-driving-differentiation-with-educational-content/
Megan Williams