Creativity
How Leadership Styles Are Quickly Converging in Global Business
By Carlos García-Arista on June 17, 2016
There was a time when business leaders embarked on a new appointment abroad with some notion of Hofstede's intercultural research and a list of typical style and behavioral tendencies by country.
That time is long past.
Before the internet era, most multinational companies did not decentralize their leadership teams. They groomed future leaders in overseas positions only to recall them to their headquarters. Now, as brands transition into truly global organizations, their talent management strategists are feeling the need to develop leaders capable of working anywhere.
Businesses are growing increasingly concerned about the ability of future executives to lead across different countries and cultures, cope with ambiguity, and make decisions in unfamiliar environments. They seek to broaden the base of management and expand it geographically, not to reinforce the hierarchical structure.
As the qualities required from a leader are shifting in the digital age, leadership styles are converging. There used to be a tacit consensus that the formula for successful leadership abroad required above all the knowledge of culture-specific inputs, like the ones we are used to seeing in leadership s tyle charts by geographical area. However, as Herminia Ibarra says in Harvard Business Review, "we tend to latch on to authenticity as an excuse for sticking with what's comfortable."
Today, there is no question the business advantages an international workforce brings to a company. The question is, to what extent can companies embrace truly international leadership development to keep up with the rapid pace of globalization?
Business Is Quickly Going Global
In spite of the slight slowdown in the pace of globalization after the 2008 economic crisis, brands cannot ignore the fact that business has already "gone global." According to the often-cited Netherlands Bureau for Economic Policy Analysis, world trade is below the long-term average of growth of 5 percent, yet it still grew by 3.3 percent in 2014, up from 2.7 percent in 2013 and 2.1 percent in 2012. The integration of emerging markets in the global economy and the increase of international revenue may go faster or slower depending on the cost of energy and the spur of additional trade deals, but whatever the conditions, business is trending global.
The international consulting firm, Egon Zehnder, creeated a Global Board Index report that shows trends among S&P 500 boards relative to global leadership capabilities.
The findings of the 2014 report are quite revealing:
72 percent of all S&P 500 companies now report some amount of international revenue. This chart shows the exposure to international revenue sources by industry.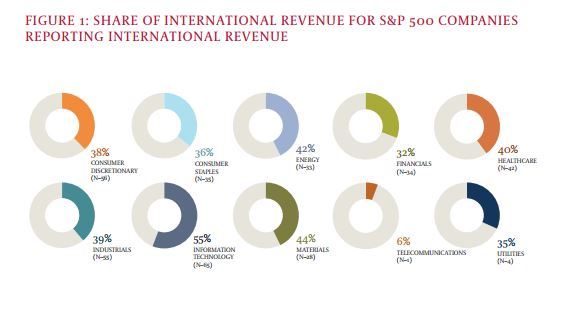 International revenue as a share of total revenue is 37 percent, up 5.5 percent since 2008.
Just 7.2 percent of all directors are foreign nationals, 6.6 percent more than in the 2008 report, and 14.1 percent of the companies had directors with foreign work experience, up from 8 percent in 2008.
44 percent of companies have at least one foreign national director, but only 17 percent have two or more.
International revenue grows 1.5 times faster than domestic revenue across the S&P 500.
The bottom line is that globalization presents companies with enormous challenges in developing the leaders they need to keep up with the pace of international trade growth.
Managers Need to Play Catch-Up to Lead Their Global Workforces
The younger and more cosmopolitan generations of international business professionals are becoming more aware by the day of their common ground in education, work experience, and culture. Being a global leader today calls for more than charts of leadership styles and foreign working experience. It's necessary to develop a completely different set of abilities and above all, it's necessary to assume that common references and common objectives will play in favor of mutual trust and understanding in negotiations as well as in team effort.
Convergence of management practices is not new. One 2006 study by the University of Edinburgh Management School surveyed the top 500 companies in the US, Japan, and Germany, and found that across three areas (strategy, finance, and human resource management), management practices were converging. Today there is little doubt about the emergence of an increasingly international leadership style.
The problem is, ten years after that study, the shortcomings in leadership development seem to lie in the qualities that the international style requires, starting with communication, resilience, critical thinking, and collaboration. This graphic on critical competencies for today's leaders comes from the 2015 Brandon Hall Group "State of Leadership Development" report: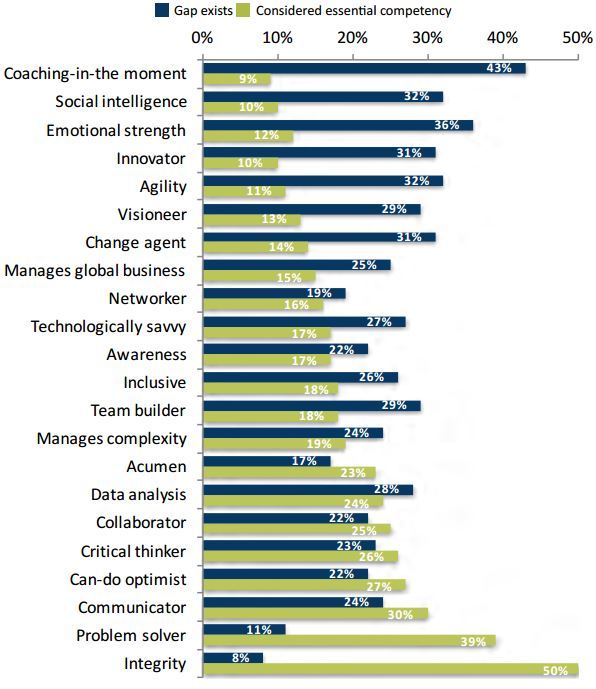 To address that deficit, organizations need a new course of action that helps them identify and develop the kind of talent they need.
5 Essential Trends in Global Leadership
The convergence of management styles brings about more than a diffuse collection of common practices. There is a coherent set of characteristics that defines the new approach to leadership:
Nationality loses relevance. The more horizontal organizations required to grow on emerging markets also need to offer opportunities to new business leaders, regardless the national origin, at the highest levels.
The shared experience of business leaders shows at the organizational level. As Harvard Business School professor Rohit Deshpandé has found, there are some traits that competitive companies all over the world share even if they are foreign to the culture of the company's home country. From the commonalities in the production process and behind-the-scenes functions like quality assurance to performance standards in corporate governance and innovation, global best practices and standards are becoming the norm.
Leadership style based on values, not hierarchy, demands a larger team of managers. Bill George, professor of management practice at Harvard Business School, estimates that "global companies need to develop hundreds, even thousands, of leaders" capable of operating in a decentralized environment.
4. Collaborative skills are of the essence. Unlike traditional management, the new model requires putting the accent on communication and collaboration skills, critical thinking and emotional intelligence.
A New Approach to Develop Global Leaders
A truly global perspective demands different abilities, and the methods for developing global leaders need to change accordingly. The shift is long overdue, from cultural training for temporary assignments to the kind of international background that makes business practitioners comfortable working and making decisions anywhere. In order to do that, the departing point should be the experience, common to the new generation of marketers, that everyone is willing to adjust their behavior for the sake of a common goal.
Cultivating an international perspective since the very beginning is crucial. Whether it is through study abroad programs or sending M.B.A. students into the field overseas, travel gives future leaders the means to understand better a volatile and fluid world.
It's also important to remember that the international experience will not suffice for that purpose if students are not intellectually curious about other disciplines outside marketing, like history, politics, art, science, or whatever suits better their own inclinations. Here is Richard Branson talking precisely about the role of businesses in the international scene. One can share or not his particular views, but it's difficult to imagine a global leader without a global vision.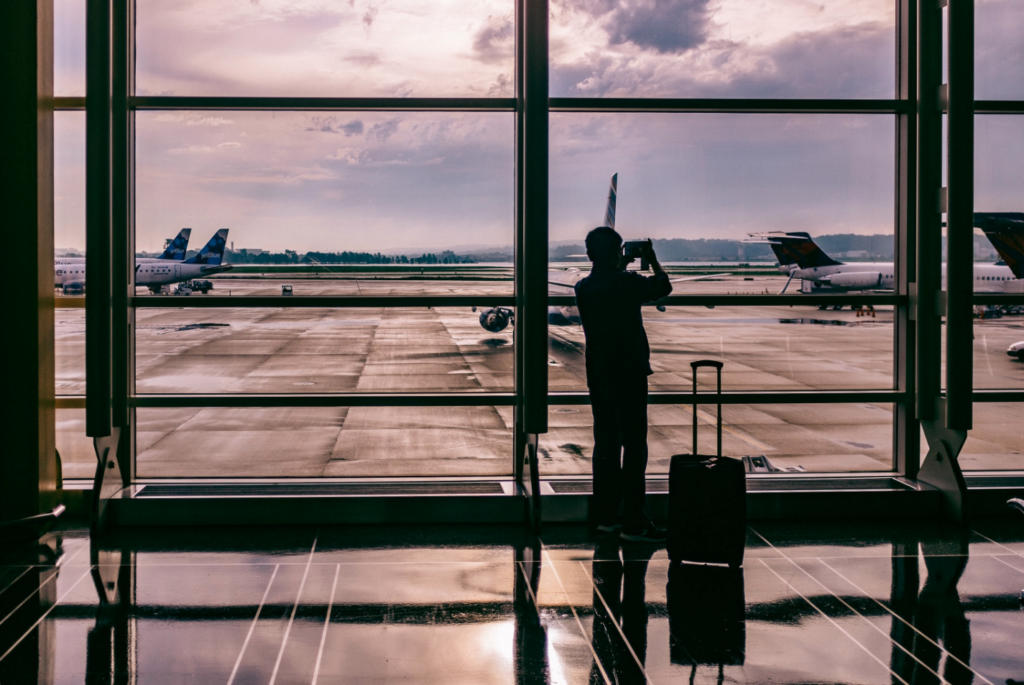 https://www.skyword.com/contentstandard/how-leadership-styles-are-quickly-converging-in-global-business/
https://www.skyword.com/contentstandard/how-leadership-styles-are-quickly-converging-in-global-business/
Carlos García-Arista