Content Creation
How to Use Video Content to Engage, Convert, and Retain Customers
By Sean M Wellington on November 17, 2021
Are you getting the most out of your video content? You may have produced a solid suite of videos that successfully reach and engage your intended audience, but how many versions of those videos have you created? Have you planned ways that those or complementary videos can actually help convert and even retain your customers? The value of video content goes beyond just attracting new eyes to your latest product or service. In fact, video is an incredibly versatile medium that is often underutilized in the later stages of the audience journey.
Videos tell your story in a way that written words simply cannot. Customers are attracted to video content because they want to be shown, not just told, about a topic, product, or service. An engaging visual story can close that gap between the audience's expectations and your brand's goals. In order to plan your video content more effectively, let's look at video across the audience journey and how it can be best utilized at each stage.
Chart Attribution: The Content Marketer's Field Guide to Content Types
Stage One: Reach
The reach stage is where you build recognition of your product, service, or brand. The ultimate goal of these videos should be maximizing brand awareness in a compelling and unique way. Even if your flagship offering is designed for a specific audience, your video marketing should be targeted toward the largest audience possible. According to the 2020 Content Marketing Trends Report, 89% of marketers surveyed utilize videos in their content marketing during the reach stage of the audience journey, second only to blog posts.
In this stage, you can focus on education through:
brand story videos
how-to videos
behind-the-scenes-at-work videos
vlogs
social clips
Story videos that highlight your brand's identity are great for building positive awareness, as we see in this video from H&M:
Here's why this video works to reach the audience:
It has an active voice and speaks directly to the audience.

It tells a clear story about the brand without ever explicitly mentioning any products.

It showcases the brand's offerings subtly yet prominently.
Stage Two: Engagement
The engagement stage is when you establish authority with your audience and, ideally, begin an ongoing relationship with them. The versatility of video allows for brands to demonstrate expertise in several ways that are easy for audiences to digest.
Establish brand authority with leadership-focused videos through:
webinars
interviews and roundtables
topic explainers
AMA livestreams
In the video below, Pedialyte establishes itself as an authority on the topic of dehydration by sharing statistics that support the product's effectiveness over inspirational workout visuals.
Here's why this video works to engage with the audience:
It portrays an athlete in a practical scenario that the audience can relate to.

It explains thoroughly how the product works to help the audience stay hydrated.

It has a direct message for the audience at the end that relates to the brand and empowers the consumer.
Video is the most versatile content offering as illustrated by its frequent use in the reach and engagement stages. However, research shows there is a significant drop off in video usage during the conversion and retention stages of the audience journey. Focusing on these latter stages when conceiving and creating video marketing content is vital in order to maximize its potential.
Stage Three: Conversion
The conversion stage is when you want to build confidence with your audience and prove to them your offering is exactly what they want. Only 37% of marketers report using video in this stage of the audience journey. This is a huge missed opportunity for marketers, as video can increase conversion rates if deployed effectively. In a 2020 Wyzowl study, 72% of customers said they preferred learning about a product or service by way of video and 84% say they've been convinced to buy a product or service by watching a brand's video.
Examples of product and solutions-focused videos include:
demo videos
customer testimonials
product walkthroughs
product reviews
case studies
In this animated product demo, TurboTax shows viewers how easy it is to use their product to file your taxes.
Here's why this video works to convert the audience:
It visually represents how to use the product in a succinct way.

It speaks directly to audiences about how to solve their specific problem.

It ends with a clear call to action.
Stage Four: Retention
The retention stage is when you deepen audience loyalty by demonstrating the ongoing value of your solution. The goal of videos at this stage should be to strengthen the relationship you've already created with your customers by expanding on ideas or concepts you have previously introduced.
These videos illustrate the effectiveness of your brand and usually focus on a specific product or service through:
onboarding videos
video tutorials or training
product support videos
Samsung applied this strategy by addressing a higher-level issue -- workforce safety -- in this video focusing on how the Galaxy Watch can make industrial jobs safer.
Here's why this video works to retain the audience:
It showcases the usefulness of a product that the user may already own in a way they may not have considered before.

It speaks to a specific audiences and their concerns.

It provides direct information and ends with a clear call to action.
Enhance Your Content Marketing Strategy with Videos
The best content marketing plans optimize videos for use at every stage in the audience's journey through creativity and careful planning. You don't always have to create a brand-new piece of content to maximize its use. Often longform videos can be edited into shorter, snackable versions for different social platforms, most of which natively encourage the audience to engage directly with the brand. Slicing a vital 30 seconds from an already existing video, adding a new CTA at the end, and sharing it on social media can be more effective than creating multiple brand-new pieces of content.
Reaching your audience and starting a conversation should not be a stopping point. Continue that conversation and convert them into a customer through a product demo video or customer testimonial. Once they are customers, deepen their affinity for the product or service by highlighting benefits of your brand they may not have realized. By planning how video content will be used across the audience's entire journey with your brand, you can get the most out of your video assets and make sure no customer segment is left behind.
For more information on maximizing your content strategy, download The Content Marketer's Field Guide to Content Types.
Featured image attribution: Matheus Bertelli from Pexels.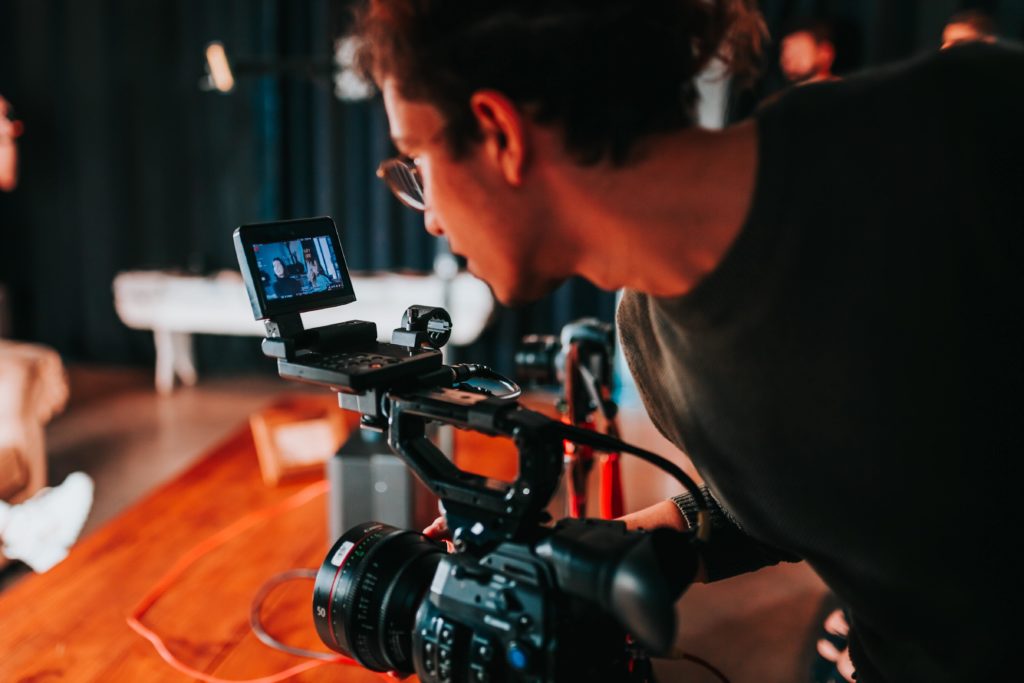 https://www.skyword.com/contentstandard/how-to-use-video-content-to-engage-convert-and-retain-customers/
https://www.skyword.com/contentstandard/how-to-use-video-content-to-engage-convert-and-retain-customers/
Sean M Wellington