Creative Thinking
L.L. Bean's "Be an Outsider at Work" Campaign Masters the Art of Multichannel Marketing
By Nicola Brown on July 20, 2018
Let me guess. It's a beautiful, sunny summer day, the weather is just perfect, and you're cooped up inside an overly air-conditioned office, gazing wistfully out the window as your productivity drops. I can sympathize. With the rise of desk-based digital work we tend to spend a great deal of time indoors, hunched over the artificial light of our glowing screens. But one company has dedicated itself to convincing all of us that there's a better way to work.
L.L. Bean's "Be an Outsider at Work" Campaign Brings to Life Their Core Company Values
Outdoor retailer L.L. Bean's "Be an Outsider at Work" campaign encourages all of us to spend at least some of our workday outside. From a customer perspective, it's a fresh, unexpected shake-up of traditional corporate expectations. And from a marketing perspective, it's one of the strongest recent examples of a brand delivering unified, multi-channel messaging.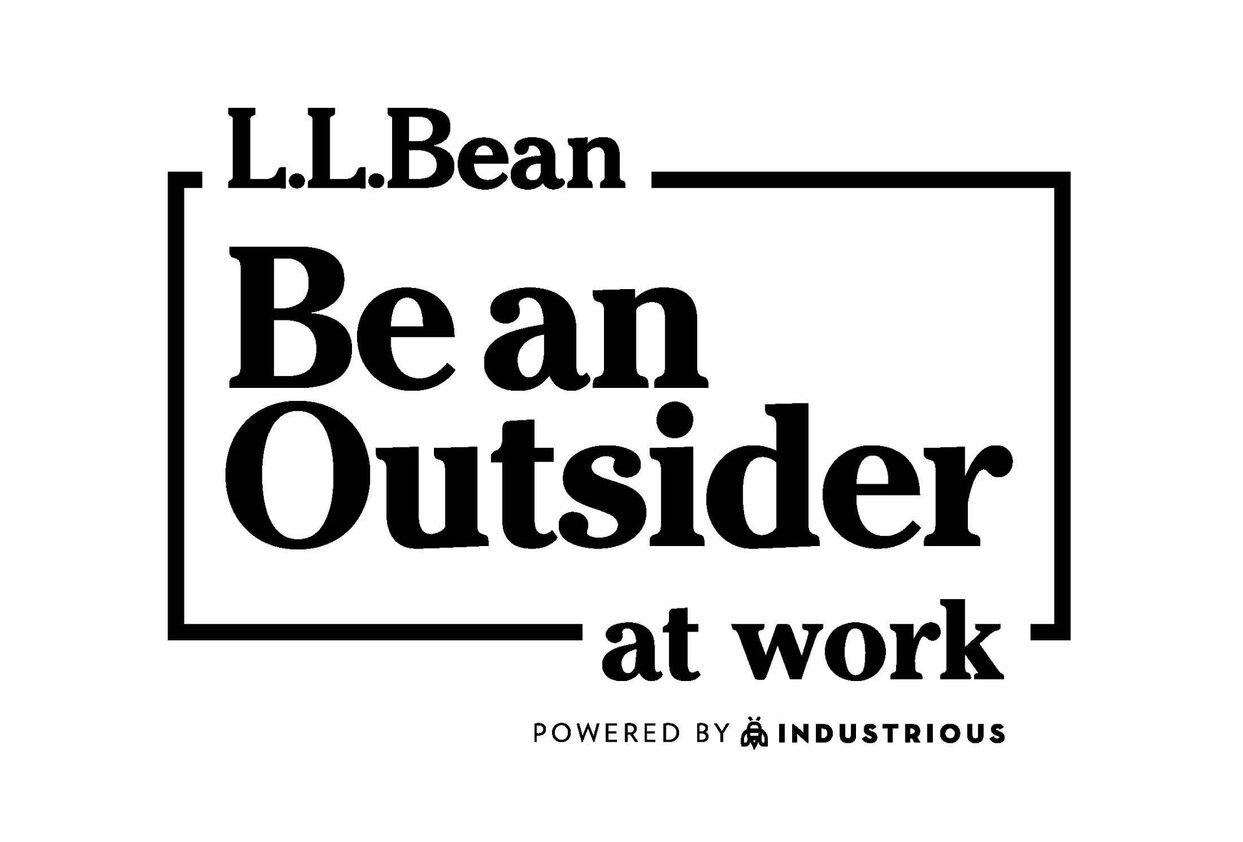 The company has been working on this campaign for over a year, which is somewhat unusual for those of us who tend to operate in the marketing fast-lane, switching to new campaigns and changing direction as often as we go grocery shopping. The longevity of the campaign speaks to the company's genuine dedication to this get-outside ethos and a serious commitment to implementing its core company values. L.L. Bean has built out their campaign into a successful multichannel marketing vehicle anchored by strong digital content and storytelling.
The campaign includes several elements, both physical and digital, that work in conjunction with each other to create a seamless, immersive user experience. A content-rich microsite includes the results of the company's original research, a video, a downloadable PDF handbook, helpful tips designed to look like little Post-It notes, and an infographic. "We're hopeful that the content we've created to accompany the campaign provides the most important message-that we're interested in starting a movement to get people outside more, particularly while at work," says Michele Martin, senior manager of brand amplification.
An experiential outdoor pop-up co-working space developed in conjunction with coworking company Industrious brings the concept to life, literally providing a physical space where people can put the company's suggestions into action for themselves. These spaces provide individual work areas, conference areas, and cycling desks. Spots can be reserved or workers can simply drop by to use an available space. They even offer an Outdoor Discovery Program with team building activities.
The pop-up space was first launched in New York City's Madison Square before traveling to Boston and expanding to new spaces all over the country. There's currently one space in Philadelphia, PA and Madison, WI.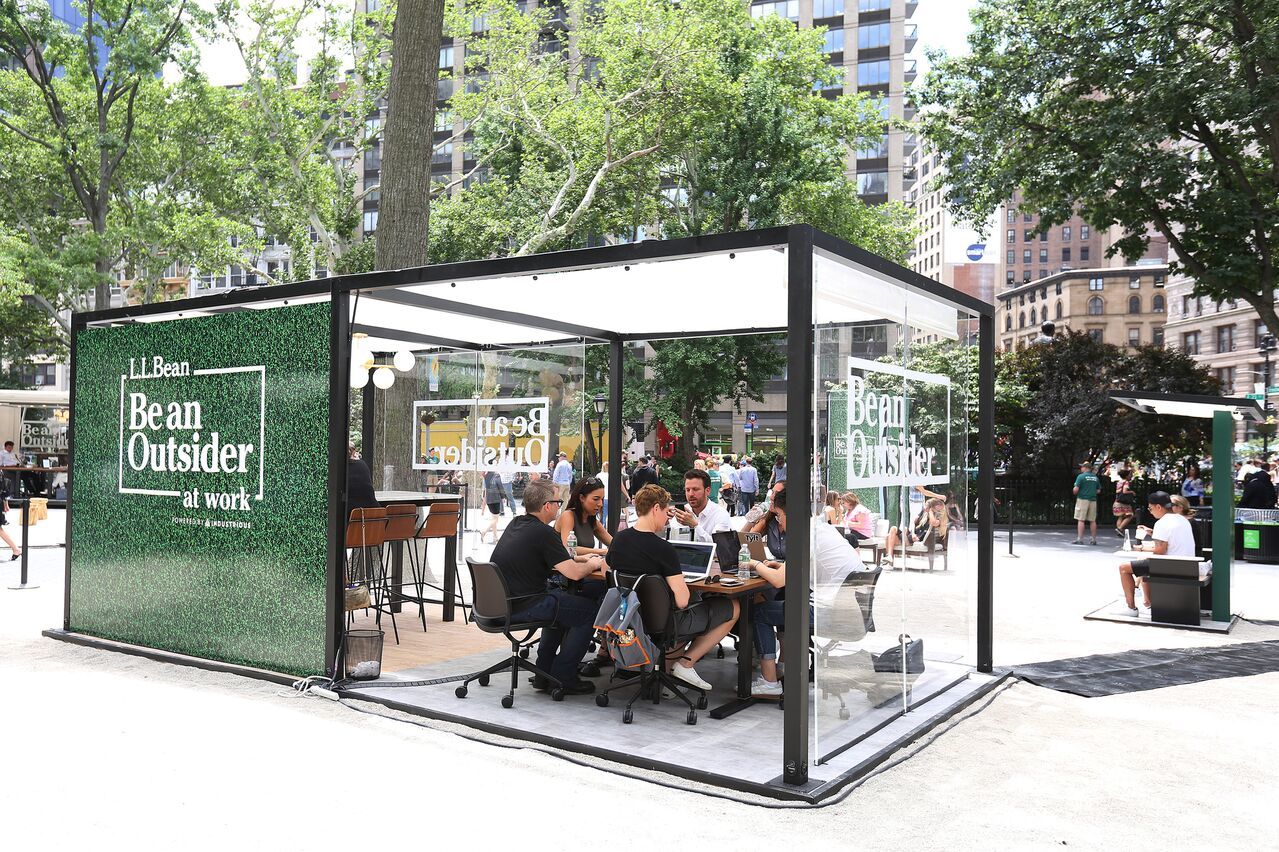 Image attribution: Jack Morton
A Clever Marketing Transformation
With this campaign, the company has shifted the focus of its marketing strategy from the adventurous outdoor lifestyle to the everyday outdoor lifestyle in an effort to reach a broader audience and change the way we think about what getting outside means.
L.L. Bean's former President Leon Gorman explains: "Sure, we sell L.L.Bean boots, backpacks and fleece jackets, but they enable people to enjoy the outdoors and that adds value to their lives. What do they get from the outdoors? All kinds of physical and spiritual rewards."
By broadening their thinking about how their core values could apply in alternate contexts L.L. Bean managed to identify a new audience, connecting not only with the bold camping enthusiast but with the regular 9-5 office worker. The experiential co-working space combined with informative and instructive digital content offers a very tangible shift in thinking about who their potential customer may be and gave the brand a clear route to implementing their ethos for this new market.
"It's still all about the shared joy of the outdoors, and now we're extending that to the workplace," says Martin.
Original Research
The company partnered with workplace strategy expert Leigh Stringer and conducted their own research for the campaign. "At L.L. Bean, we know that people benefit from being outdoors. But we really wanted to highlight specific benefits of how it may improve people's work," says Martin. "Our recent survey of indoor workers with 9 to 5 jobs showed that while most people (87%) enjoy the outdoors, many of them rarely take time to work outside (75%). We're hoping to offer a solution to that problem."
The research examined the effects of being outside on physical health and wellness, creativity and mental health, productivity, and environmental stewardship. The site demonstrated it's authority in covering the topic by featuring links to a wide variety of sources including peer-reviewed journals and books for those interested in reading more.
Their research not only allowed them to confirm their assumptions that people weren't taking advantage of the outdoors enough while at work, it provided important evidence to fuel the efficacy of their campaign in the eyes of their audience. It also offered an opportunity to provide an even richer digital content experience and clear call to action, equipping their audience with the tools to steward their own get-outside advocacy efforts.
Experiential and Social Marketing
We've certainly seen the rise in popularity of coworking spaces in cities around the world. But L.L. Bean created the first ever outdoor coworking space for this campaign. The company successfully participated in a growing trend while finding a unique angle to bring their campaign to life through a creatively executed and highly accessible experiential marketing component.
The opportunity for real-life participation offered by these experimental marketing efforts also provides a great opportunity to drive the creation of user-generated content, particularly for social channels. With the #BeAnOutsider hashtag people have been sharing the experience with their own networks and even asking for L.L. Bean's mobile coworking spaces to come to their cities. All of this exposure is a great inspiration for any brand that wants to generate more organic traffic and social media reach by encouraging users to share images, videos, and status updates of themselves engaging directly with their product.
Rich Content
Everyone prefers to consume information in different ways. Some of us are visual learners while others like to read or listen to speakers. We may have half an hour to spend reading through a piece of content, or we may only have two minutes to skim for the most important takeaways. Recognizing that different types of content will best engage different types of people, L.L. Bean's "Be An Outsider At Work" campaign offers content in a variety of formats throughout their microsite.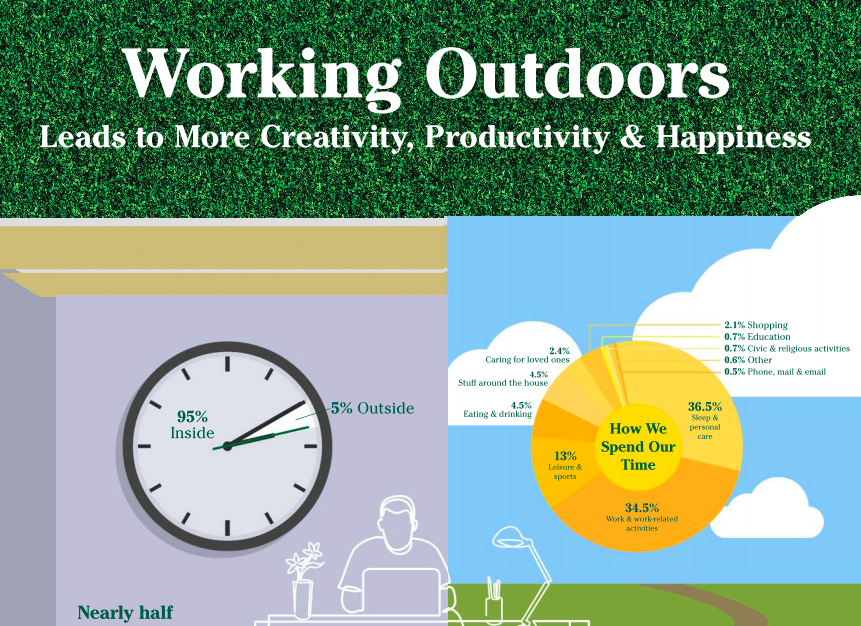 As seems appropriate for a brand dedicated to outdoor exploration, users can explore multiple components to better understand L.L. Bean's research and overall goals for the project. I watched the video, read a few tips, then opened a link to one of the journals to dive further into a source they reference in their research. Having these multiple pathways to information within a single hub allowed me to explore the site at my own pace, digging in where I wanted further info but still being able to distill the essence from the eye-catching bite-sized elements.
"In terms of our digital content, simply being able to consistently connect people back to our site through a number of channels has made the effort seamless," says Martin. "Ultimately, once the office space is no longer traveling, we see www.beanoutsideratwork.com as a key resource to help others work outside more often." As with L.L. Bean's campaign, we are seeing more and more examples of how digital content isn't an afterthought or an add-on element of a campaign. Digital content is now becoming the anchor and central hub for multichannel marketing campaigns and generating interest for both brands and consumers hoping to participate in more experimental marketing projects in the future.
"What is most fun has been hearing from those who've either leveraged the space or read our materials and their stories of trying to influence their own employers to work outside more. Seeing people enjoy the co-working setup and their excitement about getting out of the office has been very rewarding," says Martin.
Now it's my turn to ask: When is L.L. Bean's outdoor coworking space coming to Toronto?
For more insights into multichannel marketing strategies and case studies, subscribe to the Content Standard newsletter.

Featured image attribution: Michele Martin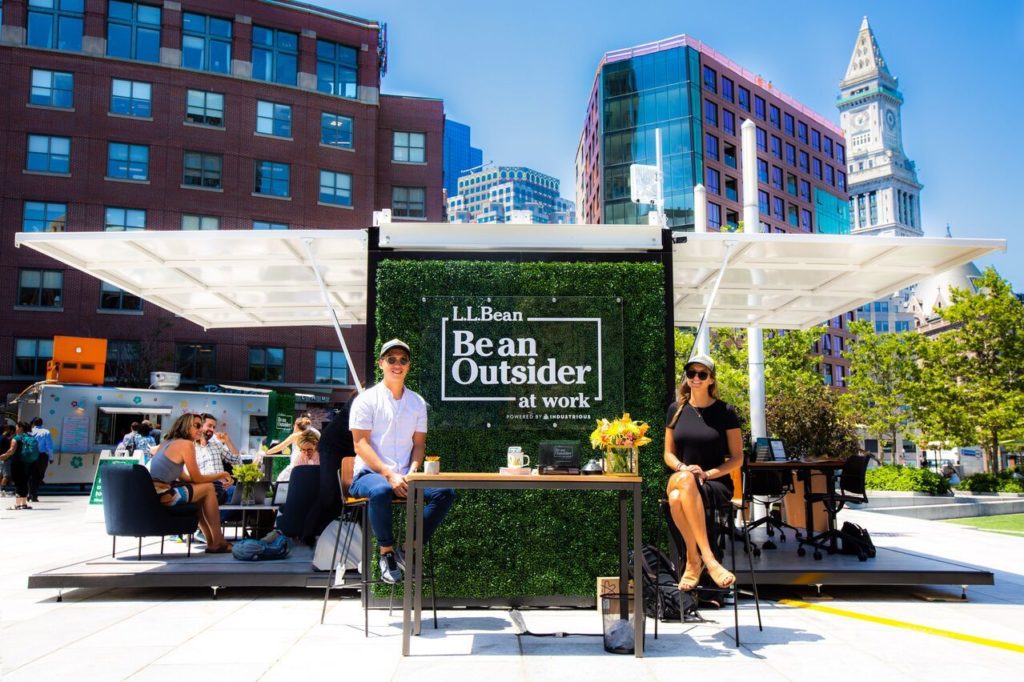 https://www.skyword.com/contentstandard/l-l-beans-be-an-outsider-at-work-campaign-masters-the-art-of-multichannel-marketing/
https://www.skyword.com/contentstandard/l-l-beans-be-an-outsider-at-work-campaign-masters-the-art-of-multichannel-marketing/
Nicola Brown