Content Creation
The Best Blog Titles for Your Content: 6 Best Practices for How to Get the Click
By Adam Vavrek on July 3, 2012
Choosing the best blog titles for your content is essential to attract readers' attention on the web. For your article to prevail online, attract more views, and get the click, it should stand out
and grab the attention of your readers. Putting additional thought and creativity into your title makes all the difference.
A good title will influence readers to click on your article in both search results and on social sites like Twitter, Facebook, Google+, StumbleUpon, and Digg. But your digital content must also follow SEO best practices to reach the right audience.
How do you grab readers' attention? Make it a goal for every article title to incorporate at least one of the strategies below. Each strategy below includes trigger words and real examples of articles written on Skyword that have performed exceptionally well. (A lot of them have gotten tens of thousands of views!)
TEASERS
Spark your readers' curiosity. Ask a question and entice readers to click your article to find the answer. Use weird and astonishing facts in the title to provoke curiosity and elicit shock value. Additionally, readers love multimedia, so include words like Video, Poll, Photo, Image, or Infographic in your title, if applicable. You never know why someone wants to look at your article; it could just be for the photo or to see the results of a poll.
Trigger words that get the click: Which...?, Who...?, How...?, Should...?, Why...?, (Video), (Photo), (Poll), (Infographic), Mistakes, New
Examples of successful articles written on Skyword:
Is Aloe Vera Good for Your Face?
UFO Coverup on Last Shuttle Mission? (Video)
Best Hair Color for Blue Eyes
Raspberry Pi: What Can a $25 Computer Do?
Will the FBI Turn Off the Internet on March 8, 2012?
INSTRUCTIONS
Include how-to steps or descriptions for the reader. This implies a solution to a problem that will be presented in a clear way to readers, and it promises a simple set of instructions. Articles titled this way set an expectation of organization, which is very appealing to readers.
Trigger words that get the click: How To, Easy, Description, Steps, Ways
Examples of successful articles written on Skyword:
Hairstyles for Bridesmaids: 3 Different Styles, 3 Easy Steps!
How to Find The Best Skin Care Products For You
At Home Facial: 10 Steps of a Spa Facial
How to Get Your Gas Prices Down to $1/Gallon Like Billionaire Boone Pickens
THREATS
Another good strategy is to position warnings or cautions against well-known brands or ideas. Readers pay very close attention to anything that might threaten their health, wealth, home, family, or life. Remember, if you trigger curiosity, readers will click on your article.
Trigger words that get the click: Warning, Alert, Caution, Look Out For, Safe, Safety, Trust, Lies, Hoax, Money, Life, Actually, Concerns, Recall
Examples of successful articles written on Skyword:
Warning: The Internet Might Break Tomorrow!
Ground Beef Recall - 34,373 Lbs. Recalled Over E. Coli Concerns
How to Spot Cancerous Moles: Knowing the Warning Signs
Hello, This Is LulzSec--How Can I Hack You?
Why IT Should Step Away From Adobe Flash
LISTS
Promising a numbered list is one of the best methods to encourage clicks. Numbered lists are easy to read, and the organization is very appealing to readers. Research shows that odd numbers do better than even numbers because they feel more believable. Additionally, if you list The Top XX..., readers might click on the article just to see what made the top of the list, to see if they agree with you.
Trigger words that get the click: The Top, Guide, Tips, Ways, Benefits, Signs
Examples of successful articles written on Skyword:
The Top 11 Must-Have Baby Products: A Mom's List
Five Cloud Computing Trends That Will Impact Your Technology Strategy
Tea Tree Oil: 3 Quick and Easy Hair Care Tips
Miss Universo 2011: Las 7 mujeres más "feas" de este certamen
What Are The Top 10 Baseball Movies?
ENGAGEMENT
At times, your readers just want to feel engaged or to be entertained. Use humor, wit, and even puns if appropriate. Put a focus on your readers to grab their attention; make the title about them by inserting "you" in the title. Also, controversial topics are a good way to engage readers and initiate debate. Capture attention and drive discussion from anyone who cares about that subject. Your articles will rank higher in search engines if they initiate steady streams of conversation.
Trigger words that get the click: You, Controversy, Debate, Surprising, Alarming
Examples of successful articles written on Skyword:
Is Dark Hair With Caramel Highlights Right for You?
Pink Slime Controversy Could Lead to Beef Shortage
Does America Hate Gay People?
Is Cloud Computing Right for Your Company?
SECRETS
Readers love secrets. Discovering a new secret is an irresistible obsession, especially if you can combine secrets with a positive outcome or a solution to a problem your reader faces. With so many responsibilities people are juggling today, an article that encourages simplification is likely to get the click.
Trigger words that get the click: Secret, Secrets, Just Like, Now, New, Simplify, Shortcut, Cheat Sheet
Examples of successful articles written on Skyword:
Beyonce Losing the Baby Weight: Secrets Revealed!
Tips for Finding Baby Coupons and Saving Some Bucks
Jennifer Aniston's 2011 Beauty Secrets Can Be Yours!
5 Best Winter Hair Secrets with Jet Rhys, Celebrity Stylist
Additional Tips & Important Considerations
Keep these important tips in mind:
SEO. Use keywords and secondary keywords! Readers may not be able to find your article in search engines if you don't effectively use keywords.
Social media sharing. Stimulate sharing of your article. Social users will retweet/like an article with a great title since they ultimately want to look knowledgeable to their own followers or friends. Search engines also rank articles that have been widely shared, retweeted, or liked.
Word count. Shorter titles typically do a better job of catching attention. They are also better for sharing on social media (Think about Twitter--140 characters is not very much!). Every word in the title should have a part to play. Short and sweet is best; an ideal length is 6-7 words.
Visual elements that catch your eye. Use numbers, add information in parentheses, and write words in all caps. Use specific stats in your title. Instead of 40%, use 39.57%; the latter feels more real, like some kind of research or study was involved in this data. Readers will be more confident that you know what you're talking about (even if it's subconscious).
Write the title first. Set the stage for your article and set that article's expectations. Clearly demonstrate to your readers the benefit of taking the time to click on and read your article, but don't mislead your readers. You should deliver on what is promised in the title.
Ready to learn more best practices and kick-start your content marketing program? Contact us at LearnMore@skyword.com.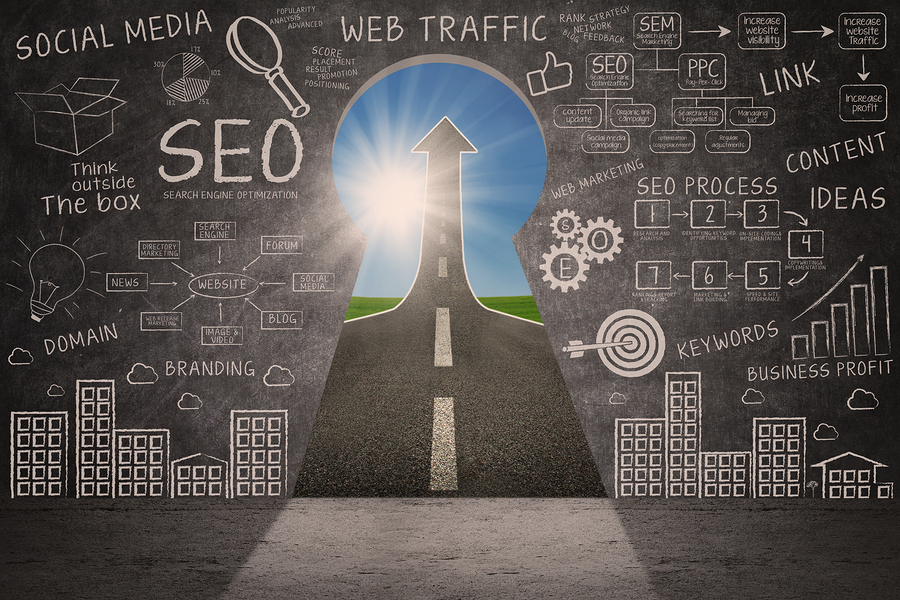 https://www.skyword.com/contentstandard/the-best-blog-titles-for-your-content-6-best-practices-for-how-to-get-the-click/
https://www.skyword.com/contentstandard/the-best-blog-titles-for-your-content-6-best-practices-for-how-to-get-the-click/
Adam Vavrek