Communications
The Emotional and Visual Power of Dance in Brand Storytelling
By Shannon O'Neill on February 19, 2018
There are a million ways to re-envision brand storytelling, as YouTube, Snapchat, Facebook Live, Instagram stories, and gifs drive our social engagement. With the trend in recent years of social networks and marketing experts encouraging brands to combine narrative with social video features, we can safely assume short-form video is here to stay. According to Cisco's annual Visual Network Index (VNI) forecast, 82 percent of Internet traffic will be video in four years. With video marketing driving purchase behavior and creating strong customer engagement, we are watching video more than we are doing anything else.
Video and other creative marketing ideas are being embraced by brands whose products benefit most from visual engagement. As brands look to unique ways to connect with an audience, dance is a visual medium that suits their message. Brands as different as Kenzo (designer fashion), Under Armour (fitness apparel), and even Apple (consumer technology) have made use of dancers in recent campaigns because dance can tell a story and carry a message across platforms.
"Dance is so much more than entertainment. It makes you think, it provokes something in you, and I think that's what a designer wants to do-they want to provoke a thought, to make you feel something through what they're wearing," explains dance choreographer Jermaine Browne in a recent Business of Fashion article. Browne has had ample experience with designers, having worked with brands including Carolina Herrera, Rachel Roy, Nike, and Victoria's Secret.
Make Sure Your Visual Storytelling Translates Across Platforms
In 2016, fashion house Kenzo hired Oscar-winning indie-film director Spike Jonze to direct a short film to announce the launch of perfume Kenzo World. Jonze chose classically trained ballet dancer and Leftovers actress Margaret Qualley as the star. Poking fun at the usual melodrama of perfume ads, it ushers in a new era of visual collaboration. The result? My Mutant Brain: a four-minute short that owes more to music video and avant-garde dance than to a fashion shoot.
Choreographed by Ryan Heffington, who has worked with singer Sia (remember the frenetic Maddie Ziegler performance everyone was talking about in the video for "Chandelier"?), the performance alone is surprising, fun, and completely exhilarating to watch-like the best James Bond chase scene. Evoking both empowerment and whimsy, the video features a woman (Qualley) attending a formal awards ceremony who loses interest and ventures out into the foyer of LA's modernist Dorothy Chandler Pavilion music hall, where she proceeds to dance as if she has been embodied by a spirit: part animal and part human.
It was a smart move by Kenzo to bring together so many arts, culture, film, and fashion touch points. Or, as the Guardian referred to it, "the latest in a line of unusual collaborations between indie cinema and the fashion world." It wasn't simply about the product (I, for one, have no clue where to even buy a bottle of Kenzo perfume). The commercial created a cultural moment as shareable for its performance as for its content: an attractive woman quite literally busting out of a common fashion trope. But it's the collaborative aspect of the creation of the video and its message that helped it gain traction across many digital platforms-from video to an interactive brand website to social media shares.
The holistic approach Kenzo took to include and celebrate the artists who created the video carries through to the interactive Kenzo World website, where visitors feel they are there to gather information and learn about the creative process, not simply to buy the perfume. The Kenzo World eye-the shape of the perfume bottle, and a gigantic floral sculpture Qualley jumps through in the video-is used throughout the site and social media platforms. The site itself is playful and interactive-press any letter on the Kenzo logo and you are pulled into a moment from the dance video. More like a press junket than a perfume website, you can learn about Jonze, Heffington, and Qualley. You can also watch the "making of" the video, purchase the soundtrack and, of course, buy the perfume.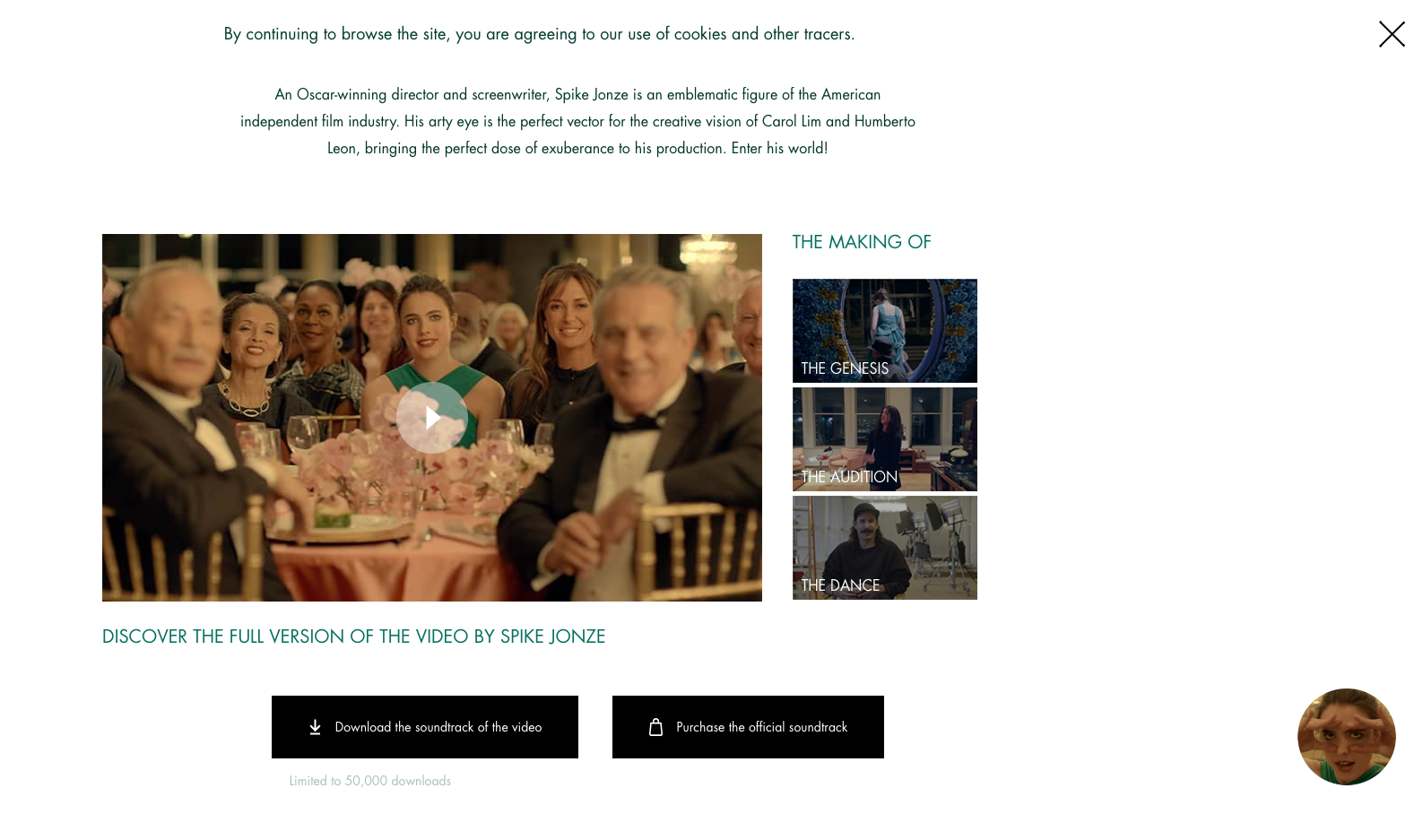 It's a brilliant multiplatform content marketing strategy, and the story of the video's creation received coverage in Indiewire, Vogue, WWD, the Guardian, and AdWeek. Within a day of the campaign launching, the Kenzo World spot had over one million views on Kenzo's YouTube channel, over 50,000 people had mentioned it on Facebook, and on Twitter, the hashtag #KenzoWorld had 277,000 followers and 448 tweets. More than a year later, the video has been viewed over 11 million times on YouTube, and there are almost 15,000 #kenzoworld posts on Instagram of women either winking or using the perfume bottle as a prop.
Beautiful visuals and performance aside, what does any of it have to do with perfume-and does it even matter? "We want a fantasy that isn't about Wonder Woman, Super Girl about to save the world. We want a fantasy that every girl-and maybe even guys-can really relate to, something that feels genuine and real and in the psyche of humans," Humberto Leon, one of Kenzo's artistic directors, told WWD. The idea, he added, was for the audience to be "like whoa, that's what I want to be."
The slogan of Kenzo World is "Dare to see the world your own way," and the message played with the video and the related social content got a lot of attention. My Mutant Brain kicked off the emotion and the energy of the campaign like music videos of old-now that you've "seen" the artist, you want the product. In this case, the product is a bottle of perfume, but the spirit of the performance in the video extends to the spirit of the fashion label as expressed on Instagram: #joyful, #fun, #crazy. The video went viral, and even now the Instagram grid is full of playful images and short clips and stills from the video. And this is how brand storytelling should work-the narrative should pull you in, play with you, pique your interest, and make you want to find out more.
Create a Cultural Conversation
As Nike and Adidas have proven time and again, fitness brands and short films involving athletes are a match made in heaven. When the I Will What I Want campaign launched in 2014, Under Armour CEO Kevin Plank described the target audience to AdWeek as female consumers who are "looking to wear UA, and participate with it, beyond the pitch, the court or the field . . . Or she's thinking about going to the gym and doesn't make it. But she still looks great all day." Needless to say, with such a vague picture of an important demographic, Under Armour struggled to connect to the female market, so their brand storytelling centered around starting a conversation and changing minds.
Agency Droga5 explained that the key to their successful Under Armour I Will What I Want campaign was to "put the brand at the heart of a cultural conversation." With a full-on push to target women's apparel in 2014, they launched the I Will What I Want video campaign series featuring Olympic gold medalist Lindsey Vonn, tennis player Sloane Stephens, soccer star Kelley O'Hara, and the first African-American soloist for the American Ballet Theater, Misty Copeland.
The decision to launch the campaign with a one-minute video of Copeland-at the time, the least well-known of the athletes-paid off handsomely. Not only does the video feature her stunning physique, it features her dancing, really dancing with close-ups of her calf muscles, her shoulders, and back-all straining to achieve (and, of course, wearing Under Armour). The powerful voice-over inspired by rejections based on her body type played while she danced. And starting a conversation about changing perceptions by actually doing so in their own campaign is very different from merely making a statement. The "conversation" that the I Will What I Want campaign started was a story about female strength, athleticism, and perseverance in the face of adversity.
Within the first week, the one-minute ad featuring Copeland went viral on YouTube with four million views. The campaign included TV, print, and digital, as well as scheduled appearances on network TV where Copeland performed. What looked like an organic cultural moment was in fact a brand story designed to start a conversation and be shared.
Images Should Move with Your Message
The huge success of I Will What I Want led to this summer's Unlike Any campaign-also starring Copeland-which features a bevy of rebellious female athletes whose accomplishments read like a Marvel comic lineup: Zoe Zhang (actress and taekwondo black belt), Jessie Graff (professional stunt woman), Alison Desir (Harlem Run founder), and Natasha Hastings (track and field Olympian). The campaign includes short films on each athlete as well as print and digital media and over 100 unique assets for social to highlight the products. With nearly three million views on YouTube, the message continues to resonate.
Just a glimpse of the poses Copeland strikes in the still shots-part ballet, part Cirque du Soleil-underscores both the message and the unspoken idea that you can literally do anything in this athletic wear.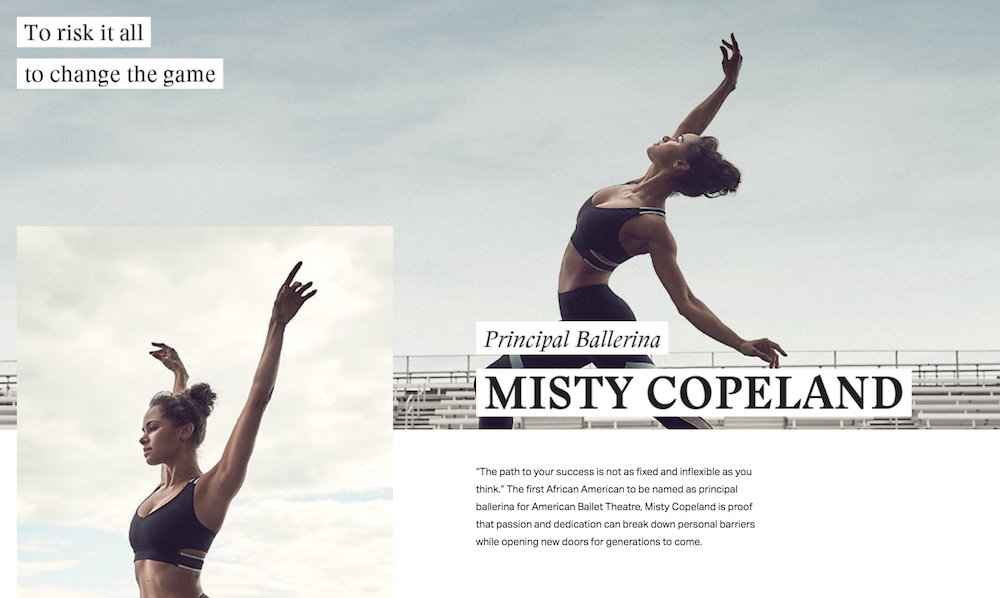 Using a combination of poetry and movement, the Unlike Any campaign depends on our insatiable ability to watch anything for a minute. And to share it. According to the Unlike Any site:
"Women are achieving unbelievable feats of athleticism beyond anything the world has seen. Breaking convention and elevating themselves above any plane of comparison. With the help of lyricists, poets, and spoken word artists, we're celebrating these women who are UNLIKE ANY."
The messaging of both campaigns (produced by advertising agency Droga5) is powerful-you may not belong, you will face adversity, yet you will triumph. What makes the one-minute dance spot so powerful is how it connects to athleticism and, yes, the Under Armour brand.
Apple is another brand expert at keeping their message on point. Each year, they issue a Christmas ad. This year, it was a sweet dance video called "Sway," featuring professional dancers and real-life married couple Lauren Yalango-Grant and Christopher Grant.
A snowy city street, a Sam Smith song, an accidental encounter with another pedestrian-it hearkens back to the musicals of the 1930s and 1940s. Except in 2017, there is an exchange of AirPods, and now they dance to the same music, except not really. Reality comes into focus, and it was all but a dream. It also featured AirPods and the iPhone X. What's understood is that the Christmas ad will be a subtle and emotional tug at the heartstrings while featuring the company's most sought-after products. The irony being, of course, that we are always being reminded to look up and away from our phones, to unplug, to be part of the world. While the video didn't break any records, it fits nicely into Apple's subtle Christmas themes of making an intimate or family moment somehow better because of an Apple product.
But even with antennae raised, viewers couldn't resist-with over 10 million views on YouTube, "Sway" was a beautifully choreographed product message from a company to its eager consumers. What's interesting is that they used dance as the trapping to convey a simple message of love and connection via YouTube, Instagram, and Twitter. And who doesn't want to share that?
As brands evolve beyond simple interrupt advertising, visual brand storytelling like dance engages an audience across many channels. Or, as Dance Magazine's Deirdre Kelly bluntly sums it up, "Dance, like sex, sells. It's both potently emotional and visual. And it appeals to a wide range of tastes, cultures, age groups and experiences." Add to that a pithy quote, hashtag, or caption and you have an image that's Pinterest-worthy. While we understand the punishing physical and mental stamina it takes to be a professional dancer, there is an undeniable beauty in watching the precision of movement whether in a video or an image captured in an Instagram square. And, more importantly, brands aren't simply creating videos because it's all the rage; the message and content suits the format. There's a reason fashion and fitness brands are drawn to the athleticism and beauty of dance in their campaigns-it is versatile, it speaks to perseverance of mind and body, it's entertaining, and it's eye-catching.
For more stories like this, subscribe to the Content Standard newsletter.

Featured image attribution: Michael Afonso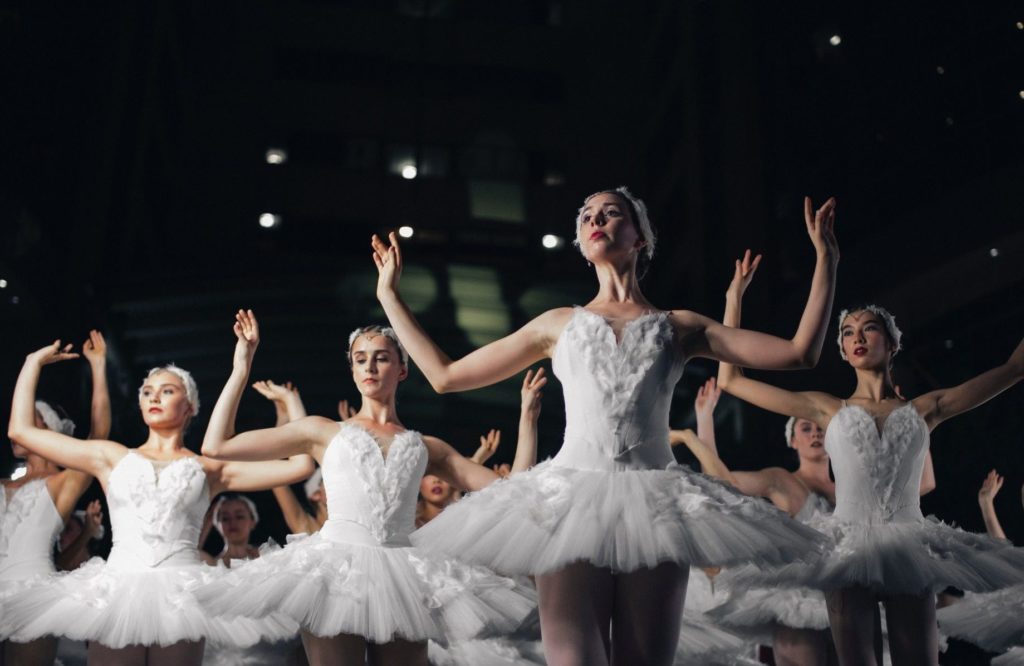 https://www.skyword.com/contentstandard/the-emotional-and-visual-power-of-dance-in-brand-storytelling/
https://www.skyword.com/contentstandard/the-emotional-and-visual-power-of-dance-in-brand-storytelling/
Shannon O'Neill