Content Strategy
What's Driving the Outsourcing Trend?
By Rose de Fremery on October 26, 2020
If you ask a marketer who creates the lion's share of their content, chances are they will say their internal team is still taking care of it for now. According to Skyword's 2020 Content Marketing Trends report, marketers typically create the majority of their content in-house—but the outsourcing trend is on the rise. Over the next two years, many brands plan to create a more equal share of in-house and external content. Why are marketers tapping external expertise for their content marketing programs?
Outsourcing comes with definite benefits. It can help marketers master the complexity of content marketing, allowing them to scale content creation on demand or unlock access to a broader talent pool with deep expertise and valuable creative skills. To explain what's behind this outsourcing trend, here's a look at five drivers powering the trend along with key insights from brand marketers on what makes outsourcing so appealing.
1. Expertise
In a competitive landscape, creating exceptional content that delivers value and inspires trust is not a far-flung goal but a requirement. Fifty-nine percent of brands expect expert-level insights from their content creators, while half of B2C marketers require their content creators to have first-hand experience. High-performing marketing teams are even more likely to consider this expertise essential for content creation. According to the report, excerpted below, top performers are more likely than other respondents to require expert insights (72%), first-hand experience (44%), and industry recognition (31%) from their content creators.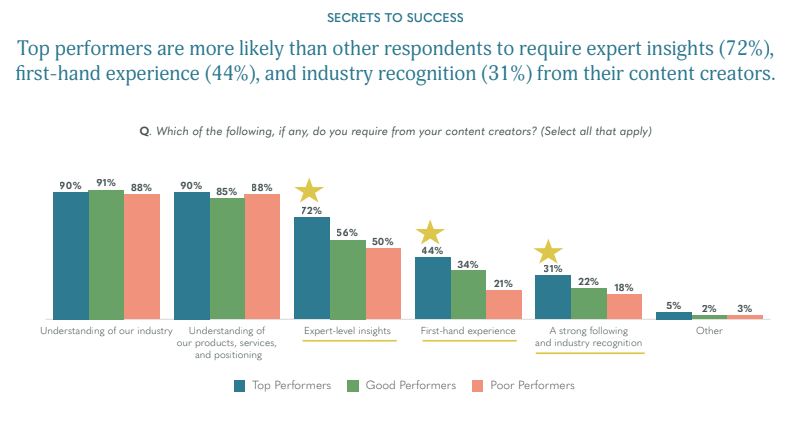 Depending on the industry, marketers may view this kind of expertise—and the credibility that comes with it—as non-negotiable. "You can't not have expertise in some things where you're trying to talk to a very specific audience," says Colleen Sellers, VP of marketing at TytoCare. Accordingly, content marketers partner with content creators who have deep knowledge of a particular subject, possibly from professional experience in a given field or sector. With the right talent, brands can deliver an authentic message to a discerning audience.
Once engaged, these expert content creators are very effective at executing on a marketer's vision. "Subject matter experts who have experience writing for a certain audience, especially at a high level, are invaluable," says Chris Mumford, content marketing manager at Western Governors University. "You don't have to train them on how to write engaging public-facing content in the way that you might have to train an internal copywriter. They're already familiar with it," he explains.
Working with an external content creator also allows content marketers to keep a laser focus on quality, Mumford adds. "[You can] really let the quality of the content drive your decisions as to who's writing for you, as opposed to kind of having to make the hiring decision and then hope to try to train or cultivate a writer so that they can produce the kind of product you want. It's a much easier and more seamless transition to go find someone who you know with absolute certainty can write well, can write in these subjects, and can do so at a high level—and make that your starting point," he says.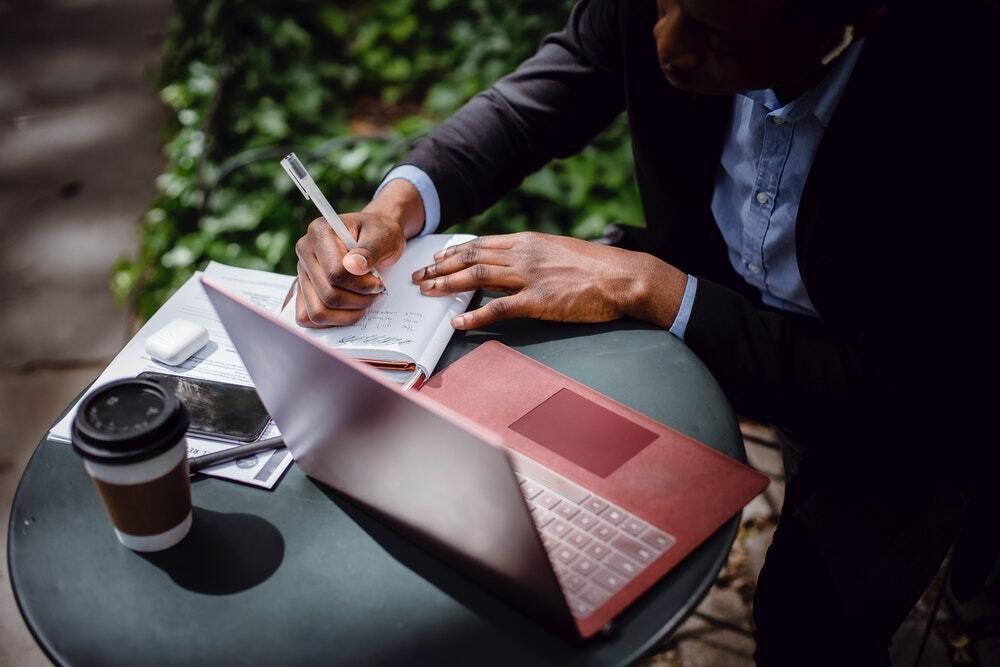 2. Scalability
Creating content at scale using only internal resources can be a considerable challenge, which is why many marketers find it beneficial to work with external content creators. This is especially true for marketers at rapidly growing companies. "I work at a start-up that's in growth mode. And so when I think about outsourcing, I think about the fact that I have so much content creation I need to do that I need help getting it done quickly," says Sellers. "Six months ago, we were able to create most of the content in house. [Now] we just have so much more that we have to create that we can get it done quicker if we outsource more of it," she adds.
Stephanie Weiner, Director of Digital Strategy and Engagement at the Association of American Medical Colleges, has also tapped external talent to rapidly create content, particularly when in need of specific skills. "When we have outsourced content creation, it's mostly been driven by limited in-house resources and the need to access a broader range of creative skills. This is especially true when we've needed quick-turnaround motion graphic videos," she says. With the right resources turning out high quality content at scale, marketers can turn their attention to higher-level strategic concerns—like ensuring they have the right content mix to meet the moment.
3. Agility
As the report notes in the graph below, most marketers (71%) regularly adjust their content mix to adapt to changing business needs. While time-sensitive factors such as brand campaigns and messaging themes most often influence content topics, current events also influence this dynamic. More advanced content marketing organizations feel this pressure even more acutely. Top performers (79%) are more likely to let current events guide content topics, while poor performers are far more influenced by internal requests.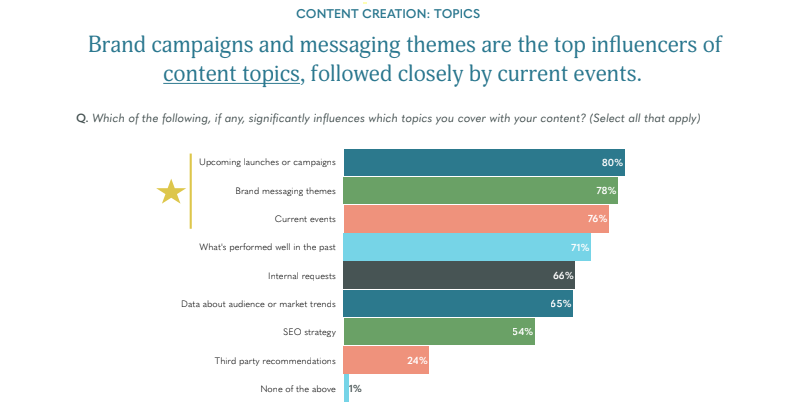 Jon Mamela, EVP & Chief Marketing Officer for Destination Toronto, believes it's important to remain agile in a quickly changing environment. "We are migrating, in our view, to be much more topical—much more relevant to the season and to the current nature of what's going on in the city than we've ever been before," he says. Current events could further accelerate this trend, as Mamela notes. With more people working from home and consuming high levels of content during the COVID-19 pandemic, marketers may feel the need to respond to the increased demand with a fresh and engaging content mix.
4. Professionalism
Relationship dynamics matter. Some marketers report that it's easier to provide direct feedback to an outsourced content creator than to a member of the internal team. "In some cases it's a little bit easier to make certain demands of a third party writer that might be a little bit more difficult with internal staff," Mumford says. "What I mean by that is that if you work in the same office with a copywriter and you're having to go through a long, potentially painful sort of training process, that can be kind of a strain on a relationship. Writers are obviously very proud of their work, and it can sometimes be hard to edit someone's work in the way that you really feel like you need to."
Outsourced content creators, however, are experienced in receiving feedback, and they understand the expectations that come with content marketing. "There's an understanding and an expectation that comes along with being an established writer who's written for external publications. I can really just make it clear what I need. They're professionals. They know how to make adjustments and move forward," Mumford explains.
5. A Large, Remote-Ready Talent Pool
With more professionals opting for self-employment and independent work, the size of the talent pool is steadily on the rise. "More and more professionals are choosing to work in a freelance format or independently. And so there's just a wider number of choices for companies that want to outsource—be it agency outsourcing or independent outsourcing," says Claire McDermott, Cofounder and Head of Research at Mantis Research. And, now that more marketing professionals are working remotely during the pandemic, it has been established through first-hand experience that it's possible to not only work well but collaborate effectively in a virtual setting.
"I think this trend will only accelerate now through COVID," McDermott adds. "It's really been a test of this concept of can people work remotely, can they be effective remotely? Can they be a part of a team and collaborate virtually? I think that this experience that we're having now will only accelerate that trend and really open people's eyes to the fact that you don't all have to be together in a physical space collaborating—but we have the tools, we have the processes, and we have the strategies to really be very, very effective with a dispersed team."
Long-Term Partnerships Deliver the Best of Both Worlds
Of course, as the survey results indicate, many marketers are still creating their content in-house, perhaps because they prefer to rely on staff that knows the brand inside and out. But partnering with an outsourced content creator can actually deliver similar advantages over the long term. "The reality is that you still get a lot of that with a close vendor who you work with over a period of years," Mumford explains. "With Skyword, we've been working with certain writers who we know very well, who understand our brand exceptionally well, and who have become really stable, reliable contributors. It's a good idea to build long-term relationships with vendors because you really start to reap the benefits of what you would expect from internal staff while still getting the benefits of outsourcing," he adds.
With the outsourcing trend expected to accelerate in the next two years, marketers can set themselves up for success now by establishing strong, productive, long-term relationships with external content creators. By doing so, they can tap valuable subject matter expertise, create content at scale, remain agile, and access a large talent pool of experienced professionals. That way, they can master the complexity of content marketing and consistently deliver compelling ROI for their brands.
Read more about outsourcing trends in the full Skyword 2020 Content Marketing Trends Report.
For more stories like this, subscribe to the Content Standard newsletter.
Featured image attribution: Brooke Cagle on Unsplash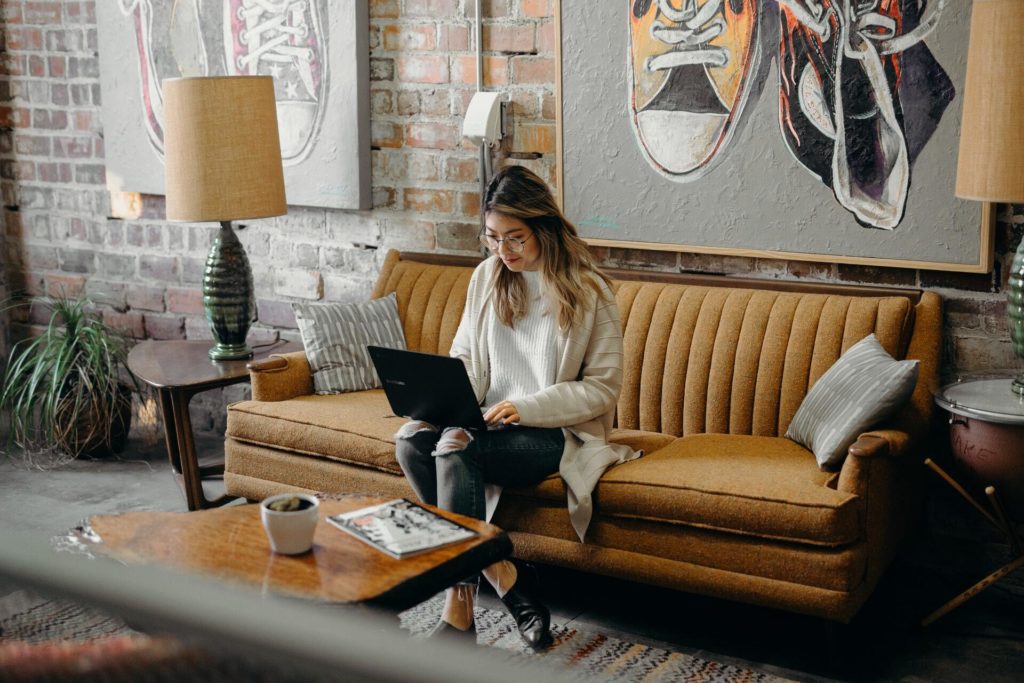 https://www.skyword.com/contentstandard/whats-driving-the-outsourcing-trend/
https://www.skyword.com/contentstandard/whats-driving-the-outsourcing-trend/
Rose de Fremery