Featured
You're Sitting on a Content Gold Mine, You Just Don't Realize It
By Andrew Wheeler on November 11, 2020
Subscribe to our monthly newsletter, Content & Context, to receive future insights and updates on the content marketing world from Skyword CEO, Andrew C. Wheeler.
Recently, I got roped into helping a buddy clean out his garage. Now, for those of you who know me, you know there wasn't much "roping" involved. Sadly, I'm the kind of person who regularly refolds my clothes to keep them lined up evenly. I even have hanger spacers—which I strongly recommend! So, for me, this was going to be cathartic and (dare I say it?) fun.
What I hadn't realized was that we'd spend an entire eight hours wading through heaps of forgotten furniture, old paint cans, broken Christmas decorations and the like. But, by the end, my friend had a complete set of tools again, a garage he could actually use, and two boxes of old comics it turns out are worth a hefty amount on eBay—all things he would still be missing out on if we hadn't dejunked the space.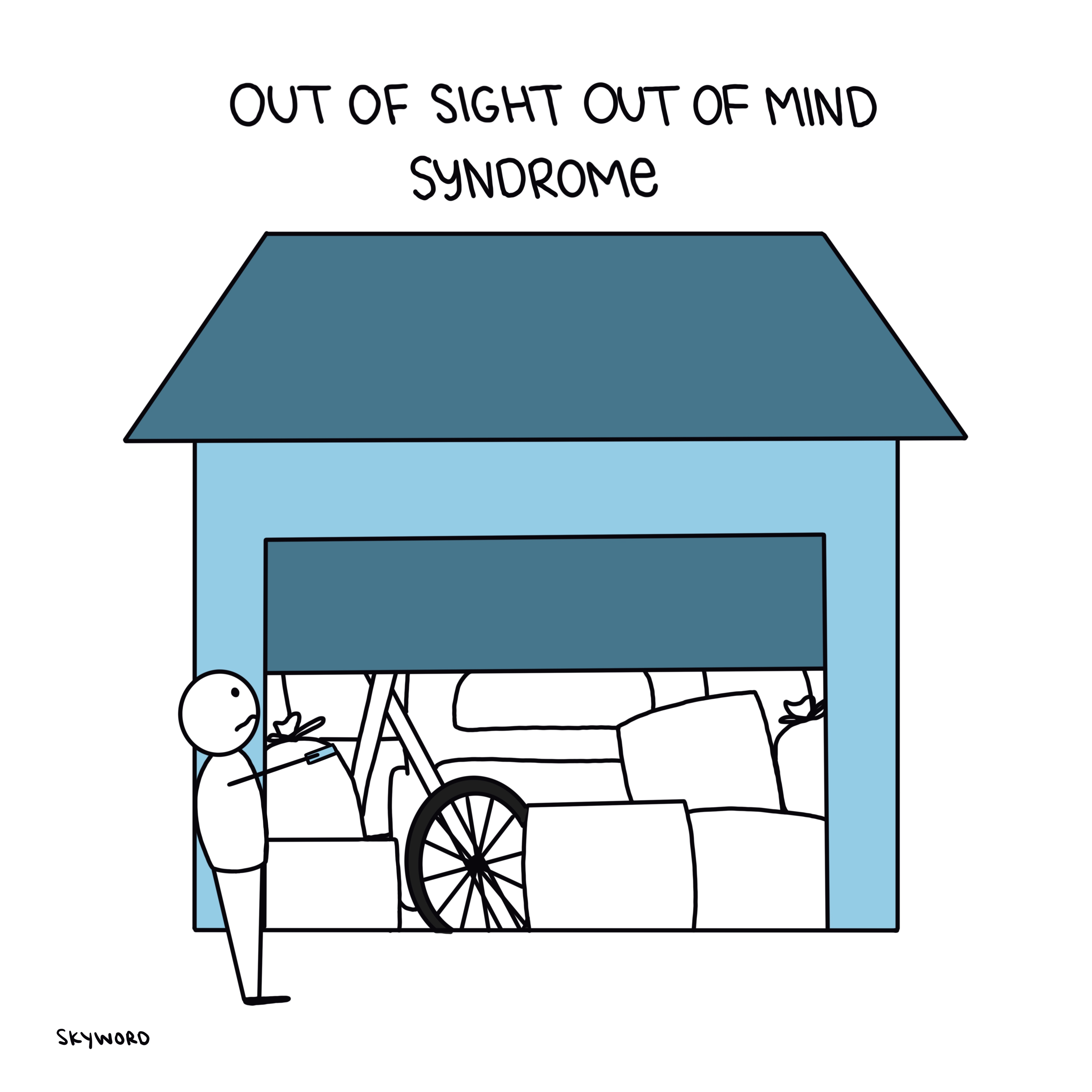 Out of Sight, Out of Mind syndrome is something I see a lot of in content creation. We often end up treating content like the stuff we stack in the garage—publishing it and then burying it under a bunch of new content until we almost entirely lose track of what's there.
Unless we regularly take stock of our content and re-optimize and re-use it, we stand to lose out on a lot of the value it holds.
That's where content audits come in.
Think of an audit like cleaning out the garage. If you conduct audits regularly—annually at a minimum—you're able to keep your content in top condition, rather than spending six months on a cleanup job after three years of weighing down your site with outdated "junk."
Skeptical? Let's look at some of the costs involved with failing to properly maintain content:
First: revenue loss
It's natural for content traffic to decline over time. But if you let traffic to high-converting posts drop, your revenue opportunity will drop, too.
On our own blog, The Content Standard, nearly 5% of our annual traffic last year was driven by a single blog post, first published four years ago. If you let top posts like this decay over time, the impact adds up.
Let's say you have 300 blogs on your e-commerce site; each attracts 350 pageviews per month (average, for a decent performing blog post). If each of those posts converts traffic at a rate of 2% (the average conversion rate for e-commerce websites is 2.86%), with an average order price of $50, those posts are generating around $105,000 per month.
But what happens if you let those posts decay over time? A drop from 350 pageviews per month to 50 pageviews per month equates to a loss of $90,000 per month.
The lesson: It pays to periodically refresh your top content to sustain their traffic thresholds.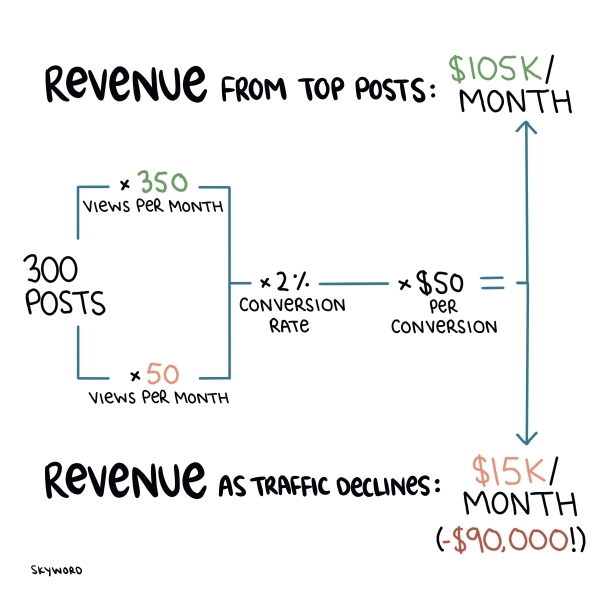 Second: trust and compliance risk
When customers find posts on your site that feature outdated information or advice, they go looking elsewhere for guidance (and maybe even get flustered in the process).
Out-of-date content can drag down your brand authority and credibility in the blink of a Google search (more on that later). Especially if you're doling out advice that could sway business policy or impact someone's financial or health care decisions, you need to constantly update your content to reflect best practices based on the latest technology, regulations, and research. In highly regulated industries, a failure to do so could even qualify as a compliance violation, resulting in a fine of up to ~$40K per instance.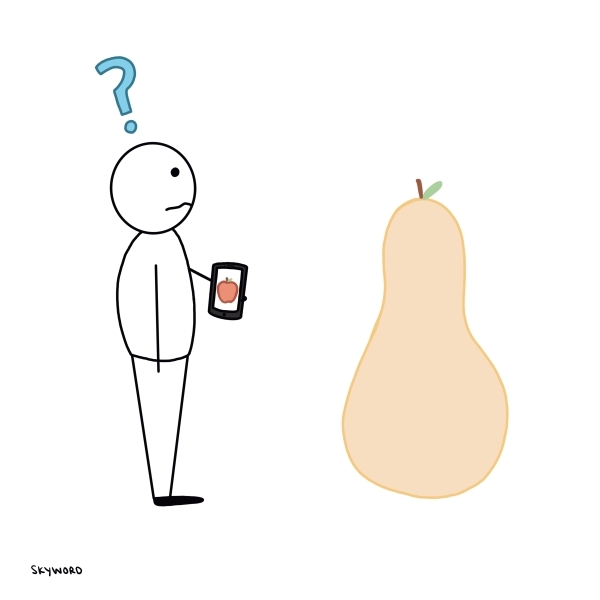 Third: lower traffic and search visibility
Falling out of step with SEO best practices leaves your site vulnerable to plummeting search rankings.
Google makes core updates to its algorithm on a near-quarterly basis, and those updates can have a major impact on how sites rank in search. In fact, there are entire news outlets dedicated to tracking the website "winners" and "losers" after every update.
Even if your traffic doesn't take a nosedive, SEO audits are necessary to keep current with audience and market trends (for example, the explosive rise of mobile search) and innovations in the search process (for example, advances in natural language processing).
Your content is likely getting undervalued in search if you haven't updated it to comply with SEO best practices in the last year. And, if you're shelling out around $400 in time/effort per post, it's worth salvaging that investment, right?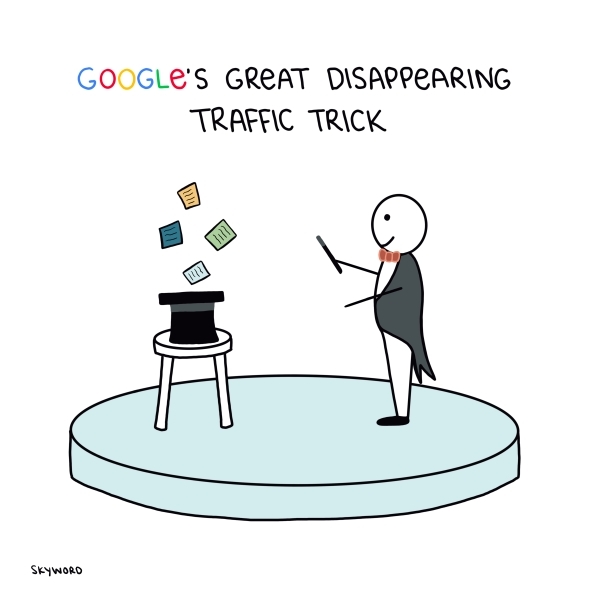 Back in March, 56% of leading marketers said they conducted a website SEO and content audit at least annually, and for good reason. Search Engine Land claims that "when you refresh a page correctly, traffic will generally increase to that page 10% to 30%, sometimes more."
With budget allocations dropping due to COVID, we all need to get as much mileage as possible out of our content.
That's why, if there's one content marketing activity you fund this year besides net-new creation, it should be a content audit and refresh.
Still not convinced? Let's talk about results. Even a small investment in refreshing keywords alone can pay huge dividends.
For example, one article for an enterprise client in the aerospace industry jumped from #22 to the #1 organic spot three weeks after a keyword audit and refresh. Because we changed the targeted keyword phrase and adjusted the copy slightly to optimize for it, the article now ranks for 207 queries (+62 from the previous quarter) and jumped from 46 to 2,352 quarterly pageviews.
In this case, recovering search traffic was the focus of the audit and refresh. But your circumstances may call for a different approach. Here at Skyword, we break audits into three general categories:
SEO audits are focused on improving search performance, specifically. They assess and address technical factors that impact site health and on-page elements that influence search rankings.
Content audits are focused on improving content quality, overall effectiveness, and strategic alignment. They assess SEO factors in addition to elements such as information accuracy, relevance, formatting, tonal consistency, and link/CTA usage.
Performance audits are aimed at making strategic determinations about what's working and what's not. They assess the strengths and weaknesses of existing content based on performance data insights, resulting in a content action plan to fuel ongoing creation.
To learn more about which approach makes the most sense for your brand, join our upcoming webinar on content audits. We'll talk through all the factors that should be assessed as part of each audit, and how to align audits to your goals.
Featured image attribution: Life Of Pix from Pexels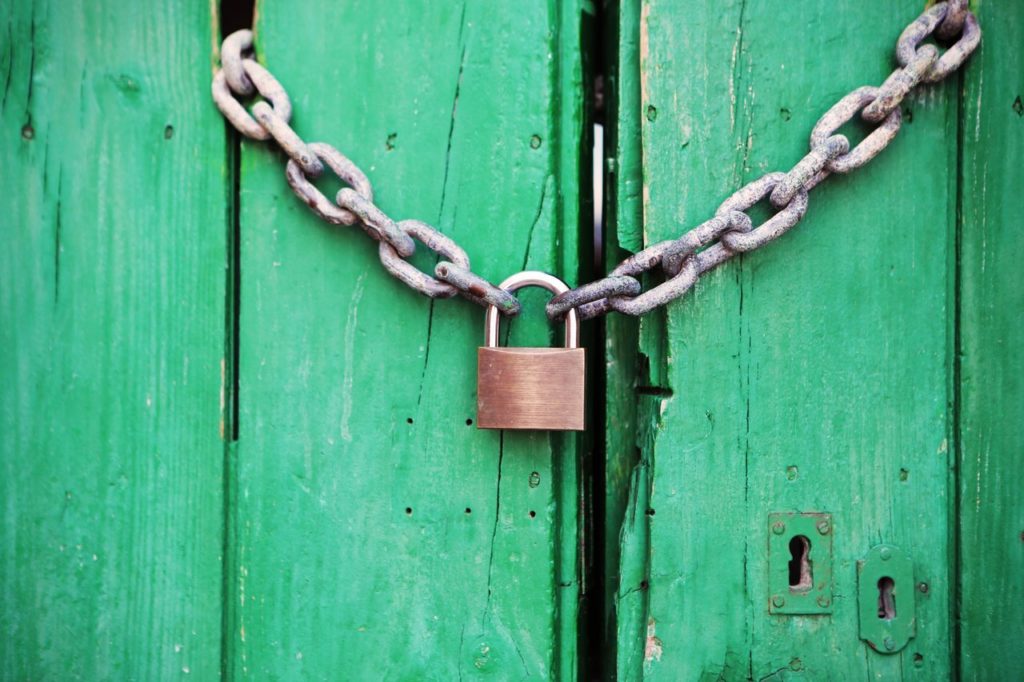 https://www.skyword.com/contentstandard/youre-sitting-on-a-content-gold-mine-you-just-dont-realize-it/
https://www.skyword.com/contentstandard/youre-sitting-on-a-content-gold-mine-you-just-dont-realize-it/
Andrew Wheeler