Communications
What Capabilities Should Be Built into Your Voice Search Strategy?
By Erik Mathes on August 12, 2020
How far are you prepared to go with your brand's voice search strategy? As marketers doing our best to leverage the latest tools and capabilities in an ever-evolving technological landscape, it's a question that's growing more urgent every day.
With more than one-third of Americans saying they use voice assistants at least once a month, according to a 2019 eMarketer report, companies looking to future-proof their marketing plans should consider investing in voice search—to a degree that makes sense for their respective business models, of course.
Your company's goals and the resources you dedicate to achieving them will determine where you fall on Skyword's Voice Search Capabilities Spectrum, as shown below.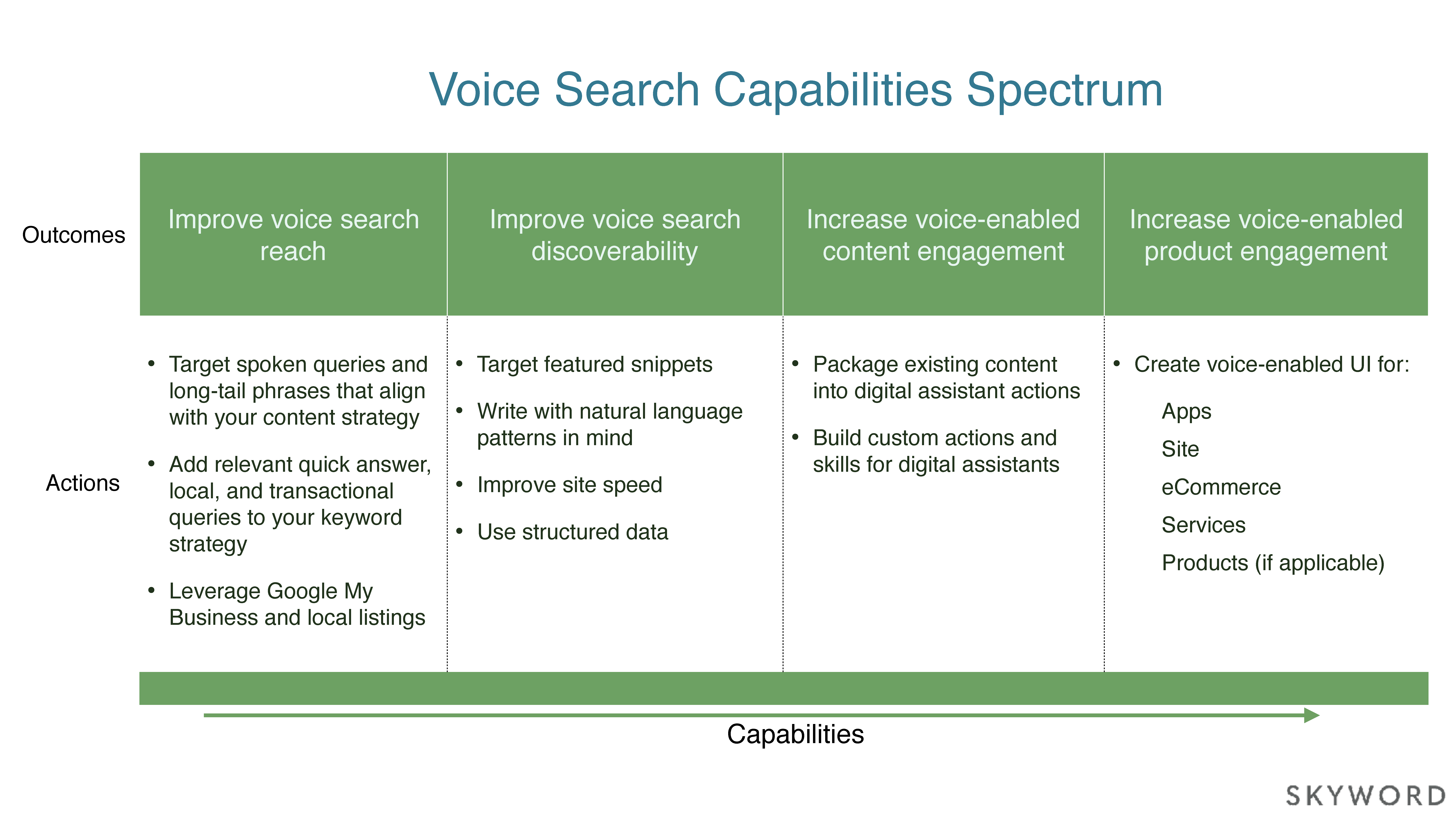 We're sharing a series of questions you can use to assess how your voice search strategy stacks up for each outcome. And alongside each question, you'll find a range of actions you can take to gain an edge in voice search, from targeting typically spoken queries with content to incorporating voice-enabled experiences into your site.
Are We Reaching Enough People via Voice Search?
By and large, businesses have been slow to optimize their content for voice search, but the only way they'll see results is through a proactive approach.
Because voice search has fewer results, often only one, getting called out by voice assistants is statistically much more difficult than ranking on Google's first page. And while landing atop SERPs is sometimes achievable through traditional search engine optimization, this strategy alone doesn't always equal voice search success.
Here are a few things you can do to reach more people through voice queries.
Incorporate Spoken and Long-Tail Keywords
Creating content that reflects the way people speak can help you expand your voice search reach. Think of long-tail keywords that aren't just contextually relevant to your brand, but that also include transactional phrases, local searches, and popular qualifiers. For example, say you're trying to rank on the broad keyword "SEO consultant." Here are three long-tailed keywords you could use that incorporate these principles:
Transactional phrases: Hire an SEO consultant.
Local searches: SEO consultant in NYC.
Popular qualifiers: Best SEO consultant for startups.
Ask and Answer Relevant Questions
Google's Featured Snippets tend to display the best answers to popular question searches, according to marketing guru Neil Patel. Additionally, the results from Google's Answer Boxes tend to be what Google Assistant and Apple's Siri use to answer voice queries. Bing has its own similar snippets that inform Amazon Alexa and many Cortana results. Posing questions and offering answers in your content can help you land inside these prime search features.
Start by building your assets around relevant long-tail question keywords that align with your content strategy; the more specific they are, the more effective they'll be. For instance, when using Google Assistant, I received two completely different answers for the questions, "What's the best CRM?" and, "What's the best CRM for startups?" So consider incorporating your target audience into your question keywords to boost your content's reach.
Use a tool such as Answer the Public to quickly and easily generate a host of popular question keyphrases based on broader keywords. Then, pepper them organically throughout your content. Be sure that your content also offers answers to these question keywords, ideally in a bulleted or numbered list so they're easily scannable by search engines.
Leverage Google My Business and Local Listings
If your brand isn't on Google My Business, it could be missing out on a major SEO boost that's easy to implement—especially if you operate from a brick-and-mortar location.
Create a profile for your brand with as much detail as possible, then start collecting positive reviews from happy customers. This way, you'll increase your chances of showing up in voice search results for local queries when Google is providing the information. Don't forget to also make listings for Bing Places for Business and Yelp, two other sources that voice assistants like to call upon.
Can Search Engines Discover Our Content for Voice Search?
On the other side of optimizing your content for reach is improving its discoverability—i.e., making it easier for search engines to find and understand it. Here are some strategies for getting search engines to favor your content and increase its chances of being discovered via voice search.
Use Structured Data
Structured data, also called schema markup, is additional scripts of code tacked onto site pages that relay more information about the subject matter to search engines, according to Search Engine Journal. If you've ever seen search results that display extras such as star ratings, votes, recipe data, or other information that's relevant to your search, those are known as rich snippets and are the result of structured data being applied to the back end of those pages.
Adding structured data to your site is known to strengthen its standing with search engines for more highly related keywords. It can also help you rank in the SERP snippets voice assistants typically target for their results, ultimately making your content more discoverable.
Write with Natural Language Patterns in Mind
While search engines have yet to become fully fluent in natural language processing, they're rapidly accelerating their understanding of both typed and voice searches, with voice lagging slightly behind.
In an effort to improve its search engine's natural language processing, Google launched the BERT update in 2019. The algorithm change made it possible to process words in the context of an entire query rather than processing them individually, which accounts for contextual nuances and sharpens the relevance of search results.
Natural language processing will only continue to improve as time goes on, so while your content should always target strategic keywords, it should also be created with speech patterns in mind in order to rank in voice search.
Improve Your Site Speed
Site speed is a heavily weighted metric in Google's search algorithm, so shaving off page load time should always be a top priority. In fact, sites that rank for voice search results load more than 50 percent faster than the worldwide average page load time, according to a study by Backlinko, which further indicates just how vital site speed may be for voice search discoverability.
Get started by checking your site speed using a free tool such as Google's PageSpeed Insights or Pingdom's Website Speed Test. Depending on your result, there may be a list of suggested fixes that can improve your site's load time, which you can deliver to your SEO expert (if it isn't you) to interpret and delegate the necessary work involved.
Often, site speed is hampered by two items, both of which are easy to fix and can translate to quick, significant wins:
image files that can be compressed to a smaller size.
JavaScript code that can be cleaned up or set to load at a different time.
How Can We Increase Voice-Enabled Brand Engagement?
Increasing engagement is an advanced area of voice search strategy because it requires building with new technologies. Once your brand has gone from dipping its toe to diving into the deep end of voice search, start considering the following ways to boost engagement with your content and products through this medium.
Package Existing Content into Actions or Skills
Forward-thinking companies create what are known as voice Actions (for Google) and Skills (for Alexa). These coded instructions inform voice assistants to perform specific tasks when prompted by verbal commands, such as opening an app or podcast, turning on your lights, or making a purchase.
You can build an Action for Google using schema markup, and it will then appear in the Google Assistant Directory. Several top brands have tapped into this tech, including:
Nike by letting users start a new run through its Run Club app.
PayPal by allowing seamless money transfers between friends.
Walmart by offering convenient voice-enabled shopping.
The same concept applies when creating Alexa Skills, which companies such as Campbell's and Capital One have done to boost brand and product engagement:
Campbell's with its meal-planning Skill that assists users with recipes and grocery lists.
Capital One with its financial-planning Skill that lets users access account balances, pay bills, and track spending.
As of 2018, there were more than 70,000 Skills in the Alexa Skills store, all of which are free. There are ways you can monetize Alexa Skills though, such as through in-Skill purchases, subscription offerings, or simply collecting useful data about users for future marketing and promotion efforts.
It's important to note that Actions and Skills are not necessarily going to be promoted by Google Assistant or Amazon Alexa devices, so make sure your audience knows about your offerings so they're not created in vain.
Create Voice-Enabled User Interfaces
The final frontier of voice strategy is when your brand builds its own voice-enabled user interfaces. This can be done in a variety of ways, such as with apps, your site or eCommerce platform, and even products and services.
As this is still such a novel capability for brands, it may not make sense or be feasible to innovate in this fashion until the landscape becomes more clearly defined. Still, if your brand prides itself on forward-thinking and future-proofing, adding a voice-enabled UI component to your portfolio may be worthwhile.
How Vital Are Voice-Enabled Purchases to Our Brand?
Now that you know how to optimize content for reach, discoverability, and engagement via voice search, it's time to ask yourself: Does your business need to generate sales through voice-enabled devices? The short answer for all brands, especially B2C businesses, is probably yes.
For starters, the COVID-19 pandemic has accelerated the adoption of smart speakers in homes, according to The Smart Audio Report from NPR and Edison Research. As of April 2020, they estimate that 60 million Americans over the age of 18 own a smart speaker; 52 percent of users say they use voice tech several times a day.
On top of that, London-based voice-tech firm Voxly Digital reported that voice usage in the UK has increased significantly during lockdown. In their recent survey, more than half of the respondents said they're using voice assistants more during the pandemic and 61 percent said the technology is "helping them get through isolation." All brands should take notice.
With the longevity of the pandemic still uncertain, hands-free purchases will likely continue to be a crucial component of staying safe in the new normal. And as voice assistant technology continues to pivot from nice-to-have items to at-home essentials, brands would do well to cater to this technology instead of looking the other way. There may even be a time when the public finds a lack of voice-enabled shopping akin to brand carelessness.
Here are some innovative ways that companies are already tapping into voice-powered shopping.
Products and Services Being Sold via Voice Assistants
Amazon dominates voice-enabled purchases as creators of the most popular hardware that powers them: Alexa. Devices enabled with Alexa are leading consumers right into Amazon's vast marketplace, but this technology is also helping other brands make some serious money.
Many businesses have tapped into the potential of custom Alexa Skills to drive in-Skill purchases of goods and services, such as being able to order pizza from Domino's and start a guided meditation session through Headspace. Amazon breaks down the three types of in-Skill purchases as follows:
One-time purchases: Premium content or features that don't expire, such as a new branch of a choose-your-own-adventure story or an expansion pack for a game.

Consumables: Content or features that deplete over time and can be repurchased, including coins, hints, or extra lives for games and access to a set amount of content.

Subscriptions: Premium content or features accessible for a period of time, with users charged on a recurring basis until they cancel their subscription.
Just as businesses can enable voice transactions by building custom Alexa Skills, they can also build transactions into Actions for Google Assistant in virtually the same way. Transactions through Actions can also be used to purchase physical and digital goods, such as content subscriptions and game upgrades, and even reservation bookings for hotels, restaurants, or events.
Google Assistant has already opened the door to voice-enabled sales for a variety of large companies across many industries, including Target, Best Buy, and Costco. As voice assistants become more prevalent and voice shopping becomes the norm, it's likely that this pool of brands will only continue to expand.
To assess how urgent a priority voice-enabled purchases should be in your brand's strategy, start by analyzing how it's being approached by your competitors. Then, if they're doing something you like, draw inspiration from their approach but find a way to do it better.
Can We Reach Our Voice Strategy Goals with In-House Resources?
If resources, expertise, and bandwidth weren't an issue, every company would probably have their voice strategy sorted out, complete with content optimized for voice search, custom Alexa Skills and Google Actions, and even their own voice-powered UIs to drive engagement and sales. Of course, we're far from there, and every business is built of different parts, some better set to handle the necessary work involved in adapting to the voice search revolution.
After determining how far you should go along the Voice Search Capabilities Spectrum, you'll need to make a realistic assessment of whether you have the right people in place to get you there. It all starts with content creators and SEO specialists who can:
get the momentum going by writing in a voice that resonates with humans and search engines.
optimize on-page elements and back-end coding.
design pages with site speed in mind, making the right concessions with existing landing pages.
These experts, at a minimum, are essential for executing phase one of your voice strategy. If you don't have these experts in-house, you can always outsource your content creation to a team of expert freelancers.
To make it further along the Voice Search Capabilities Spectrum, you'll also need developers and UX designers who can:
build custom voice Skills and Actions.
design product experiences geared toward voice purchases.
create voice-enabled UIs for driving engagement and sales.
These skill sets are only just beginning to emerge as vital, and even your best in-house engineers and user-experience experts may need to invest time in learning new methods. If it seems like your in-house resources can't make the magic happen, take solace in knowing options for outsourcing this part of the process are only a (voice) search away.
To discover more methods for leveraging this powerful emerging technology, download Skyword's "The Ultimate Guide to Voice Search for Brands."
Featured photo by Andrea Piacquadio on Pexels.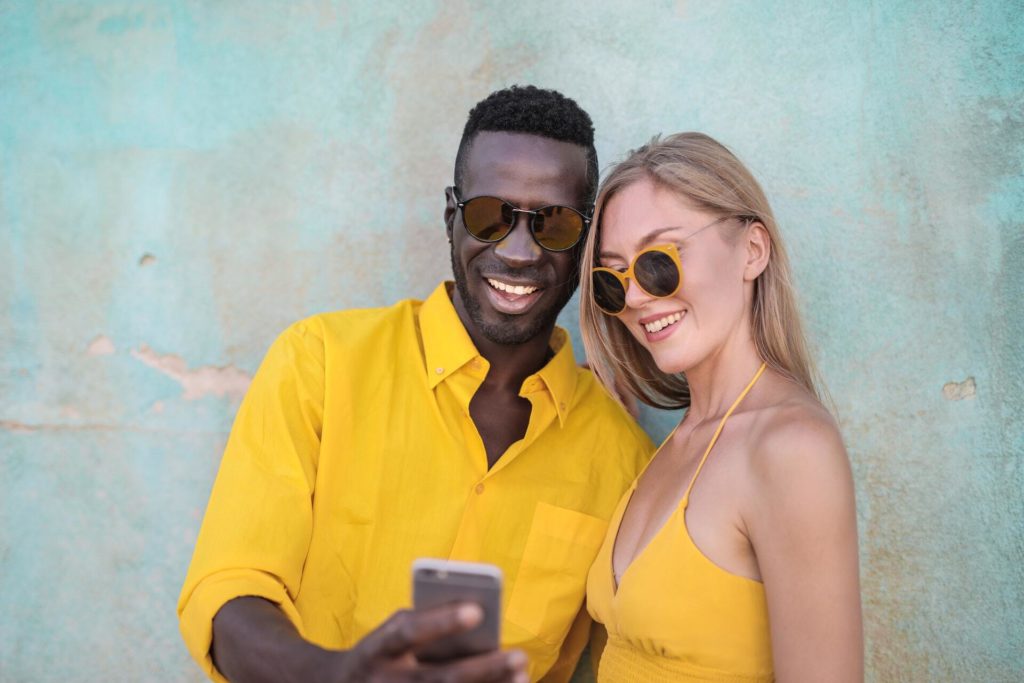 https://www.skyword.com/contentstandard/what-capabilities-should-be-built-into-your-voice-search-strategy/
https://www.skyword.com/contentstandard/what-capabilities-should-be-built-into-your-voice-search-strategy/
Erik Mathes