Content Strategy
3 B2B Tech Brands with Stand-Out Visual Content Marketing
By Daniel Tay on May 24, 2018
B2C marketers have all the fun.
At least, that's what most people think. After all, B2C marketing is all about being relatable and entertaining, while boring whitepapers and PowerPoint presentations are typically what passes for visual content in B2B marketing.
On the other hand, a B2C consumer that engages with your content and follows your brand might not necessarily have a strong intent to make the purchase. The reverse tends to be true for B2B clients, who are strongly motivated to tap into your expertise to do their jobs better.
As such, the stereotype that B2B content marketing tends to be stale and uninspired presents an opportunity to differentiate your brand from the pack. And what better way to do that than by creating exceptional visuals that draw the eye and captures attention?
We're not just talking about static infographics here-though they are certainly still very effective at showing rather than telling. In this day and age, B2B marketers are facing more pressure than ever to create more interactive and engaging content formats to cut through the noise.
To inspire you, here are visual content marketing examples from three B2B tech brands that are doing it right.
General Electric
You'd probably expect reports delivered by General Electric (GE), a company that celebrates its 125th birthday this year, to be wordy and full of jargon.
On the contrary, GE has been touted as the "smartest brand in social media today," thanks to their consistent publishing of visual content that is not only fresh, but also strategic.
According to GE CMO Linda Boff, they aren't afraid to tread new ground and be the first to try things out. "We have worked with all kinds non-traditional partners, channels and mediums," she tells Marketing Week.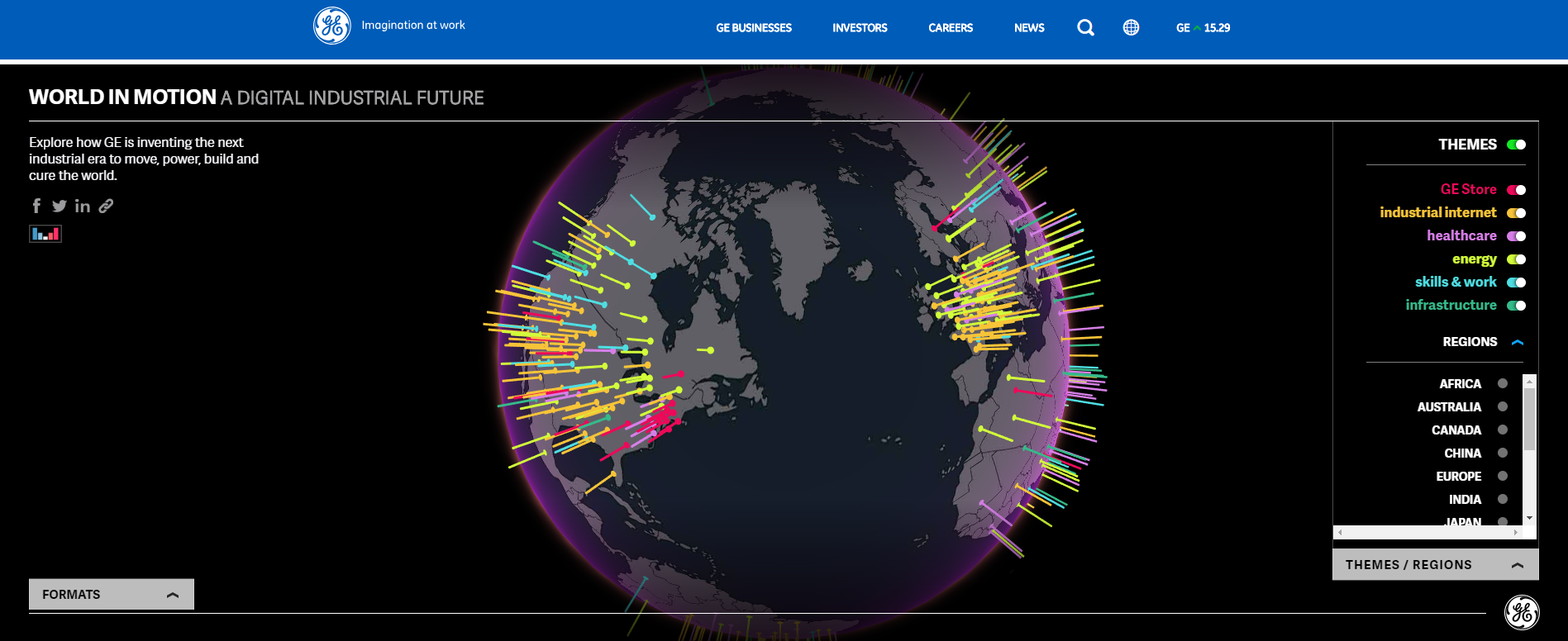 This has resulted in tie-ups with a slew of companies, such as digital publisher Quartz. Together, they created an impressive piece of branded content called World in Motion, a data visualization that allows viewers to find and read stories of the cutting-edge projects GE employees are working on all across the world-extremely apt for a company that brands itself as a "125-year-old startup" and wants to be known for creating things "that build, move, power, and cure our world [. . .] in over 180 countries."
HP Inc.
Videos are probably one of the first visual marketing formats that a marketer would think of. According to Hubspot, as of 2018, 81 percent of businesses use videos in their marketing efforts, an increase from 63 percent the year before.
The thing is, high-quality videos have high production value, which requires a huge investment of time and effort.
Sure, any marketer can draft a script in a day and record a quick video the following day using his or her smartphone. But great videos are all about the nitty-gritty details, such as the cinematography, lighting, and makeup, just to name some-which makes HP's video marketing efforts all the more impressive.
Take their Star Wars-themed series of videos, for example. Meant to solidify their latest tagline, "Keep Reinventing," each episode clearly sent across this message by portraying young inventors tinkering away and creating various Star Wars characters-with the help of HP equipment, of course.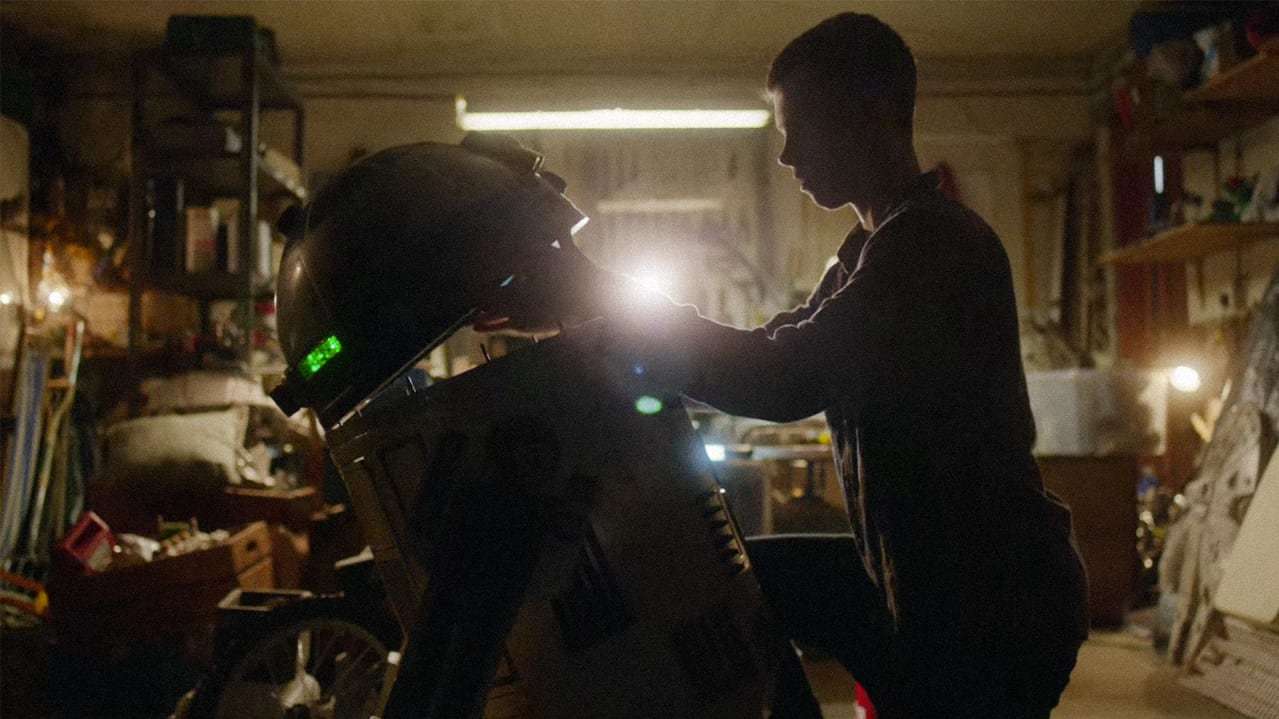 HP even won an award at the Digiday Content Marketing Awards for its recent video series, The Wolf, focusing on hardware and printer security. Production-wise, the videos were on par with professionally-shot television shows and even starred the Mr. Robot star Christian Slater.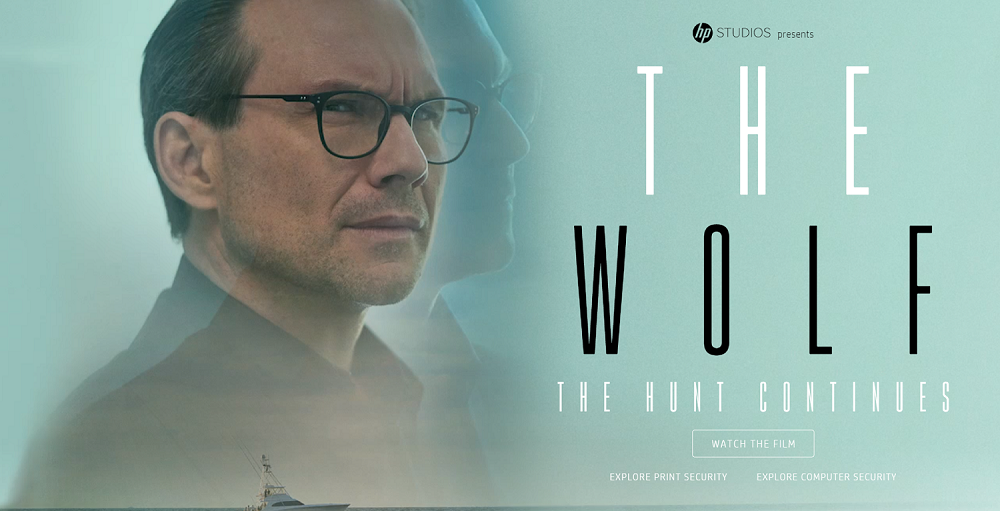 Piktochart
At this point, it's important to bear in mind that the prior examples from GE and HP are big-budget projects. As such, they're not reflective of what even mega-brands are able to produce day in and day out.
For the last example, let's switch it up a little and have a look at visual content on a smaller scale.
Piktochart is a tool that allows users to create infographics, flyers, posters, presentations, and reports easily with absolutely no design experience.
For a company that wants to "shape the future of visual storytelling," you'd certainly expect Piktochart's visual marketing efforts to be on point-and you'd be absolutely right. A quick glance at Piktochart's blog and the array of beautiful, custom-created article images confirms this: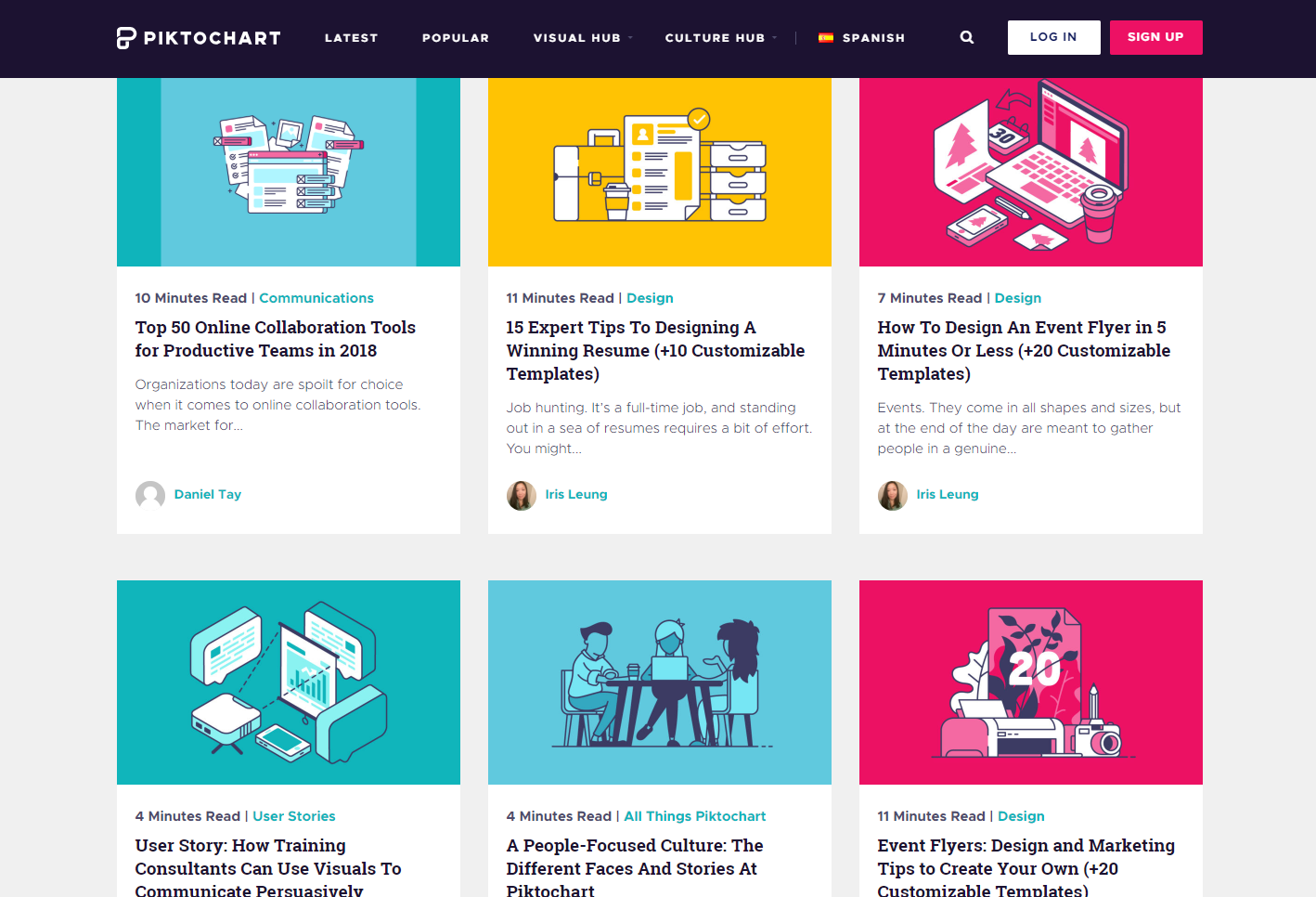 The consistent use of illustrations and brand colors in their images reinforces and accentuates their brand identity well.
But that's not all. Over the years, Piktochart has also accumulated a library of visual marketing content, such as SlideShare presentations and e-books, tailored to teaching non-designers how to do design better.
For instance, this SlideShare presentation, titled "24 Awesome Infographic Ideas to Inspire Your Next Beautiful Creation," drew over 140,000 views:
From these content marketing examples, it's clear that while a certain level of quality is to be expected, it's equally important for B2B marketers to be consistent in their visual marketing efforts.
As with content marketing in general, slow and steady wins the race. Take a leaf from GE's marketing playbook, and keep trying new visual content formats to see what sticks with your specific audience.
For more stories like this, subscribe to the Content Standard newsletter.

Featured image attribution: Jenna Day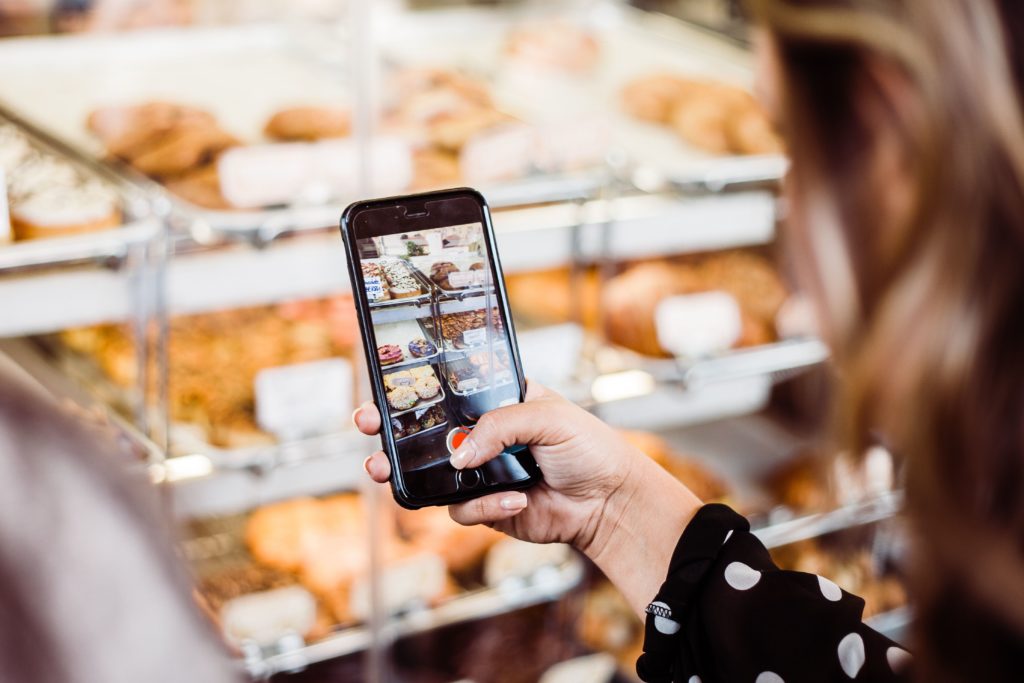 https://www.skyword.com/contentstandard/3-b2b-tech-brands-with-stand-out-visual-content-marketing/
https://www.skyword.com/contentstandard/3-b2b-tech-brands-with-stand-out-visual-content-marketing/
Daniel Tay