Content Strategy
6 Effective Content Types and How to Use Them in Your Content Marketing
By Bernie Smigel on March 19, 2021
From the crafty copy that forms an enlightening eBook to the visuals of a truly eye-catching infographic, the savvy marketer has a slew of content types at their disposal. Better yet, each option offers multiple ways to engage, convert, and retain a target audience.
Skyword's research shows that the average brand has embraced a more diversified approach to content, with many creating at least six types of content in total. But often, how they use those assets is limited: only two types (one being sales collateral) actually support customer conversion and retention. So it comes as no huge surprise that brands report a 28% plummet in the effective use of content after the engagement stage of the audience journey.
Of the countless shapes content can take, six core types—videos, infographics, long-form downloads, webinars, interactive tools, and podcasts—serve as key tools in a healthy content ecosystem. When you play to the strengths of each, every campaign is fresh, engaging, and boosts the bottom line.
To make it easier to compare and contrast these six common types of content, we've created battlecards that break down what each does and how you can adapt and deploy it to suit your content strategy.
1. Video
Video's biggest strength is its ability to draw emotion. For the same reason we can't peel our eyes away from a captivating movie, a well-produced video tells your story loud and clear in a way that sticks with your audience.
Find places to embed video on your website to increase time on the page and give it an SEO upgrade. Cut the longest versions of your videos into short, "snackable" clips. These play to the transient nature of social media scrolling and give you more material for your content calendar.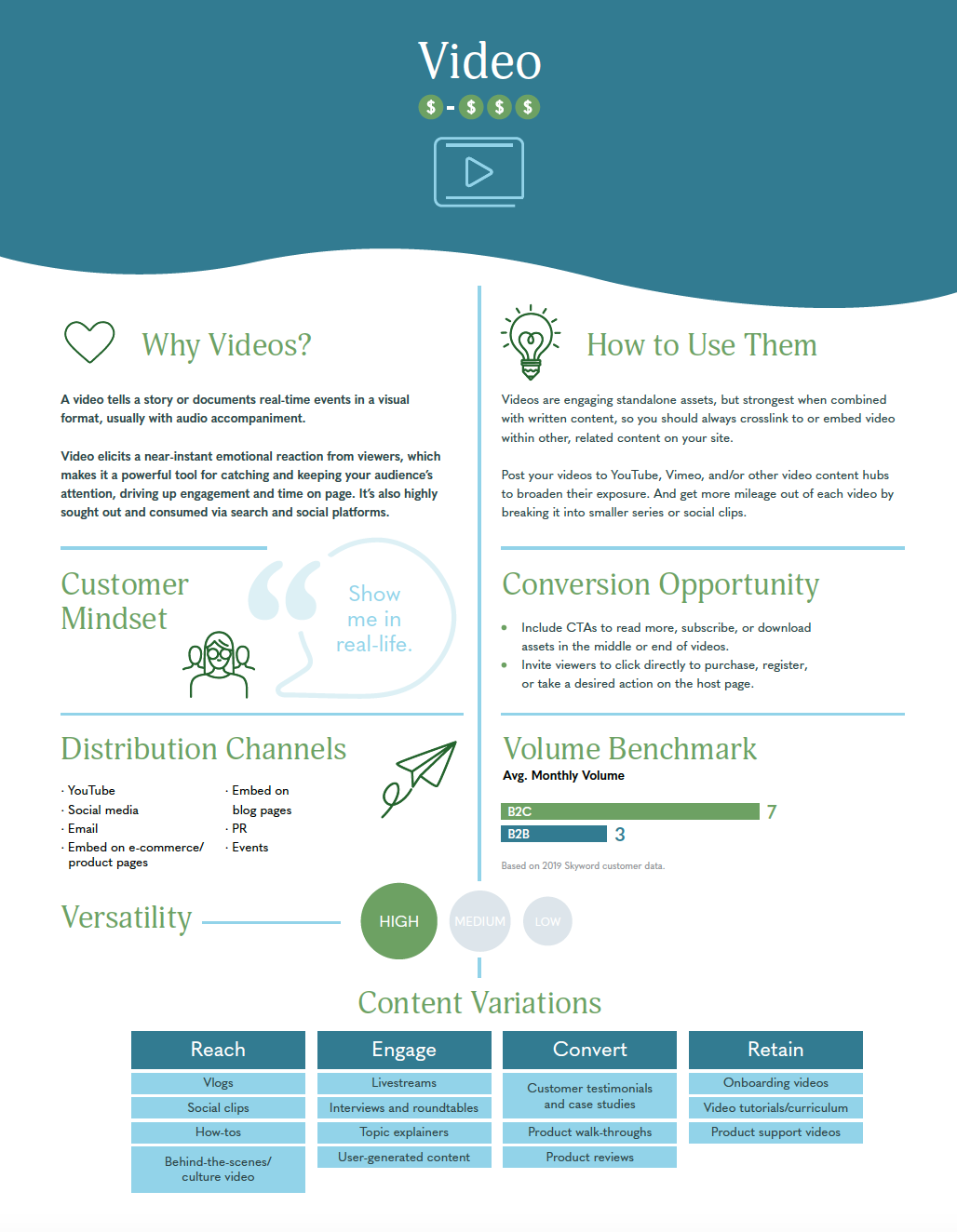 Pro tip: Videos are engaging stand-alone assets, but they're strongest when combined with written content. Crosslink to or embed video within other related content on your site, and post your videos to YouTube, Vimeo, and other video content hubs to broaden their exposure.
2. Infographic
An infographic is an efficient way to communicate multiple heavy-hitting data points. It takes no detours in its creative presentation of attention-grabbing stats and figures.
By pairing high-quality research with a cohesive visual narrative, you can give your audience intriguing, quickly digestible thought leadership material. Infographics help increase your scroll depth/time on page (especially if they're interactive), boost search traffic via visual search and backlinks, and amplify social engagement.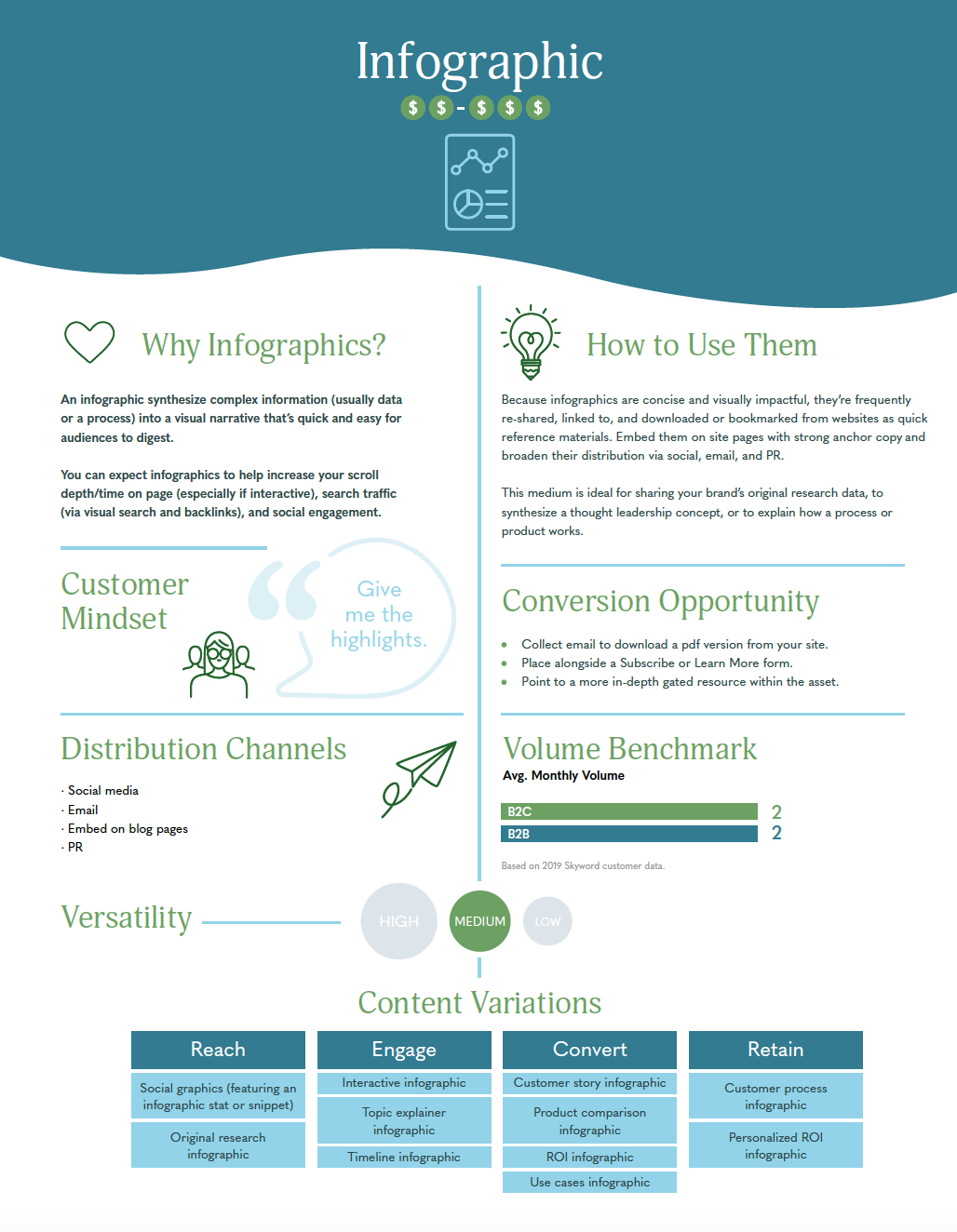 Pro tip: Infographics are ideal for sharing your brand's original research data, synthesizing a thought leadership concept, and explaining how a process or product works. Because they're concise and visually striking, they're also easily re-shared, linked to, downloaded, or bookmarked from websites. Embed them on site pages with strong anchor copy and broaden their distribution via social, email, and PR.
3. Long-form Download
Long-form materials such as eBooks and white papers are well-positioned to target potential customers in the brand conversion phase—ones on the edge of making a purchase or forming a partnership. A long-form asset's strength is in exploring a topic of expertise for your brand in a reader-friendly layout (often supported by illustrations).
Whether gated or ungated, this kind of asset should serve as the centerpiece of a hub-and-spoke content campaign; videos, graphics, and shorter articles can engage your audience and lead them to longer-form content. If content is gated, compelling landing page copy and outbound promotion will be critical for driving leads.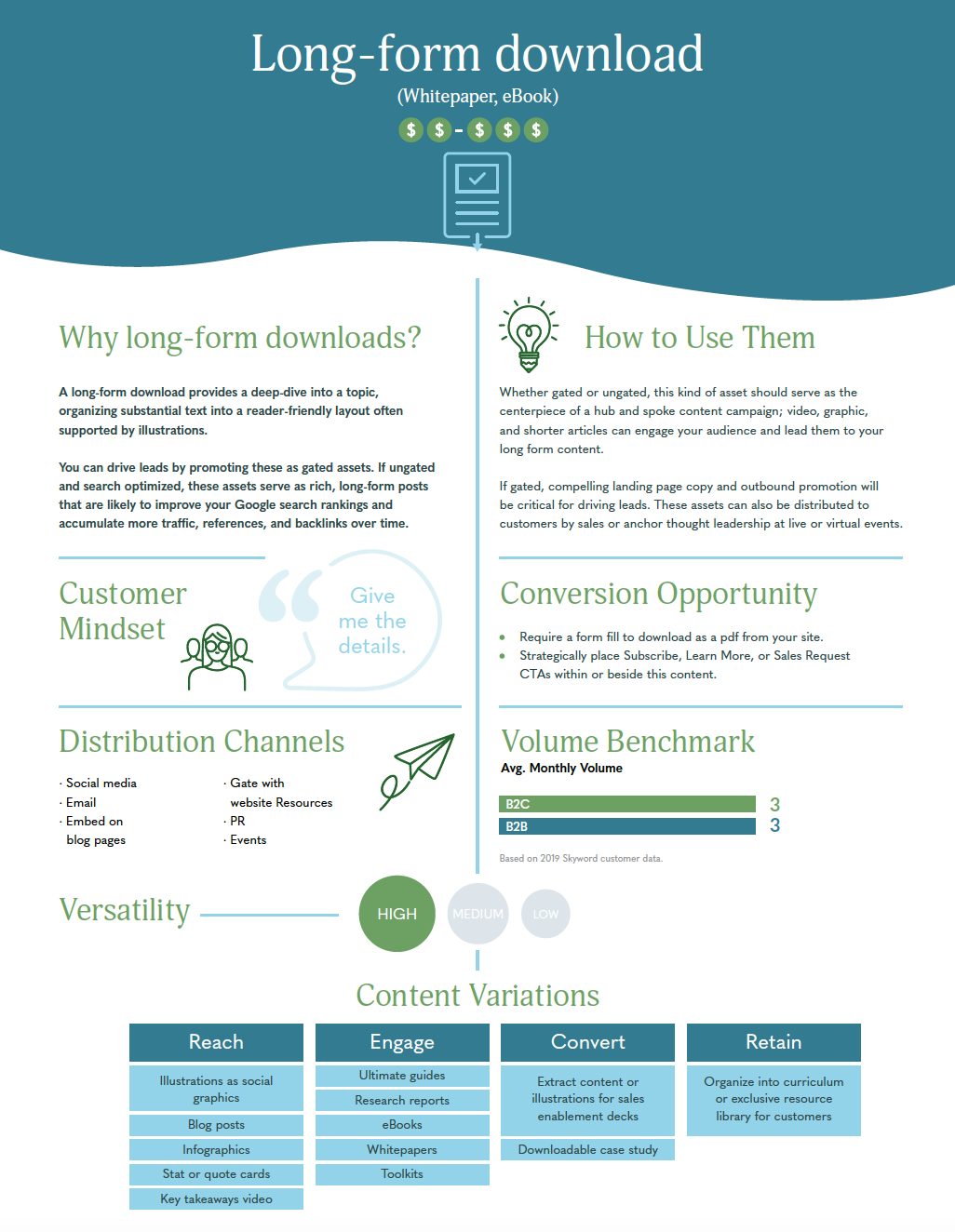 Pro tip: These detailed assets can also be atomized and distributed across channels as blog posts, infographics, and quote cards to help support reach and engagement. Once you've published your piece, give it another look and brainstorm ways you can recycle your visuals, summaries, and best one-liners.
4. Webinar
A webinar is a video seminar, workshop, or presentation involving one or more speakers. Unlike other kinds of content, they're time-based, so your audience has something to mark on their calendars. Webinars are a quick way to generate leads and meaningfully engage attendees through live participation with in-house or guest experts. A strong webinar library is also an excellent source of ongoing lead generation.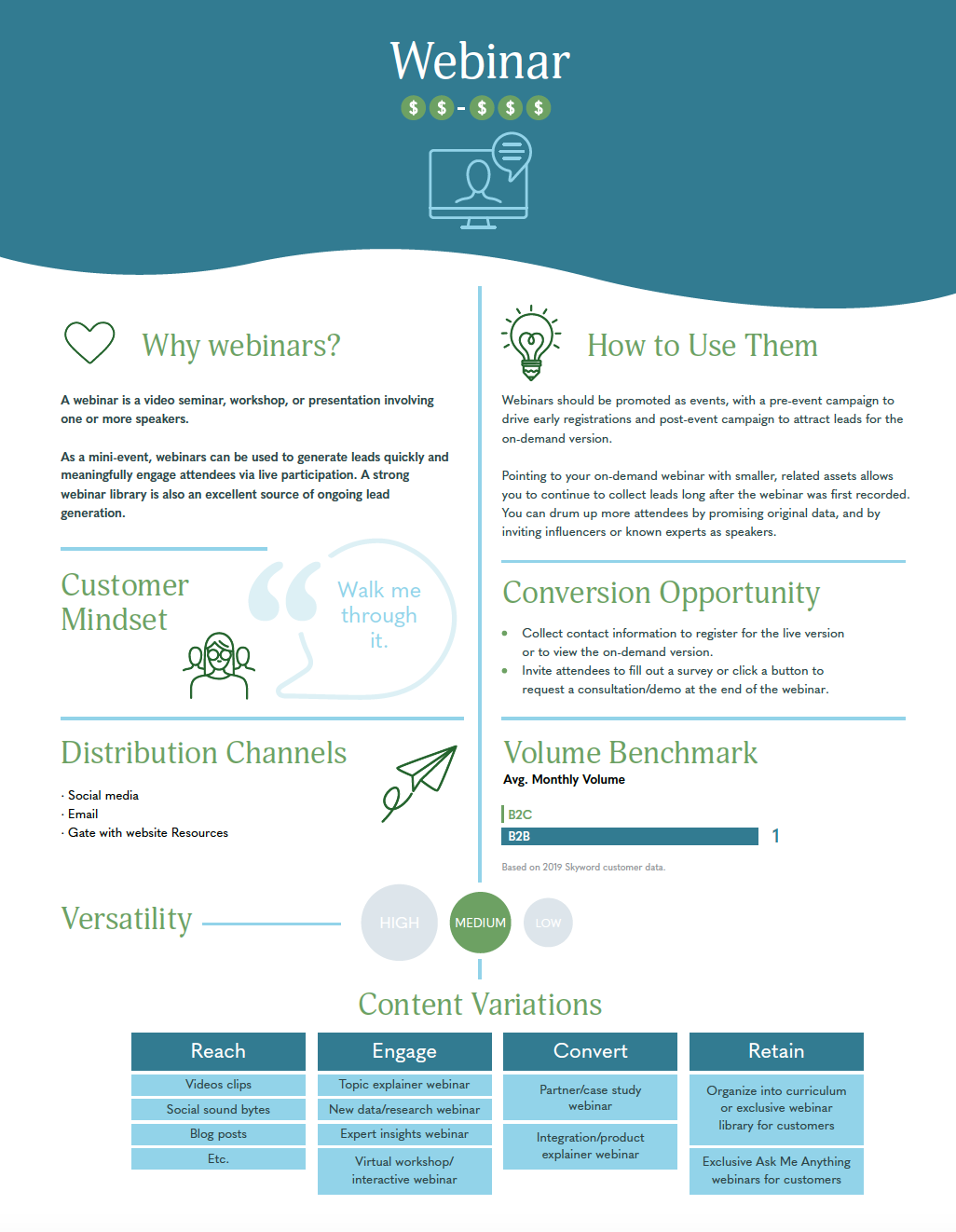 Pro tip: Promote webinars as events: use a pre-event campaign to drive early registrations and a post-event campaign to attract leads for the on-demand version. Pointing to your on-demand webinar with smaller, related assets allows you to continue collecting leads long after the webinar is first recorded. You can drum up more attendees by promising original data and inviting influencers or known experts as speakers.
5. Interactive Tool
Interactive tools such as online quizzes, assessments, and calculators make your value known in a more personalized way than other types of content. If your value proposition is that you can save revenue for a company's IT costs, think about how to prove that—maybe it's an assessment that evaluates how effective a company's devices are for the work they do or an online calculator that shows IT professionals how their mobile device costs compare against the industry average. In demonstrating the particular value you can offer to a company, a simple tool may make a big impact.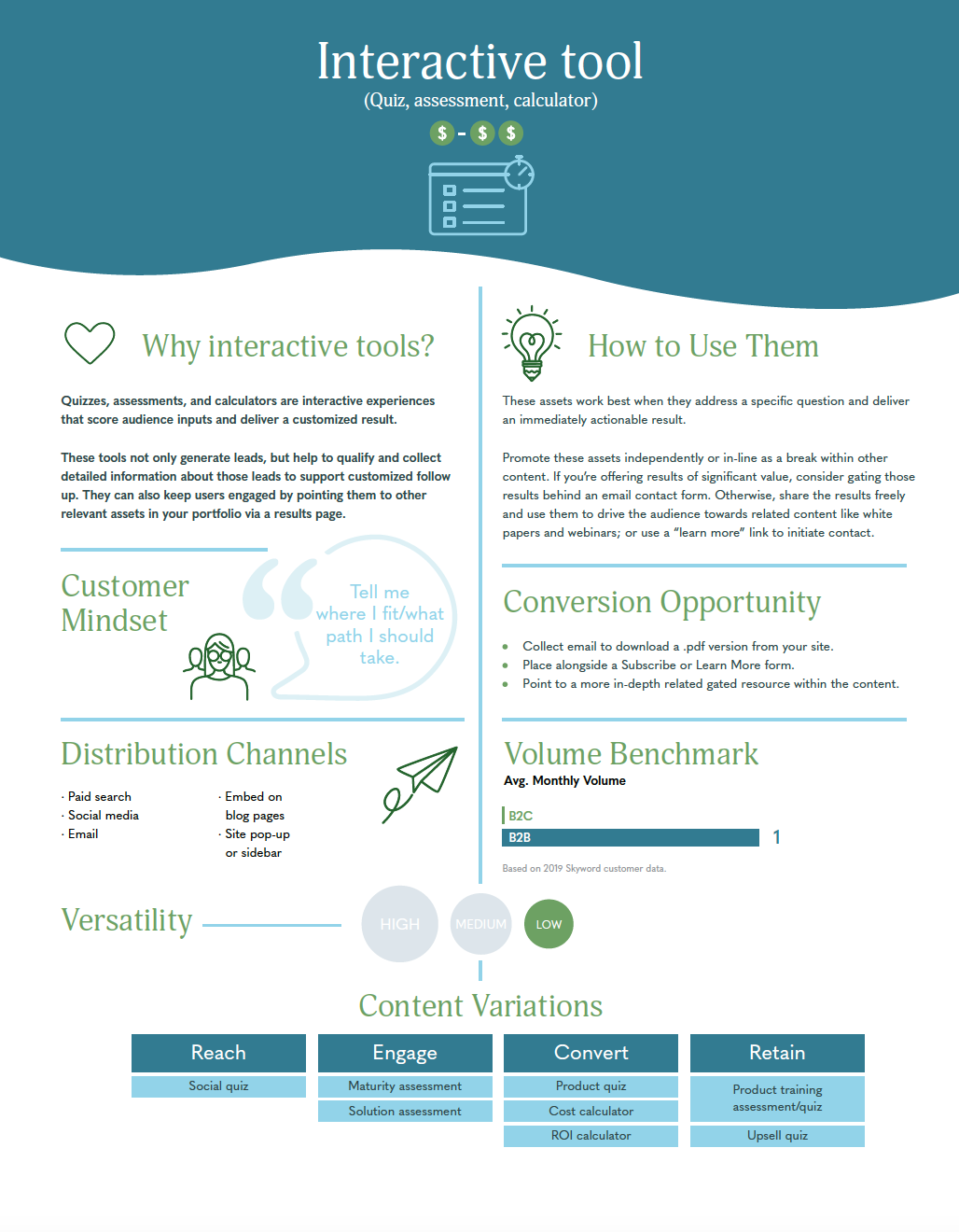 Pro tip: These assets work best when they address a specific question and deliver an actionable result. Promote these assets independently or in-line as a break within other content. If you're offering results of significant value, consider gating those results behind an email contact form. Otherwise, share the results freely and use them to drive the audience toward related content like white papers and webinars.
6. Podcast
A podcast—an episodic series of recorded audio discussions or narratives—is an easy way for your brand to broadcast thought leadership. A podcast series creates avenues to promote your internal expertise: you can choose to cover topics of interest that speak to your customers' challenges, industry news and trends, or social issues as they connect with your field.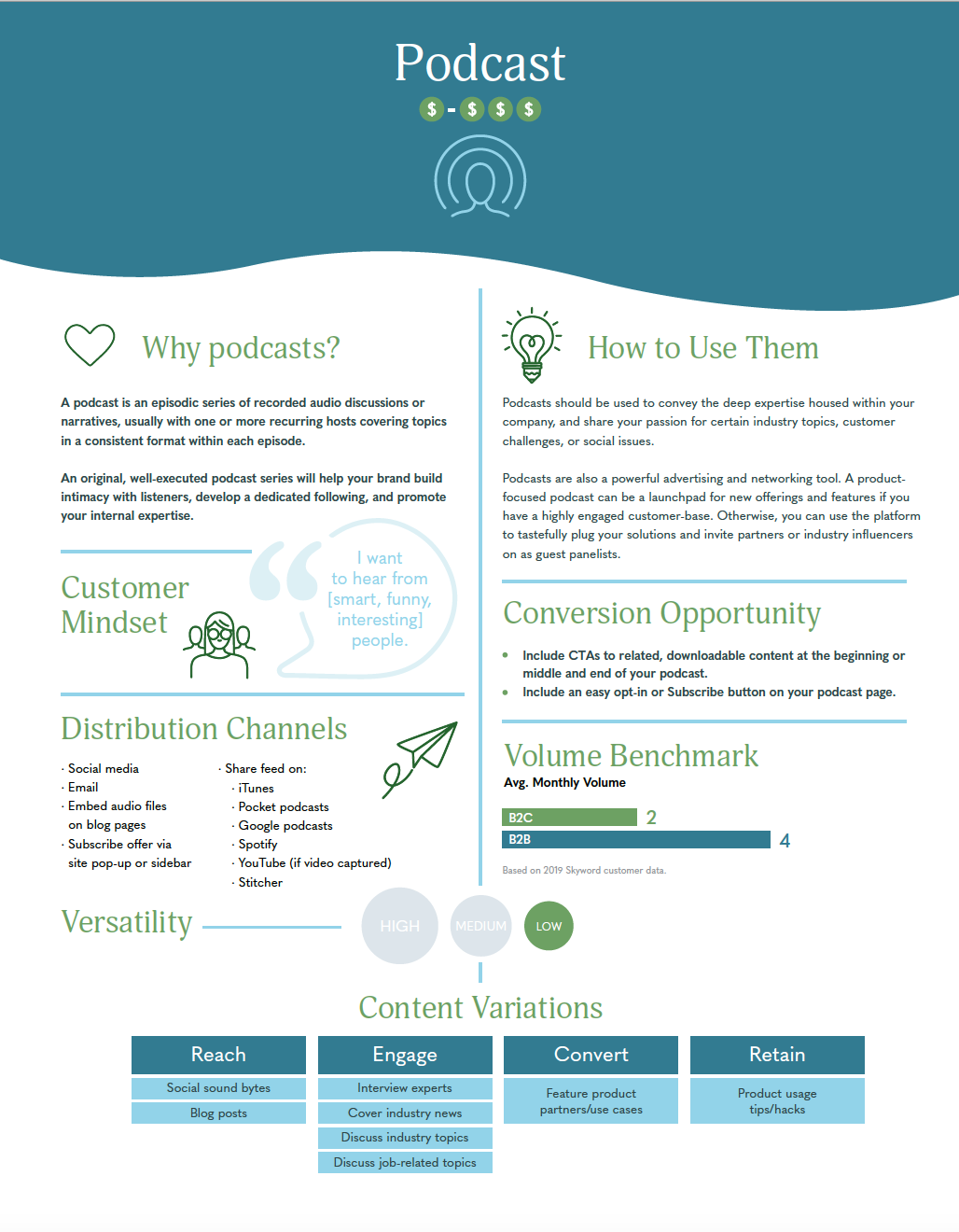 Pro tip: Podcasts are also a powerful advertising and networking tool. A product-focused podcast can be a launchpad for new offerings and features if you have a highly engaged customer base. Otherwise, you can use the platform to tastefully plug your solutions and invite partners or industry influencers on as guest panelists.
Content types are the building blocks of your marketing strategy. Long gone are the days where hard selling and advertising is enough to drive ROI. Marketing success hinges on high-quality, thoughtfully placed content—and each of these types can take several roles to hit different goals up and down the buyer's journey.
Check out our free white paper, The Content Marketer's Field Guide to Content Types, to learn how these six content types will work in harmony to create an effective content ecosystem.
For more stories like this, subscribe to the Content Standard newsletter.
Featured image attribution: Ross Sneddon on Unsplash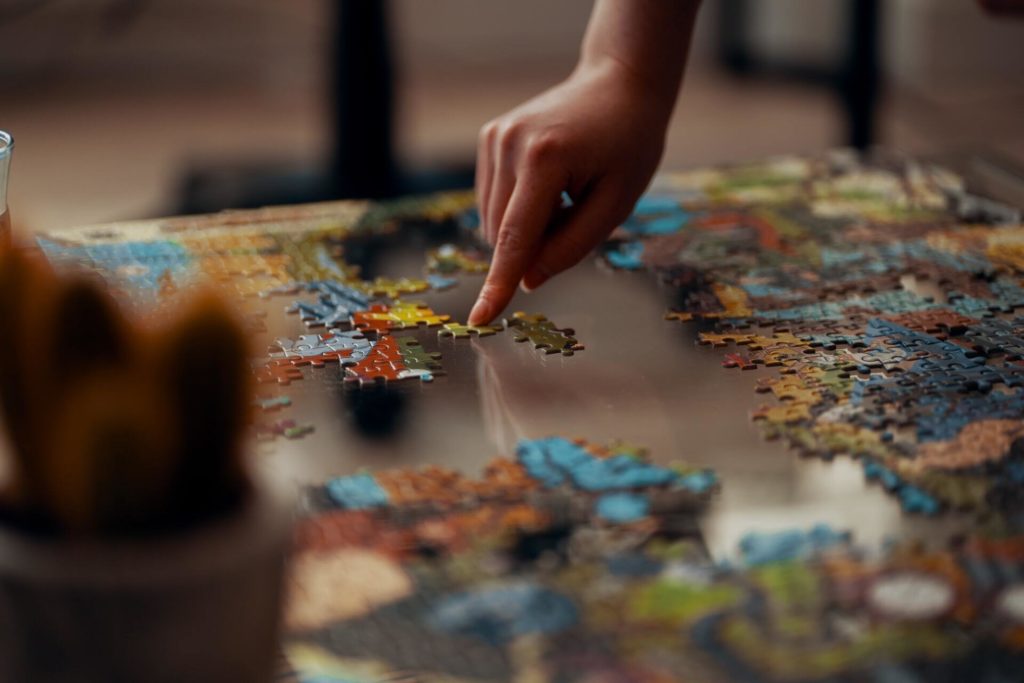 https://www.skyword.com/contentstandard/6-effective-content-types-and-how-to-use-them-in-your-content-marketing/
https://www.skyword.com/contentstandard/6-effective-content-types-and-how-to-use-them-in-your-content-marketing/
Bernie Smigel