Content Strategy
After Lead Generation: Three Models for a Content-Driven Retention Strategy
By Kyle Harper on September 6, 2018
It feels good to be useful, right?
Content marketing can be a uniquely rewarding discipline for this very reason, because content is extremely flexible in how it can serve businesses. Whether you're driving brand awareness, improving your SEO, or directly serving lead-generation efforts, it's difficult to find a space in your audience-communication mix where content isn't welcome.
But for all of our endless creativity about bringing in new visitors and prospects, marketers can sometimes be very quiet on the topic of retention. This is largely a product of how we structure marketing work today: The marketing funnel is supposed to bring in new, unaware folks and nurture them through a conversion. Once they reach that point at the bottom of the funnel, the marketer's work is (wrongly) perceived as done.
The truth is that content is able to do much more than just drive new audiences to your site. It's one of the primary ways that businesses hold conversations with their customers in the digital landscape, and these conversations don't stop at the point of purchase.
With a bit of planning, a savvy content team can find a number of easy ways to refit, repurpose, and renew content to support retention for your brand. In doing so, you might find that your content not only keeps your audience engaged for much longer, but it also improves the value of your conversions over time.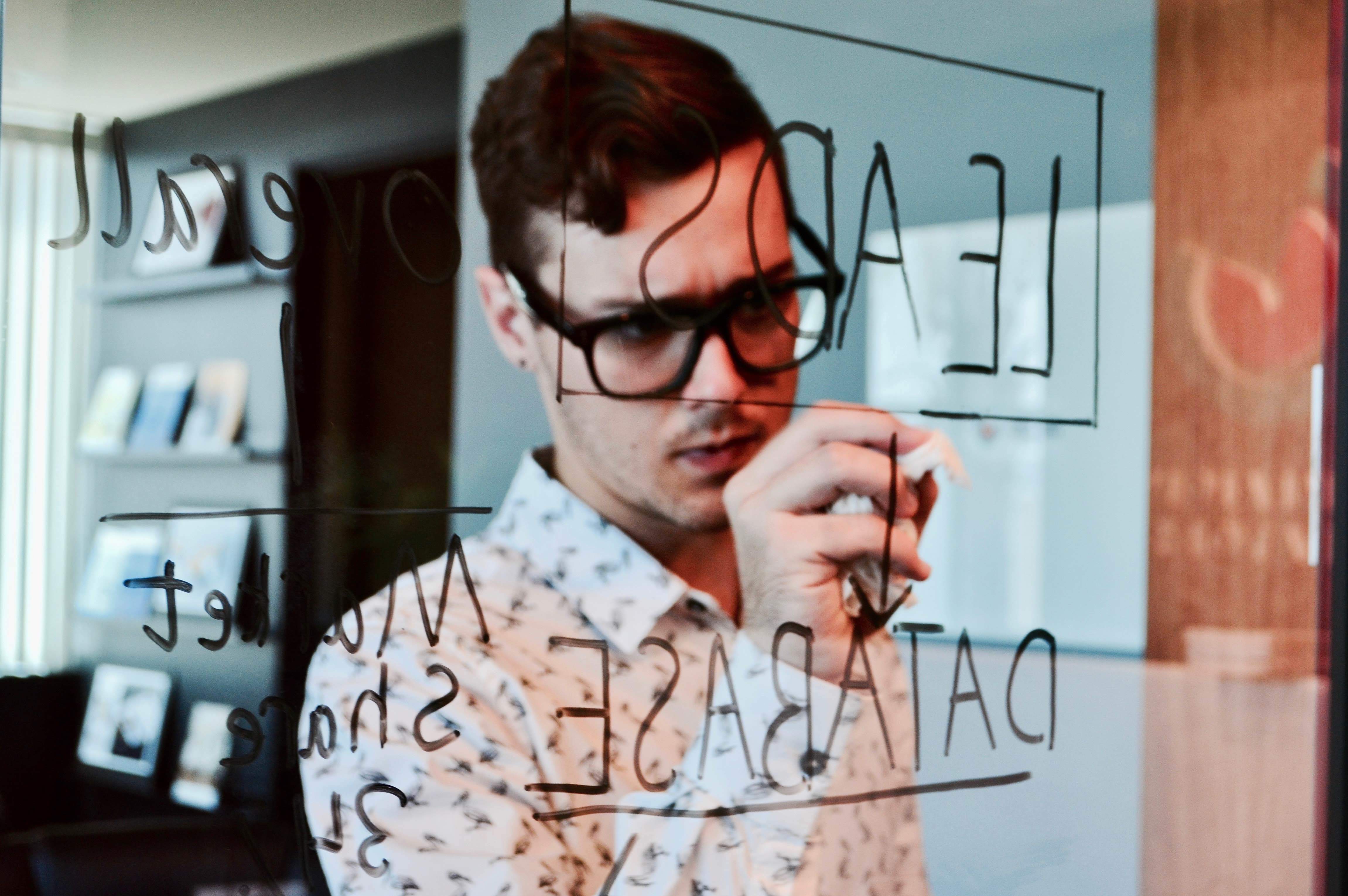 Image attribution: Tammy Duggan-Herd
Reorienting for Retention
When is the right point to focus on retention in your content strategy?
While continued conversions are important for your brand, we still have to recognize that this much deeper step of the marketing funnel will only be as successful as the steps above it. Retention strategies are excellent for brands with an established content foundation that's consistently bringing in growing volumes of organic traffic, but they can't make up for poor content strategy, and they won't bring in new leads. Instead, the aim of your retention strategy should be to generate enormous amounts of extra ROI.
Good retention content should:
Improve the rate at which converted customers return to your website.
Improve response rates for targeted campaigns meant to reactivate past customers.
Provide awareness and engagement that eventually leads to higher customer lifetime value for your audience.
This is a very different way of thinking than broader-reach content marketing. The approach puts enormous emphasis on giving customers additional value rather than high-level information. Simply sharing the same content with your converted audience isn't likely to accomplish want you want. Instead, it runs the risk of showing them redundant information that makes them less excited to seek out or engage with your content. If you're going to keep customer conversations going, you need to shift how you think about content.
If you have the available time and bandwidth, you can consider beginning a dedicated effort to create customer-specific content for retention efforts. You should also take another look at the content you're already building and ask yourself: How could you reformat or tweak it to better meet the interests of your converted audience?
Organizing Retention Efforts
Once your content team has done the work to produce a round of retention-oriented content, you need to refine a distribution method. Use one of these three frameworks for deploying your content to start seeing significant returns.
1. Segmentation Approach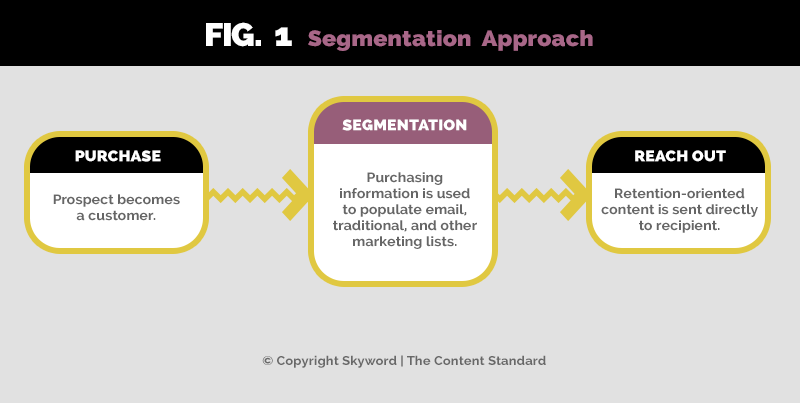 A segmentation approach is the simplest way to think about a retention campaign. Simply put, all you do for this model is run your same marketing efforts, but seek out ways to segment customers who should receive your retention content.
This is a simple approach because, by this stage in your relationship, you likely have enough information about your customer to comfortably segment them. This can make deploying dynamic email, personalized mailings, or other notifications from your site a relatively simple matter.
The downside to this approach is that you've only really done half the work of creating a unique experience for your retention audience. None of your regular channels of communication change, only the content you're serving. This will often mean your retention content is mixed in with your regular lead-generating material, which can result in a confusing experience for some of your unconverted audience.
A segmentation approach is useful as a first step for brands exploring this space, but ideally you'll want to look for ways to create unique spaces and experiences for your customers if you want their experiences with your brand to remain rewarding.
2. Foreground and Background Content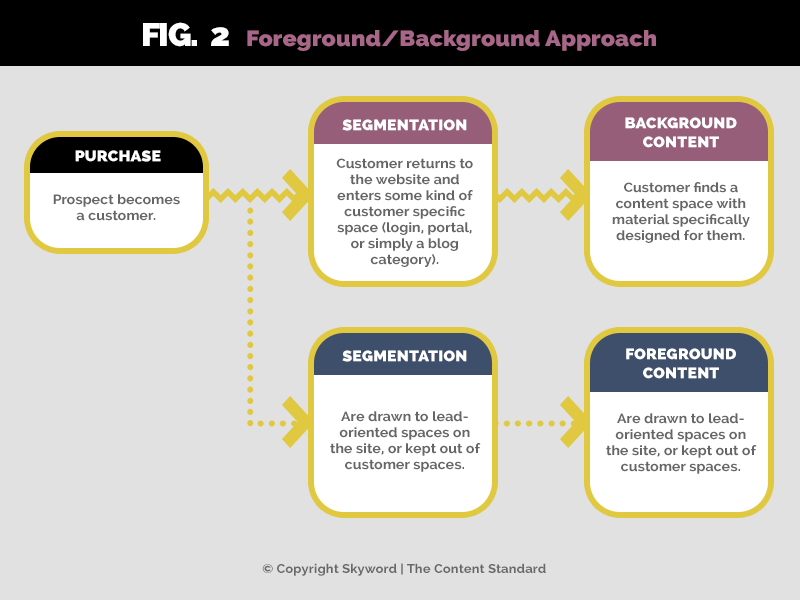 A foreground and background approach is a great method for any brand that has a customer portal, site login, or a general site space that is intended for customers as opposed to prospects. With this approach, you end up building two separate content spaces for your material: one for new visitors and prospects and another for customers or soon-to-be customers.
There are a number of benefits to this approach. It allows you to optimize two spaces on your site-both technically and editorially-to meet the needs of your distinct audiences. This means you can explore topics in a manner specifically tailored to your visitors and also optimize for two very different pools of search behavior. When deployed correctly, this will mean that the majority of your traffic to either content space will be composed of the specific audience it's tailored to, meaning your web metrics will be much more specific and useful.
The primary downsides of this method are that it's highly dependent on the structure of your site and that the hard divide between your content audiences might necessitate a higher degree of repurposing when it comes to content creation. Think of this is a high-effort, high-return method for creating retention content.
3. Responsive Curation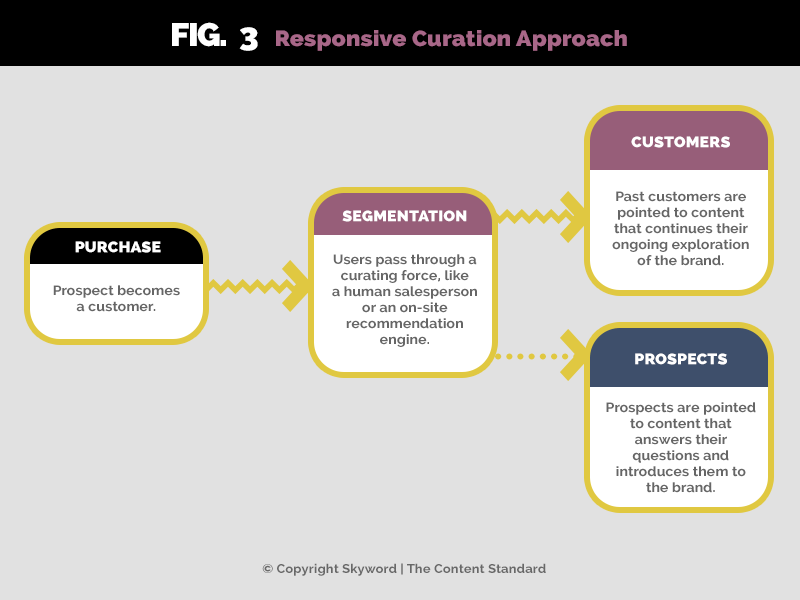 The goal of any content marketing engine is to give the right content to the right people at the right time. With this approach, brands make serving retention content an active part of their customer experience. Rather than having two separate content spaces or directly sending your content en masse to your retainees, responsive curation seeks out ways to tailor content based on your customer's feedback. This can be accomplished with recommendation systems, dynamic content in emails and similar campaigns, or in-person recommendations.
This is a great setup for a brand with a sales team that often handles or supports transactional experiences. Creating content that specifically addresses the interests expressed by your customers is a great way to find retention success. However, this model might require organizational or technical changes from your team, and often takes a bit of time to get off the ground-either for your recommendation tools to gather enough data to serve good suggestions, or for your sales team to become familiar enough with your content inventory.
A Full Life(cycle)
Retention tactics can't make up the ROI from a broken content marketing or lead generation funnel. However, the healthier your lead generation is, the more return you'll get by supporting retention efforts as well.
This is why it is important to seek out ways to include retention-oriented content, structure, and repurposing into your editorial processes. Trying to focus on this as a singular effort might pull away much-needed resources from your essential lead generation and experience-building efforts, while ignoring retention can limit your brand's ability to generate ROI as you scale. As with all marketing, retention tactics perform best when they're addressed as an integral part of your content cycle-not a bonus effort.
Keep your conversations going with meaning and intention. Continue to delight your visitors even after the conversion. You might be surprised by the excitement and loyalty you receive in return.
To learn more about how content marketing can support your retention efforts and enrich your customer experience, visit our resources page.
Featured image attribution: Artem Bali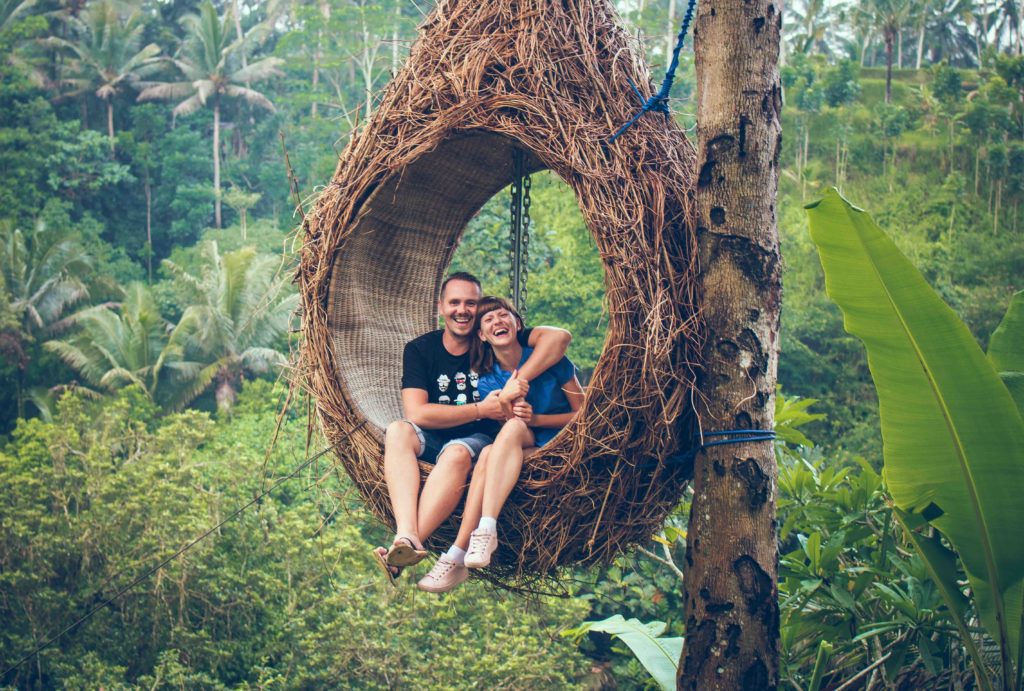 https://www.skyword.com/contentstandard/after-lead-generation-three-models-for-a-content-driven-retention-strategy/
https://www.skyword.com/contentstandard/after-lead-generation-three-models-for-a-content-driven-retention-strategy/
Kyle Harper