Featured
During This Time of Uncertainty, May I Remind You Why Content is Your Best Bet?
By Andrew Wheeler on July 1, 2022
Like many of you, I'm watching the economy closely. We entered 2022 with marketing budgets finally climbing back from the pandemic's record lows to an average of 9.5% of total business revenue. However, concerns of a recession now threaten those gains. Some CMOs I've recently spoken with are preparing for budget cuts as high as 30%.
In times like these, the knee-jerk reaction is often to slash or freeze spending in a few areas—rather than make surgical changes to legacy cost centers and structures.
Content marketing budgets could seem like easy prey in these scenarios, especially in organizations where executives are less well-versed in content strategy and content's influence on customer behavior.
The reality is, this is the prime time to leverage content as a competitive opportunity.
During the pandemic, I saw firsthand how brands like ADP, Prudential, and GE Healthcare used content to pivot quickly, lean in, and support customers while many of their competitors scrambled or froze up. As a result, their customers never questioned their commitment. New business thrived because these brands dominated the conversations that mattered most in the moment.
Before disrupting your content efforts—or any other marketing initiative—take a close look at the consequences.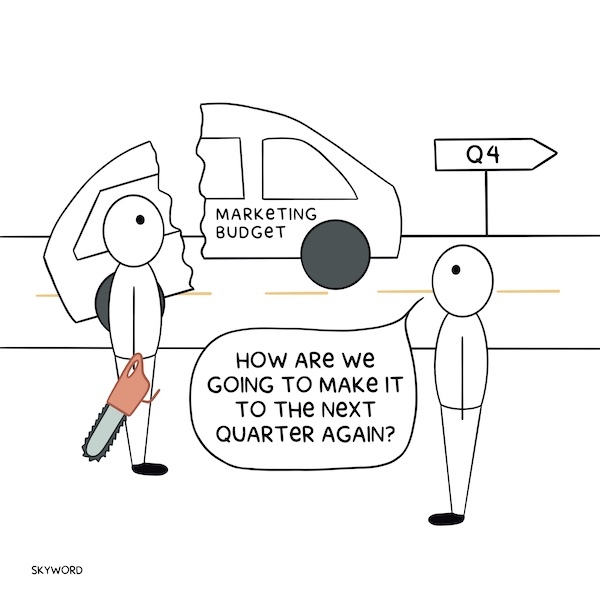 Over years of weathering economic downturns and building startups, I've learned to ask three simple questions any time I evaluate spending cuts:
How does this initiative connect to customer value delivery?

What are the downstream implications of defunding this initiative?

What are the competitive risks involved?
Applying this structure to content marketing helps explain how drastically reducing content creation can actually cripple your marketing engine and introduce significant business risk.
Here's what I mean:
How does this initiative connect to customer value delivery?
Never make cuts at the expense of your customers. This question forces you to think about the potential impact that curbing your spend could have on the way your customers perceive or experience your brand. Cutting anything your customers equate with brand value should be a last resort.
According to customers, content is intrinsic to the value your brand provides. In a recent study, a whopping 91% of business buyers and 86% of consumers said the experience a company provides is as important to them as its products and services. Consider that for a second: Your brand experience is as important to buyers as your products and services.
Especially in a digital context, content is the foundation of that experience. It's how buyers discover your brand, how they research what you do, how they gauge how you stack up to competitors, and how you communicate with them every step of the way.
In place of an in-person or in-store experience, buyers also use your content as a proxy to gauge the likely quality of your solutions. In our 2022 What Buyers Want from Brand Experiences report, buyers told us that the presence, relevance, authority, and quality of a brand's content had each significantly impacted their decisions to purchase.
To provide premium customer interactions, you must protect the quality of the content that defines those interactions.
What are the downstream implications of defunding?
Know the impact a marketing source has on your downstream pipeline before turning off the tap. In unpredictable times, you want to embrace the channels that offer the most predictability and avoid cutting off vital lead sources.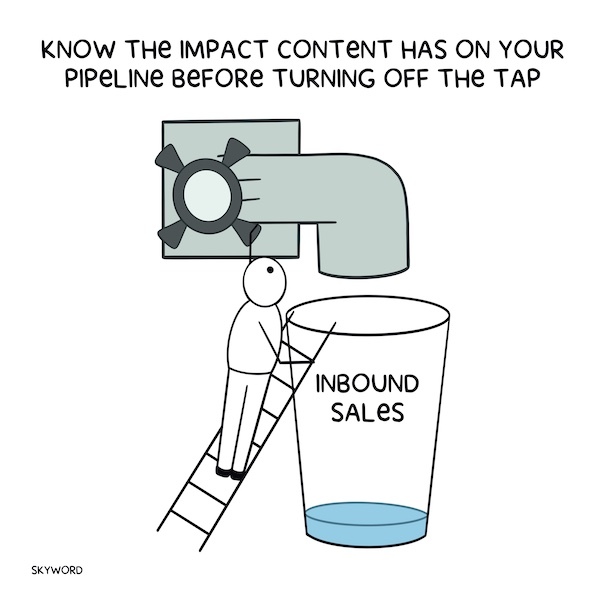 Search continues to be one of the most potent and reliable sources of inbound customers. Typically, organic search content punches far above its weight compared to other channels. Recently, I heard a marketer inform her CMO that, while her division was responsible for only 6% of the content published by the brand, their content accounted for 25% of all the traffic to the website. That shifted the conversation from pausing content to exploring how to keep up the current momentum.
By comparison, paid advertising platforms charge a hefty ransom for traffic. And, you can expect their rates to go up during times of economic uncertainty.
If you're thinking, "We have enough content already," think again. Without new content compounding your digital footprint, your brand will lose hard-won search visibility, and you can expect digital engagement to decline almost immediately. Plus, ceasing to publish will impact your website authority score, dragging down the rankings of those top-performing articles you rely on for most of your traffic.
According to our research, content that's over one year old accounts for anywhere from 50% to over 80% of your organic site traffic. So, a pause in publishing means that, a year from today, the content that would have been giving you triple the returns on your initial investment won't exist. You will be starting over to build back that momentum.
All this has obvious implications for your inbound lead pipeline. Is the uphill battle you'll face to restart and regain your search momentum worth it?
What is the competitive risk?
Now shift your focus a little further into the future. Assume that your competitors will keep spending as they have been. Where do you need to keep innovating to adapt and avoid losing ground until the market recovers?
We know the primary source of new business growth will be digital, and the digital content landscape continues to evolve at lightning speed. If you cease evolving your digital content strategy, what will your competitors have achieved by the time you're back in the game? Will you even be equipped to catch up again?
You can bet that if your business is struggling with this economic slowdown, your customers are, too. Content is one of your brand's most adaptable resources. Use it to link your customers' new needs and priorities to your products—and you'll be there when others aren't.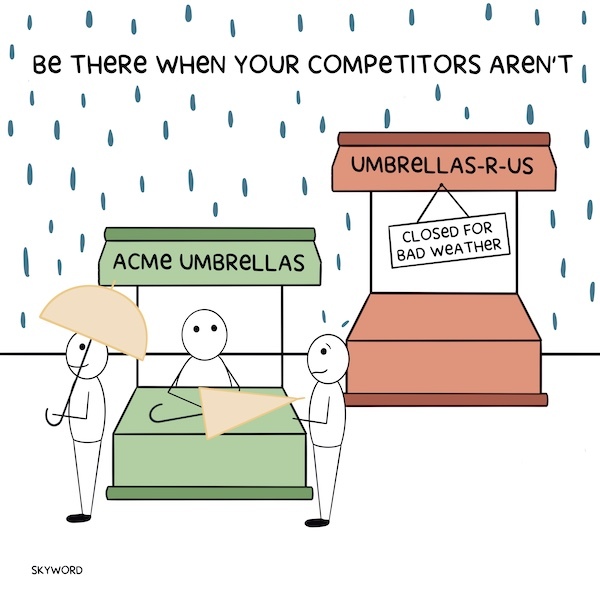 If you have to justify why your brand should continue to invest in content, remember:
Highlight the many ways your content is intrinsic to your customer experience. It's an audience journey priority, which means it should remain a business priority.

Demonstrate how your content feeds your pipeline and reinforces other channels and initiatives. Shutting off the tap will have a domino effect that hampers new business and causes customers to question your commitment.

Create a shared vision around how you need to adapt content to help customers navigate today and what innovation areas you need to seed for tomorrow. If you lack the means to adapt your content easily, consider using external partners to achieve more flexible operations.
Current economic pressures aside, I've found that increased budget scrutiny is usually a good thing. My hope is that posing the questions above helps you let go of lower-value efforts and double down on those that bring greater momentum to your business.
If you found this information helpful, I encourage you to share it with your colleagues or recommend they subscribe to this monthly newsletter. If you need help building a recession-proof content strategy, let's talk about how Skyword can help.
Featured image attribution: Bradyn Trollip on Unsplash.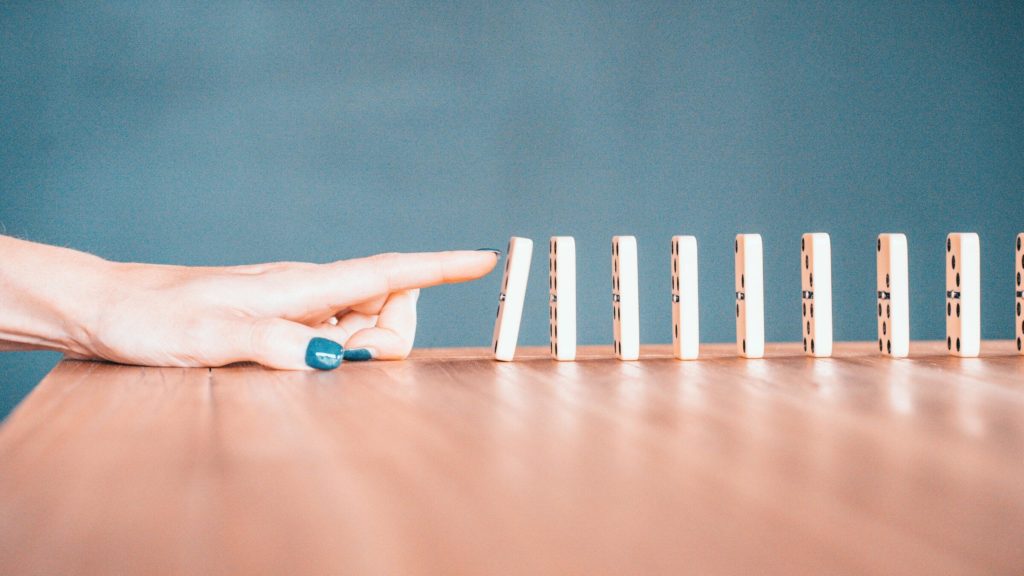 https://www.skyword.com/contentstandard/during-this-time-of-uncertainty-may-i-remind-you-why-content-is-your-best-bet/
https://www.skyword.com/contentstandard/during-this-time-of-uncertainty-may-i-remind-you-why-content-is-your-best-bet/
Andrew Wheeler