Marketing Transformation
How to Host a Webinar That Pays Off: 3 Strategies for Tech Brands
By Liz Alton on July 11, 2019
As a content writer and strategist, I work with a number of leading tech brands. Usually, that experience only gets as far as internal meetings or the thrill of a byline. Recently, though, I was asked to work on a campaign for a large social media platform, during which I learned firsthand how to host a webinar.
This months-long project offered me the chance to play a role in shaping the message of our brand, and through the webinar, I was able to engage in real time with the hundreds of consumers who logged in. The reaction it generated was huge. So it's easy to see why the Content Marketing Institute (CMI) calls webinars one of the top five types of content that can draw people to your brand.
But as I found out, approaching a webinar is completely different than other kinds of content. The best webinars can seem like organic experiences, but only if you have an end-to-end strategy in place for how you'll handle engagement, the visuals, and mapping it all to the voice tracks.
Not sure where to start? Here are a few tips for creating a webinar that today's leading brands are already using.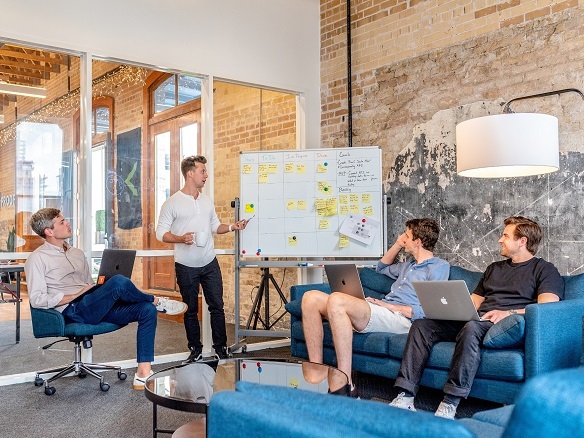 Image attribution: Austin Distel on Unsplash
Talk Tracks, Hooks, and More Planning
Recently, a client approached me about developing a webinar for their public-sector group. The idea started out very broad: technology and the public sector. The problem here is this sounds like a premise for a best-selling book, rather than a concept that's easy to navigate in 45 minutes—plus Q&A.
I helped them narrow down this focus from broad to webinar-ready by:
Getting specific: It's important to choose a topic that's specific enough to appeal to an audience. Look at the topic and ask yourself: Can a prospective viewer interpret the value proposition? CMI notes in one example, "instead of creating a webinar about social media marketing, Search Engine Land created a webinar on providing customer service through social media. This angle is relevant to its audience, given that it educates on the broader topics of SEO, search engine marketing, and social media."
Finding the timely context: Another way to generate interest and entice people to sign up is to answer the question: Why now? For example, in the case study above, we decided to focus on wireless technology. One option was how to develop a wireless network. It's relevant, but not that alluring. Then, we hit on the fact that there's an increasing level of curiosity around the emerging technology of Wi-Fi 6. It became clear that was the hook we could build the rest of the event around.
Leveraging a talk track: It's important to make sure that your topic is also rich enough to keep audiences engaged. A talk track is an outline of your webinar, which should cover what visuals you'll show, your format, key points, and your takeaway.
How to Host a Webinar People Actually Want to Attend
Once you've developed a plan, it's time to find your audience. The best webinar promotions plans are "surround sound." What does that mean? Let's take the case of a technology consulting firm where I worked on the marketing team. We were putting on a webinar to help clients learn more about an emerging technology trend that was poised to have a major impact on their business.
Our strategy included several promotional steps:
Sending an email blast to newsletter subscribers
Developing a series of posts on social media channels
Asking employees to spread the word to their social networks
Creating a special promotional piece for sales to help draw in prospects
Working with partners to publicize the event
Using paid social and search advertising to increase visibility
Asking outside experts who were participating to promote the webinar
However, the plan didn't stop at robust marketing. In addition, it was important to consider what value we could offer beyond the information in the webinar to encourage more viewers.
A few options were offered. First, the marketing team gave people the chance to ask questions ahead of time and get the most relevant or urgent ones addressed by the experts. Second, everyone who signed up received an exclusive, short white paper that offered additional context, stats, and information from the talk.
From this experience, it became clear to me that how to host a webinar that people won't want to miss requires a strategic investment in many different types of marketing. HubSpot offers a great tip: Set clear KPIs. Measuring your progress helps you identify success, HubSpot notes, adding, "Having a goal will inspire you to hit it and help you measure success. In order for us to break the Guinness World Record for webinar attendees, for example, we hit about 31,100 registrants.
"You should track performance on at least a weekly basis to see whether your marketing efforts are moving the needle. That way, if you need to dial up your promotion due to low initial registration numbers, you'll know what to do to fix it."
Going Deeper With Engagement
Once you've got the webinar underway, it's important to have a plan in place to keep people engaged.
Not too long ago, I logged in to a healthcare analytics webinar to learn more about the latest technologies. Eighteen minutes into the one-hour event, the hosts were still introducing themselves, talking about their companies, and engaging in stilted banter. At that point, I logged out and made a note to review the slides if they circulated them.
To keep people tuned in, brands need to go deeper with engagement—and resist the urge to drone on. How do you plan to keep your audience logged in until the end? And what does deeper engagement look like to your brand?
Keeping your audience on target starts with the quality of what you're producing. Make sure you keep the introductions brief and get right into the material. Think about pacing, and make sure that within the first five minutes you've hooked the audience. Share valuable information, surprise them, make them laugh, or challenge how they think about their business. Then, keep delivering the same at regular intervals.
Here are some tips for creating a webinar that keeps audiences engaged and fosters stronger connections:
Start early: Set the tone for engagement early. Ask questions, solicit suggestions, and encourage input from your audience on how to make the webinar more relevant.
Poll your audience: Let's say you're putting on a webinar about not hosting bad webinars. Polling your audience to find out what typically prompts them to log off can be a fun way to engage. It can also give you insights into what topics to hit. Running polls right at the beginning can be a perfect ice breaker, or doing so at the end can help you finish strong.
Find out what they want to know: On your sign-up form, ask people what one thing they want to learn. For example, this might be a white paper or a one-pager that provides the webinar's takeaways in an accessible format. If you know what the attendees want, you can create an opt-in that will share the document or resource after the webinar with those who sign up.
Work on your presentation style: Coaching your speakers to be warm and engaging may sound like overkill, but it pays off big time. Dry, talking-head styles of webinars aren't effective. As Convince & Convert notes, "Your speakers are experts, and the best way for them to share their expertise is not to create slides and visuals that are text-heavy with a lot of facts, but to have an authentic conversation with the audience that allows them to be more conversational than simply reading bullets on a slide allows. It's perfectly fine to be enthusiastic, but don't sell. The audience wants to hear how you overcame a vexing challenge, what your options were, what was implemented, and what the demonstrable outcomes were."
Create KPIs that focus on engagement: Engagement happens from the first mention to the end of the webinar. Measure your email marketing statistics. Are people clicking through and registering? What do your live webinar analytics show? By defining key performance indicators for success and then using real-time metrics to track it, you can make in-the-moment decisions that lead to effective webinar experiences.
Use Q&As: It doesn't get more engaging than an old-fashioned, real-time Q&A. All you need is someone to monitor questions. There are a couple of ways to do this. One is using the chat feature in your webinar software. Another is by creating a dedicated hashtag and monitoring conversations on social media.
Learning how to host a webinar that's both engaging and informative can help you connect with your audience over a compelling topic. By promoting these sessions across social platforms, it can help you capture significant ROI from these efforts. Begin early with strategic planning, and take a closer look at how webinars can play a powerful role in creating video content your audiences can't resist.
For more stories like this, subscribe to the Content Standard newsletter.
Featured image attribution: Austin Distel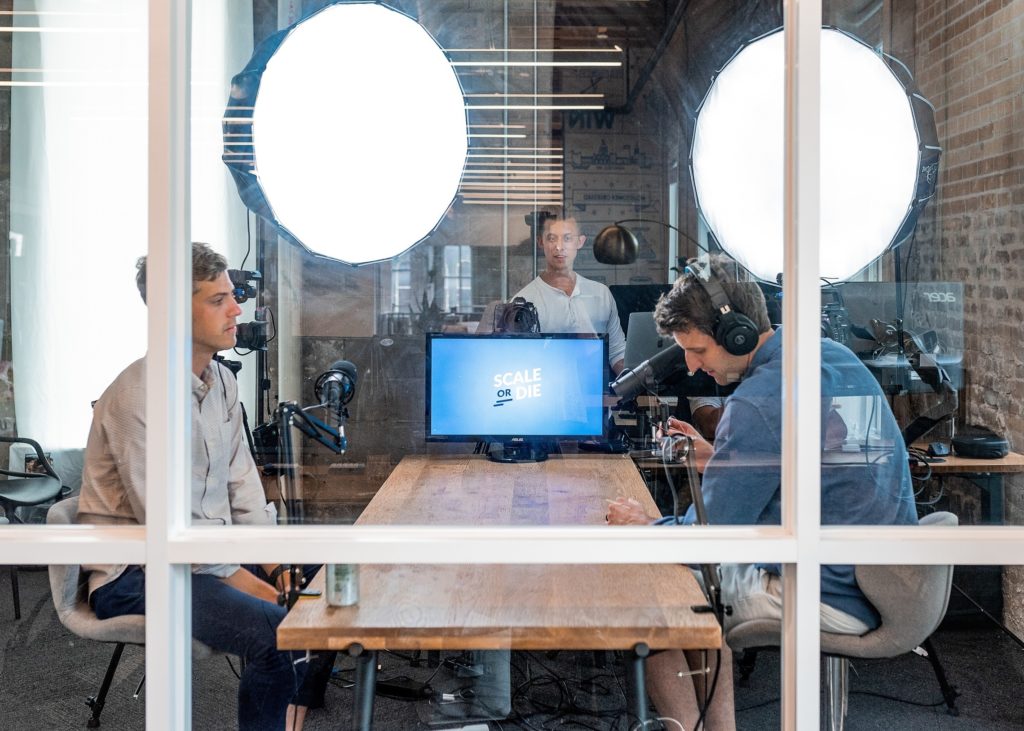 https://www.skyword.com/contentstandard/how-to-host-a-webinar-that-pays-off-3-strategies-for-tech-brands/
https://www.skyword.com/contentstandard/how-to-host-a-webinar-that-pays-off-3-strategies-for-tech-brands/
Liz Alton