Content Strategy
Lessons from theSkimm on Building a Strong Brand Voice
By Carina Sorrentino on November 6, 2018
They say necessity is the mother of invention, and necessity is exactly what prompted Carly Zakin and Danielle Weisberg to start the email newsletter theSkimm just six years ago. What began as a way to bring their peers a digestible and reliable stream of news has grown into a daily source of content for millennial women, with a unique brand voice to match.
Kaitlyn Jankowski, head of marketing for theSkimm, addressed the Boston-based networking group Young Women in Digital to explain how the email newsletter has grown into the powerhouse marketing effort it is today: reaching seven million subscribers across 100 different countries.
TheSkimm has built trust and equity with an audience that overwhelmingly doesn't trust traditional advertising. Jankowski has perfected the art of cultivating a consistent brand voice and wielding it. Now she hopes to share some of her best advice with today's content marketers.
Establish the Right Tone for Your Stories
Who is reading your content? Whether it's millennial moms or CMOs (or millennial moms who are also CMOs), your audience has a unique set of needs and desires. They are looking to be spoken to in a way that their peers or close friends would speak to them. According to Sprout Social's 2017 Social Index, 86 percent of consumers cited honesty as the quality they most want in a brand.
Building an honest and authentic brand voice requires understanding how your brand fits into your audience's everyday life. "Everybody wants that demographic's attention," Jankowski said, "And the way to get it is to figure out how you meet them where they already are."
For theSkimm, that includes personalized, humorous content that reaches outside of their regular news stories. From making relatable references targeted to die-hard Friends fans to sharing wine-pairing recommendations on social media, their tone is relatable, informal, and above all else-friendly.
TheSkimm uses tone and presentation to tell stories in a way that makes sense for their audience, whether that is through an eight-month-long campaign or a daily social post. As Jankowski remarked, "Tell a story. It doesn't matter what you're doing, but it should have a beginning, a middle, and an end."
She recommends marketers develop a clear purpose and narrative understanding behind every piece of content their brand produces. Creating that context is essential to any successful content strategy.
"There's a reason that we as a brand put up social posts about wine later in the day or on the weekends, and not at six in the morning," said Jankowski.
Be Selective with the Stories You Tell
One of the most important questions Jankowski thinks marketers need to ask themselves: "Is your brand the right brand to tell this story?"
Your brand and your potential partners need to have established credibility and agency to add their perspective to a topic of conversation, especially if it is a divisive issue. And if you aren't the right brand to tell the story, it's better to step back rather than risk alienating your audience with a marketing stunt.
As Jankowski commented, theSkimm turns down RFPs all the time "if it's something that is not for the female millennial." Not only does it not belong, but chances are it won't perform well with their audience.
Whether you are considering a potential large-scale partnership or the next piece of content to include in an email newsletter, take a moment to evaluate the authority that your brand has in the space and if speaking up makes sense in the larger timeline of your brand history before you weigh in.
Use Data and Insights to Inform Your Storytelling
Another cornerstone of theSkimm's brand is its commitment to tailoring content based on data. "We use data to drive all of these stories that we tell," Jankowski shared.
So where is the best place to go for all of this valuable data? For theSkimm it was learning straight from their readers. They based the planning of their most recent campaign on the results of a survey conducted in partnership with Vanity Fair's The Hive and SurveyMonkey.
Said Jankowski of this practice, "Because we built trust and because we built relationships with [our audience], we can put a survey in a newsletter to a small subset of the audience and get data on them within an hour or so of when the newsletter goes out."
The data you collect can be used to inform product offerings and campaign launches. For theSkimm's team, this means identifying a problem that their audience is facing, then crafting a solution based on their skill set and content offerings. Their latest undertaking is no easy feat: a non-partisan call to get voters to the polls.
Image attribution: T. Chick McClure
In early 2018, theSkimm found that an overwhelming number of millennial women felt dissatisfied with the direction of the country today, but less than half are "absolutely sure" that they will vote in upcoming elections. The solution to this problem? A multi-channel campaign called No Excuses with one lofty goal: to get 100,000 people to the polls this November. The results are yet to come, but based on the brand's impact in the 2016 presidential election, when they helped register 110,000 people to vote, success may be within reach thanks to their calculated approach.
Don't Be Afraid to Be Bold
While there is a great deal of calculation that should go into building your brand voice and the stories that you tell, there is always room to step outside of your comfort zone. Jankowski closed with the sentiment, "You have to be bold before you can be good."
"Don't be afraid to take risks, and don't be afraid to take chances because you might fail. Because I can guarantee you, one time it's going to pay off in a really big way," she said.
So far in 2018 some of the best brand stories were born from risky, out-of-the-box ideas (think Skittles' ongoing strange/creepy Twilight-Zone-inspired spots).
Leaving room for experimentation in your content marketing strategy will give you the chance to hit on something brilliant! Whether that means tapping into IGTV or an influencer campaign, don't limit your content mix too soon.
Featured image attribution: Vinicius Wieseh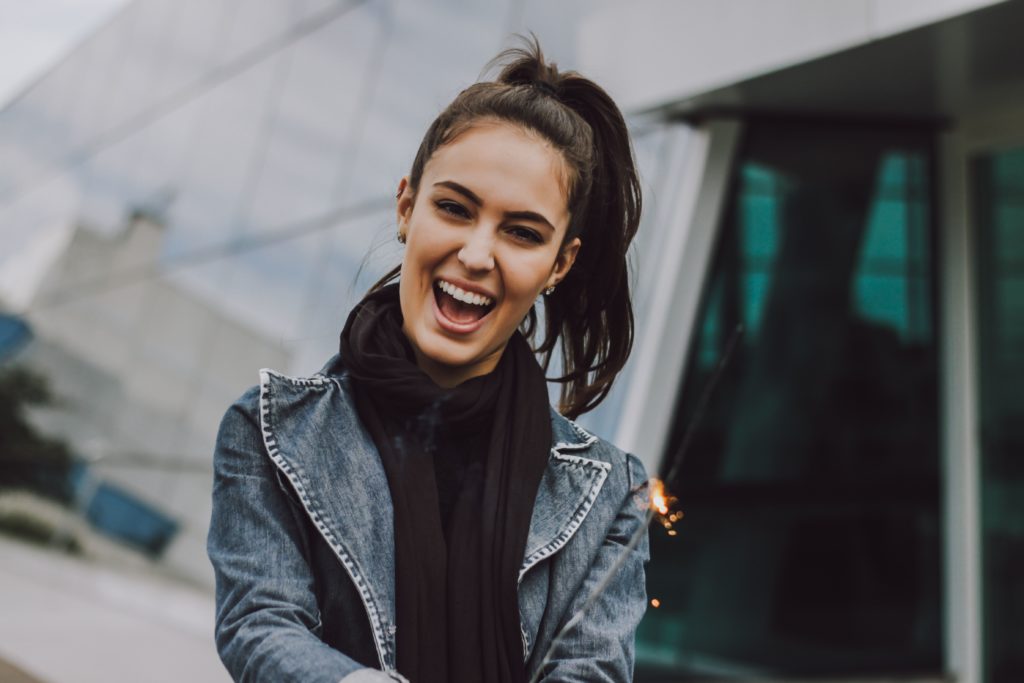 https://www.skyword.com/contentstandard/lessons-from-theskimm-on-building-a-strong-brand-voice/
https://www.skyword.com/contentstandard/lessons-from-theskimm-on-building-a-strong-brand-voice/
Carina Sorrentino