Content Strategy
More than Luck of the Irish: What Guinness Can Show Us About the Power of Content Marketing
By Krystal Overmyer on March 15, 2018
If you plan to sip a Guinness on St. Patrick's Day, you have content marketing to thank.
The iconic black beer from Ireland is popular throughout the world because of a lucky stroke of genius-an idea that foreshadowed the rise of branded content.
In the 1950s, Sir Hugh Beaver, managing director of Guinness Brewery, was at a shooting party in County Wexford when he hatched an idea for a reference book that aimed to settle pub arguments throughout the world, according to the brand. He and his companions couldn't agree on the fastest game bird in Europe. What the world needed, he realized, was an authoritative source of facts and figures: The Guinness Book of Records.
Like a good content marketer, Sir Hugh knew his audience, saw a problem, and sought to fix it with valuable, original content. His simple but revolutionary idea grew to become a household name, and the global phenomenon of Guinness continues today. Thirty-three million pints of Guinness will be consumed worldwide this St. Patrick's Day. The beer is brewed in 49 countries and sold in over 150 countries. And of all the places tourists to Ireland could visit, the Guinness Storehouse in Dublin trumps them all as Ireland's most popular tourist attraction.
Despite the global recognition, the brand has still had to contend with the challenges of social media and digital marketing in an ever-noisier environment. Today, the brand continues to evolve its brand story, with new forays into experiential marketing and digital storytelling.
Rebranding through Experience
Guinness may be an iconic brand, but it hasn't been immune to industry changes. Sales have been flat over the past five years. Meanwhile, craft beer sales are growing in the US, albeit at a slower pace in recent years.
With those trends in mind, Guinness is aiming to reposition itself as an experimental craft brewery in the US market. The company opened its Guinness Test Taproom in Baltimore in late 2017, its first foray into US brewing in over 60 years. The idea, according to the master brewers in charge, is to give beer lovers the opportunity to try several experimental, small-batch brews on a given visit. The interactive experience aims to help people see the 259-year-old brand in a new light.
"We want to show we have the chops to be just as good as your favorite craft brewery," said Oliver Gray, the brewery's marketing manager, in an On Tap Magazine interview.
The brand's social media presence reflects that new orientation. Instagram posts name-drop the local coffee shops and restaurants that partnered on some of the experimental brews available at the taproom.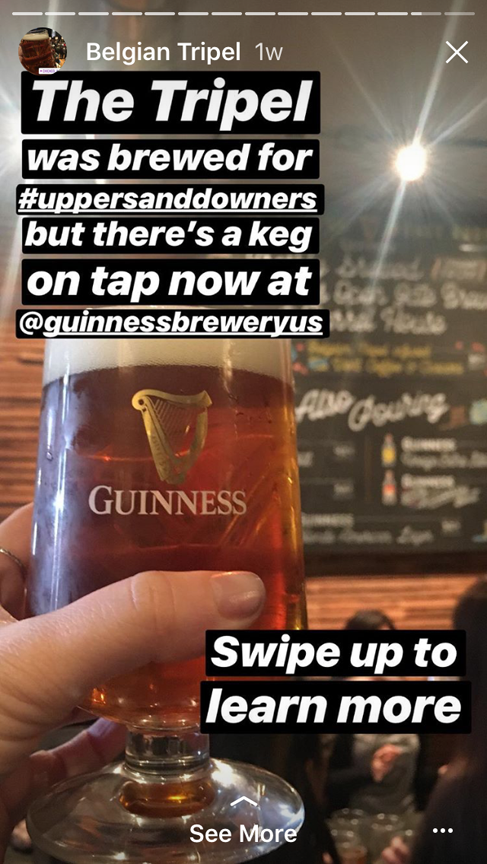 This digital storytelling technique shows a new side of Guinness-not just a beer, but a brewery embedded in the up-and-coming craft beer scene.
On the other hand, the flagship Guinness Storehouse in Dublin leans into the brand's long and storied history. The storehouse functions as a cross between a museum, restaurant, bar, and interactive marketing campaign. Visitors can learn about the history of the brand, check out an Instagram-worthy blue waterfall (a symbol of the mountain water the brand uses to brew its stout), play the Guinness harp, and of course enjoy the Guinness tasting rooms.
These interactive experiences are memorable and shareable, and they work to solidify the brand's reputation as legendary.
Brewing a Digital Story
Like many brands, Guinness has looked to digital video to tell a new kind of brand story. The global "Made of More" campaign seeks to lift up emotional, powerful stories of unique individuals. For example, in sub-Saharan Africa, the brand created the associated "Made of Black" campaign to share gripping stories of individuals who persevered amid adversity. In one of the 90-second films, a Nigerian man describes how despite losing his leg in an accident, he was able to find love and friendship through his passion for football.
The campaign was shared on sub-Saharan Africa network TV, YouTube, and Facebook, according to The Drum.
Through sharing emotional stories, the brand seeks to engage more deeply with a broader spectrum of people. Guinness has a reputation as an older man's drink, and the numbers bear that out: 62 percent of men have had a Guinness, compared to only 28 percent of women. Fewer young people have tried Guinness, as well: Only 35 percent of consumers ages 18–24 have ever had one.
While the brand is eager to broaden its appeal to a younger demographic, not all efforts have been successful. Beverage company Diageo, who owns Guinness, pulled all of its ads from Snapchat following criticism that a Captain Morgan Snapchat lens would appeal to children, according to Campaign. Diageo, which had previously used the platform for Guinness ads as well, was forced to halt advertising when the Advertising Standards Authority ruled that it was likely users under 18 were being exposed to the ads (age-targeting efforts notwithstanding).
On other social media platforms, Guinness also seems to punch below its weight. Guinness ranks eighth highest for engagement among all global beer brands tracked by the Burst Insight Engagement Score, which factors post frequency and engagement metrics on social media platforms, according to The Drum. The "Made of More" series aimed to refocus the brand's marketing efforts toward social media, and one of the videos became the first 60-second video ad on Instagram in the UK and Ireland, according to Marketing Week.
On Instagram, the American arm of the brand is trying some tried-and-true tactics to generate engagement. The brand solicited user-generated content with an advocacy angle through its #StacheForCharity campaign. Users post a pic featuring the Guinness 'stache, and the brand donates $1 to the Guinness Gives Back Fund. The concept, while not groundbreaking, is a fun way of asking consumers to connect with an iconic feature of the brew-the creamy foam-while also generating some social buzz.
Tradition and Ritual
While the Guinness story evolves for the social media and digital marketing age, it can also reach back into its rich history to connect with consumers. Indeed, history and ritual are among the great assets of the brand. When you pour a Guinness, a special two-part, two-minute process is required, a ritual that has spawned a legion of how-to articles detailing the perfect pouring technique. Branded video content, like this YouTube how-to, showcase the unique pour that makes the brand special and different from competitors.
Thanks to savvy marketing, Guinness continues to loom large globally as an iconic brand. By broadening its appeal through digital content marketing and brand storytelling, Guinness hopes to engage new audiences while maintaining its ageless quality.
For more stories like this, subscribe to the Content Standard newsletter.

Featured image attribution: Puamelia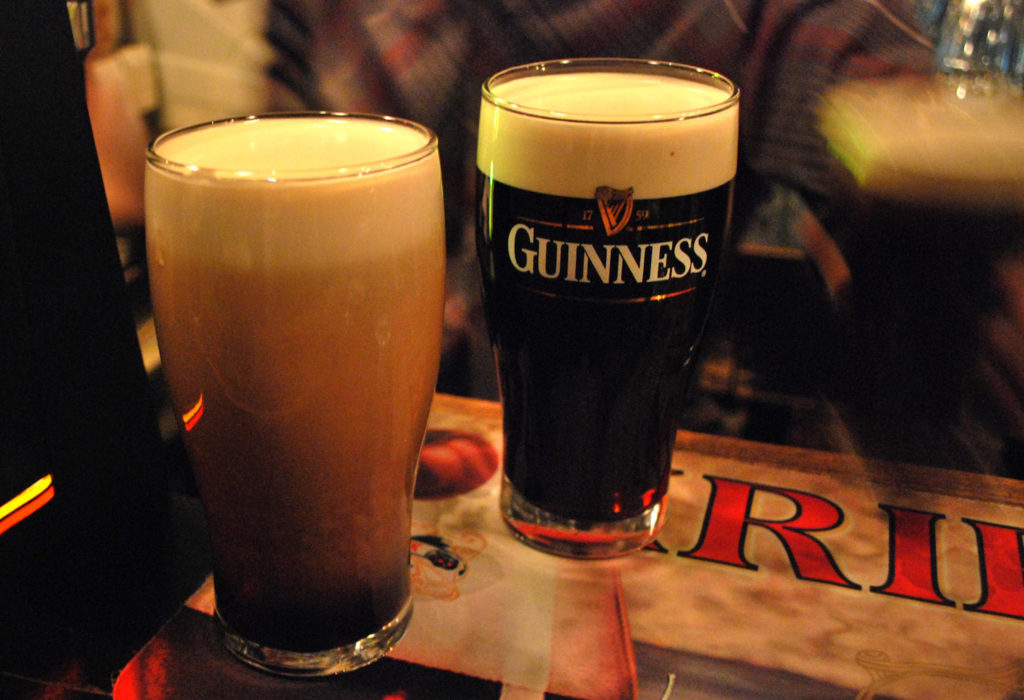 https://www.skyword.com/contentstandard/more-than-luck-of-the-irish-what-guinness-can-show-us-about-the-power-of-content-marketing/
https://www.skyword.com/contentstandard/more-than-luck-of-the-irish-what-guinness-can-show-us-about-the-power-of-content-marketing/
Krystal Overmyer