Content Strategy
The Best Media Coverage Money Can't Buy: How Loyola-Chicago's Cinderella Run Triggered a One-Time Marketing Opportunity
By Jonathan Crowl on March 30, 2018
Loyola University Chicago was supposed to lose their first game in the NCAA Men's Basketball Tournament. Instead, they've reached the Final Four, tying the record for the lowest seed to ever reach that round of the tournament.
Like any other Final Four team, the Ramblers' journey is filled with great storylines, big shots, and charismatic characters, highlighted by the Catholic university's 98-year-old team chaplain, Sister Jean Dolores Schmidt. But for a small private school with such unexpected, unprecedented success, the media coverage is more than just a feel-good story: It's a one-time shot at capitalizing on free coverage that no academic institution could ever pay for on its own.
There is a precedent for gauging the kind of opportunity Loyola University Chicago faces. In 2006, George Mason University made its own surprise run to the Final Four as an 11-seed. At the time, the school was aggressive in translating that free publicity and elevated brand awareness into something more tangible. And it succeeded: According to NBC News, an internal study of its own economic boost found that George Mason's Final Four run helped increase its number of merchandising licenses from 38 to 53, resulting in $100,000 in additional annual revenue. Fund-raising rose from $19.6 million to $23.5 million, while a capital campaign aiming to generate $100 million in contributions brought in more than $132 million.
Overall, the university's revenue jumped from $528.7 million prior to their Final Four appearance to $634.1 million immediately afterward, an increase of nearly 20 percent. A similar opportunity now faces Loyola University Chicago, and the school knows they have to mobilize quickly. Already, campaigns are underway to leverage this media coverage into brand marketing windfalls that offer short- and long-term benefits spanning both the school's athletic programs and its academic standing.
The Quick Hits: Selling Merch and Attracting Fans
The immediate opportunities are the most obvious to fans and consumers, and fortunately for the university, they largely run on autopilot. With every win in the NCAA Tournament, the media coverage for Loyola University Chicago grew more intense: With fewer teams to share the spotlight, and an underdog status that naturally appeals to fans from across the country, the Ramblers became a media darling just by virtue of their continued success.
Would a Loyola Prize Pack help your #RamblerParty? Post a picture wearing Loyola gear with #RamblerParty to enter the Super Watch Party Giveaway! Get your friends to vote for your photo as Top 4 votegetters win a Ramblers Prize Pack! Learn more https://t.co/IdopeUVrTi #OnwardLU pic.twitter.com/uWELKoYJT6

– Loyola Basketball (@RamblersMBB) March 28, 2018
It was inevitable that merchandise sales would make a big leap. CBS News reports that merchandise sales at the school's campus bookstore rose by 300 percent since making the Sweet 16. Online sales have been strong, and as of Tuesday, the school had sold more than 8,100 Sister Jean bobbleheads. To keep up with demand, the company managing the campus bookstore even opened a pop-up store in downtown Chicago. The school has partnered with a travel agency to sell packages for fans wanting to attend the Final Four in San Antonio, Texas.
We've partnered with @AnthonyTravel to provide Rambler fans with the ultimate Final Four experience! Book your travel package today! https://t.co/IIPeoO4aPW pic.twitter.com/7cuTOaG0EX

– Loyola Basketball (@RamblersMBB) March 25, 2018
Meanwhile, Loyola University Chicago has become a household name even among casual observers of college basketball. It has revived local interest from fans in the Chicago metro area, already a hotbed of basketball fans, which could lead to an increase in ticket sales in the future: The school is using this current wave of attention to encourage sign-ups for season tickets next year.
Whether the school can replicate this success in the future is irrelevant. The focus right now is on making the most of the platform given to them. Some of this opportunity is inherent to participating in such a major national sporting event. But an even greater opportunity-and the one that will challenge the school's marketing professionals-is converting this quick burst of attention into long-lasting rewards.
Loyola's Long Game: A Lasting Impact on Academics and Athletics
School officials have already discussed some of their long-term goals for the university as they relate to their Cinderella story on the court. One goal is increasing its volume of college applications, creating a more competitive pool of prospective students and thereby elevating the school's academic profile.
There's a good chance of that happening based on past examples. According to the Chicago Tribune, George Mason's Final Four run drove a 22 percent increase in applications the following year, including a 54 percent increase in out-of-state applications. The school's online home page already features a call-to-action for site visitors interested in learning more about its academic opportunities.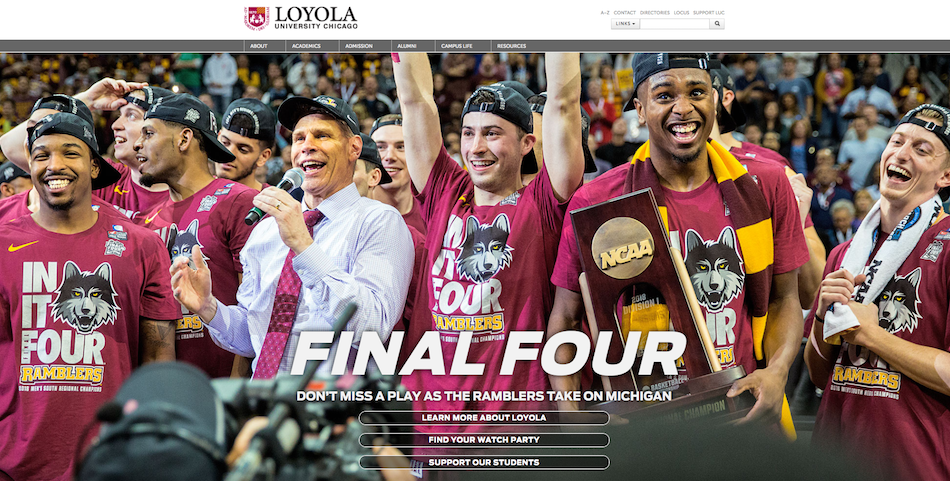 The Tribune also notes that the school's leaders are focused on promoting the university as a whole and the various opportunities it offers, rather than trying to build a major basketball brand. This makes sense, given the uncertainty surrounding a small school's ability to sustain long-term athletic success: Instead of pinning its marketing hopes on the team's future on-court success, the marketing strategy is focused on translating this attention to other facets of the institution that offer more stability in terms of future performance.
Meanwhile, the expected influx of revenue is a reinvestment opportunity the university desperately needs. Donor calls to the fundraising office are coinciding with Loyola's efforts to raise $80 million by 2020 to provide financial assistance to economically disadvantaged families, according to CBS News. The university is also facing a housing shortage created by growing enrollment numbers, and new dorms are in urgent need.
It's possible the Final Four run could cover all of those costs, supporting the university's growing student population while helping the school continue its academic mission. By activating revenue streams and reinvesting that money into the school, Loyola University Chicago is thinking about its long-term future.
Few would have predicted the Ramblers would make it this far in the NCAA Tournament. The resulting media coverage has altered the course of the university's future and given it a platform for continued growth. Over time, the impact will fade, and the surge in revenue will regress back to the mean. But by seizing the moment and organizing its marketing on a multifaceted front, the school is working overtime to leverage this limited brand marketing window into something that will benefit the university for years to come.
As for this weekend's Final Four, that's just icing on the cake.
For more stories like this, subscribe to the Content Standard newsletter.

Featured image attribution: Advocateloyola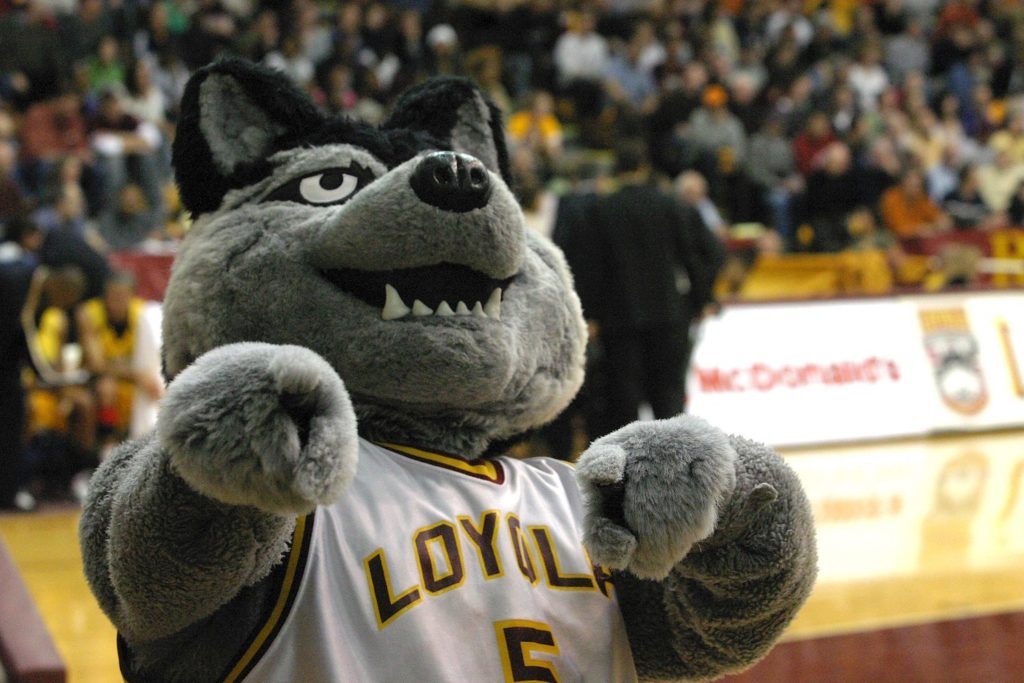 https://www.skyword.com/contentstandard/the-best-media-coverage-money-cant-buy-how-loyola-chicagos-cinderella-run-triggered-a-one-time-marketing-opportunity/
https://www.skyword.com/contentstandard/the-best-media-coverage-money-cant-buy-how-loyola-chicagos-cinderella-run-triggered-a-one-time-marketing-opportunity/
Jonathan Crowl