Content Strategy
The Content Ecosystem Model: How to Build a Unified Content Marketing Plan
By Casey Nobile on September 27, 2021
Content is no longer a marketing tactic; it's brand currency.
Over the last several years, we've seen the lion's share of the buyer's journey go digital, transforming the customer experience into a content experience.
And we've watched brands shift from paying for leads to investing in their own thought leadership—amassing huge online audiences while many media publishers struggle.
Then the pandemic hit, proving beyond a shadow of a doubt that digital content gives brands a vital power base for influencing, educating, and retaining their customers at scale.
This guide is designed to help you build that power base.
If you're like most marketers, you may find yourself stuck in a rhythm: create assets as requested, then move on. We call this asset-centric marketing.
As isolated events, these acts feel helpful, even productive. But en masse, one-off assets and campaigns do virtually nothing to expand your brand's sphere of influence.
To consistently draw customers towards your brand at scale, you need to purposefully create an ecosystem of high-value, interconnected assets.
Consider the difference: asset-driven marketing amounts to scattering raw content across the digital universe. But with ecosystem-driven marketing, you create a content solar system with its own gravitational pull. Each new asset reinforces the others, creating a collective experience that becomes stronger and more effective as it expands.
If you're ready to shift from creating one-off assets to building a content ecosystem but need a methodology for how to get it done, this guide is for you.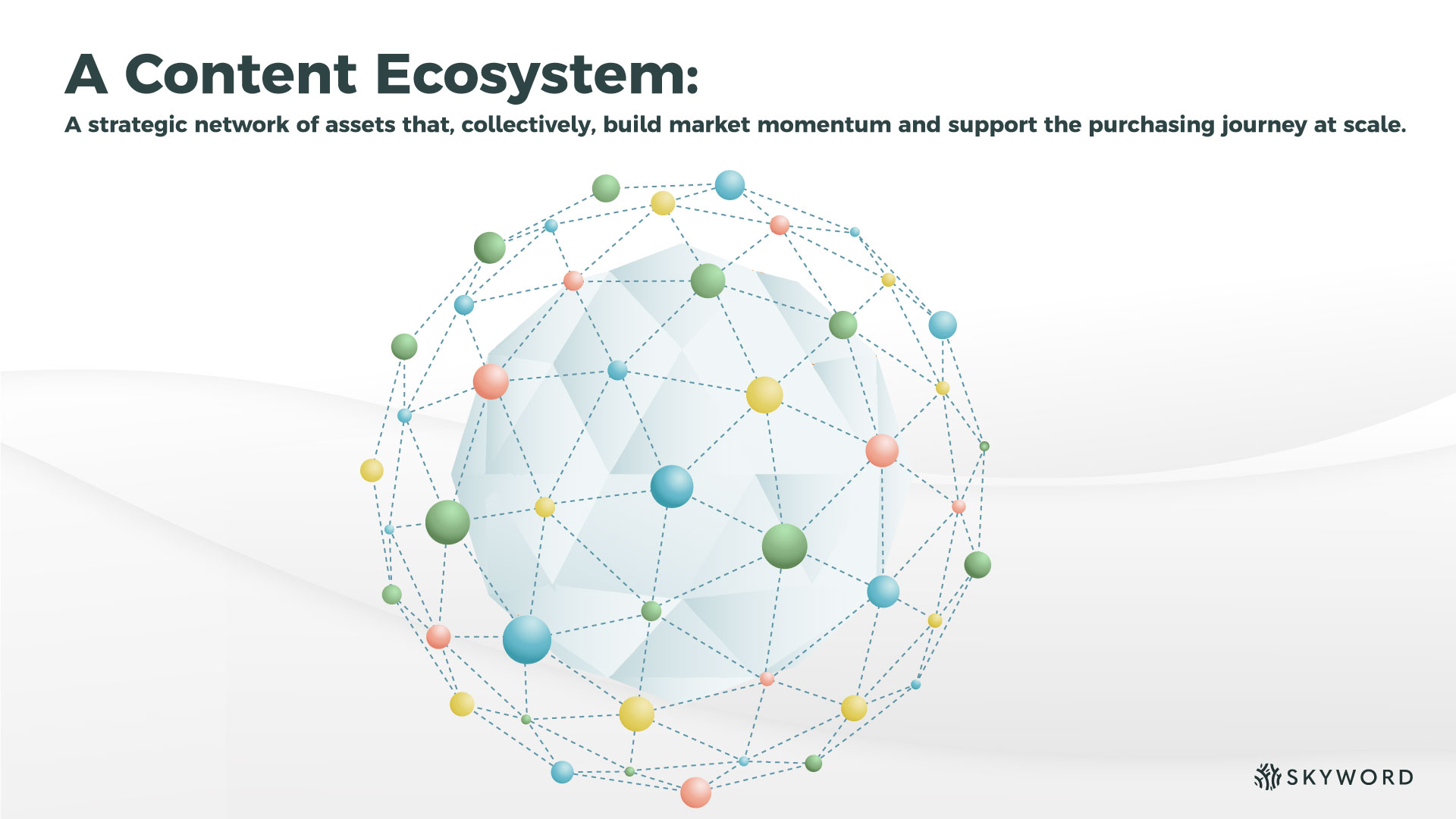 What Is the Content Ecosystem Model?
The Content Ecosystem Model is a way to increase the effectiveness of your marketing by organizing content into a strategic network of assets that, collectively, build market momentum and support the purchasing journey at scale.
Here's how we've broken down this model to help you implement it in your own organization:
Table of Contents:
What are the components of a content ecosystem?
These five essential components define a successful content ecosystem:
Here's how they work together:
1) Content Streams
Content streams are collections of content that support a specific stage of the customer experience. In an ecosystem, assets across content streams are connected to create a seamless customer experience.
When we think about an always-on content ecosystem, five major content streams typically make up the big picture: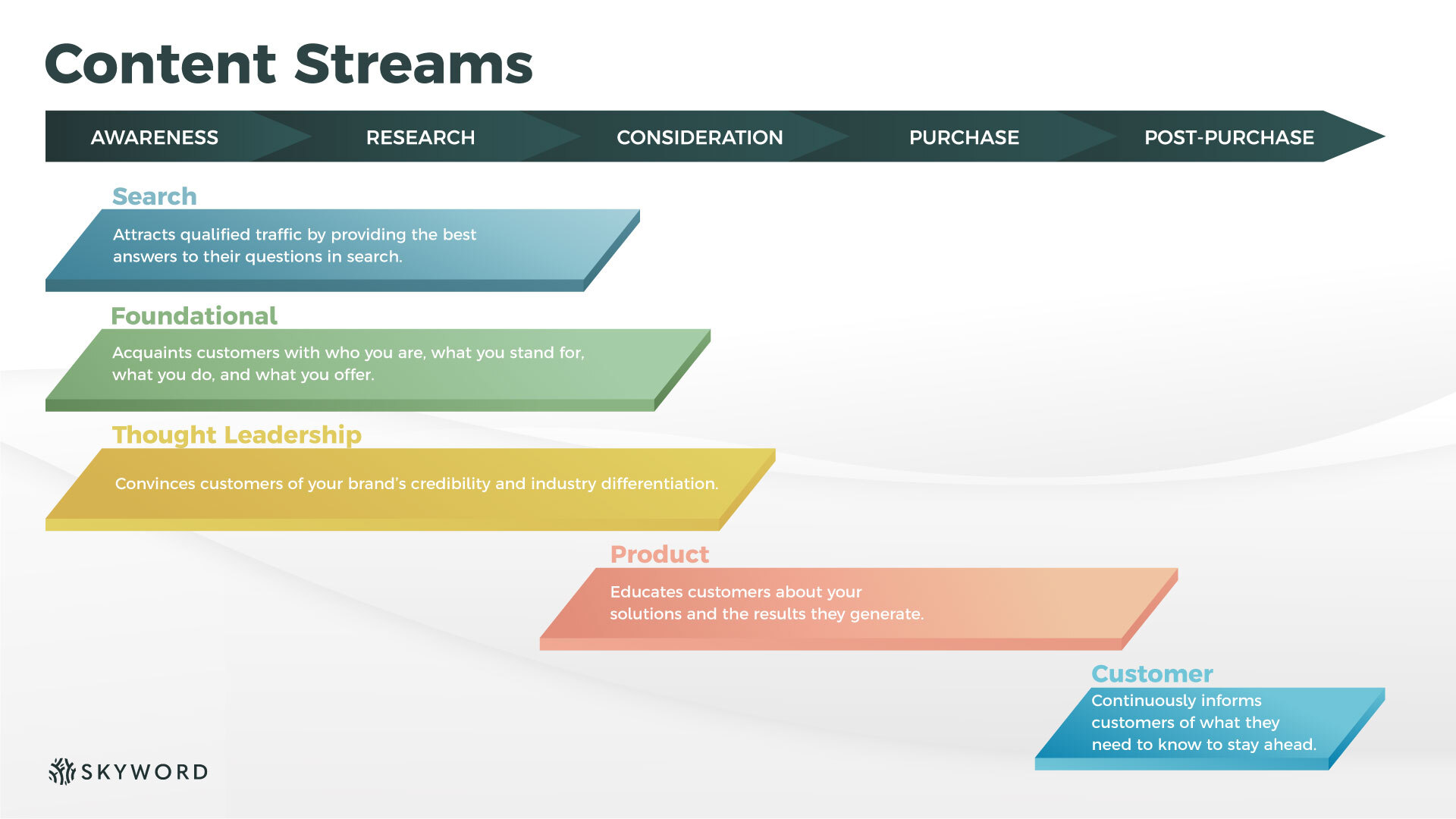 2) Asset Mixes
Your asset mix defines the types of content you'll use within each content stream.
A singular content type is rarely enough to create a "winning" content stream in today's digital world. Using multiple content types equips your brand to gain wider exposure with convenient and accessible content that's optimized for different channels and contexts.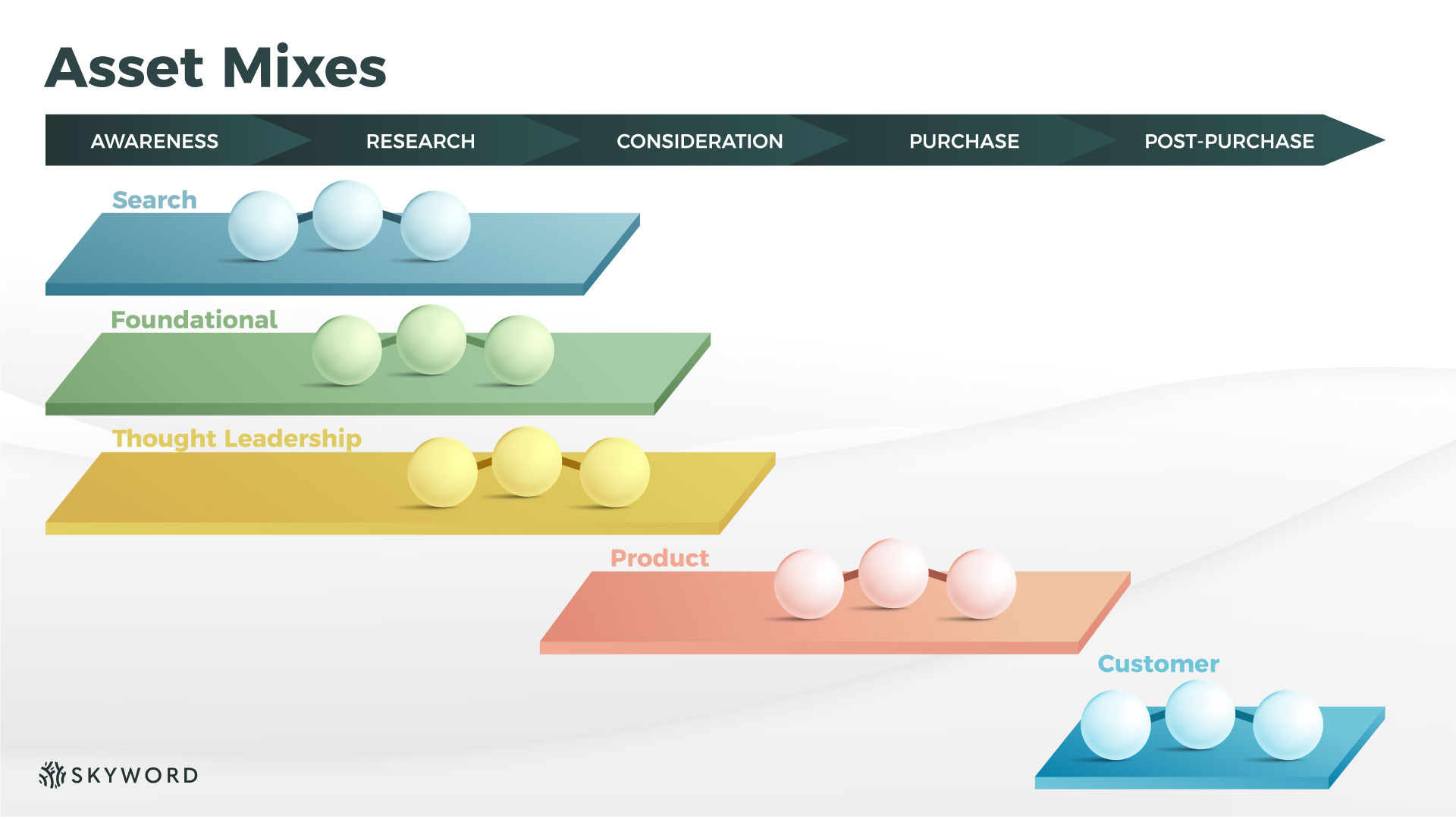 For example, a brand's search content stream may consist of long-form ultimate guides (like this one) that are contextually supported by (and crosslinked to) related blog articles and how-to videos.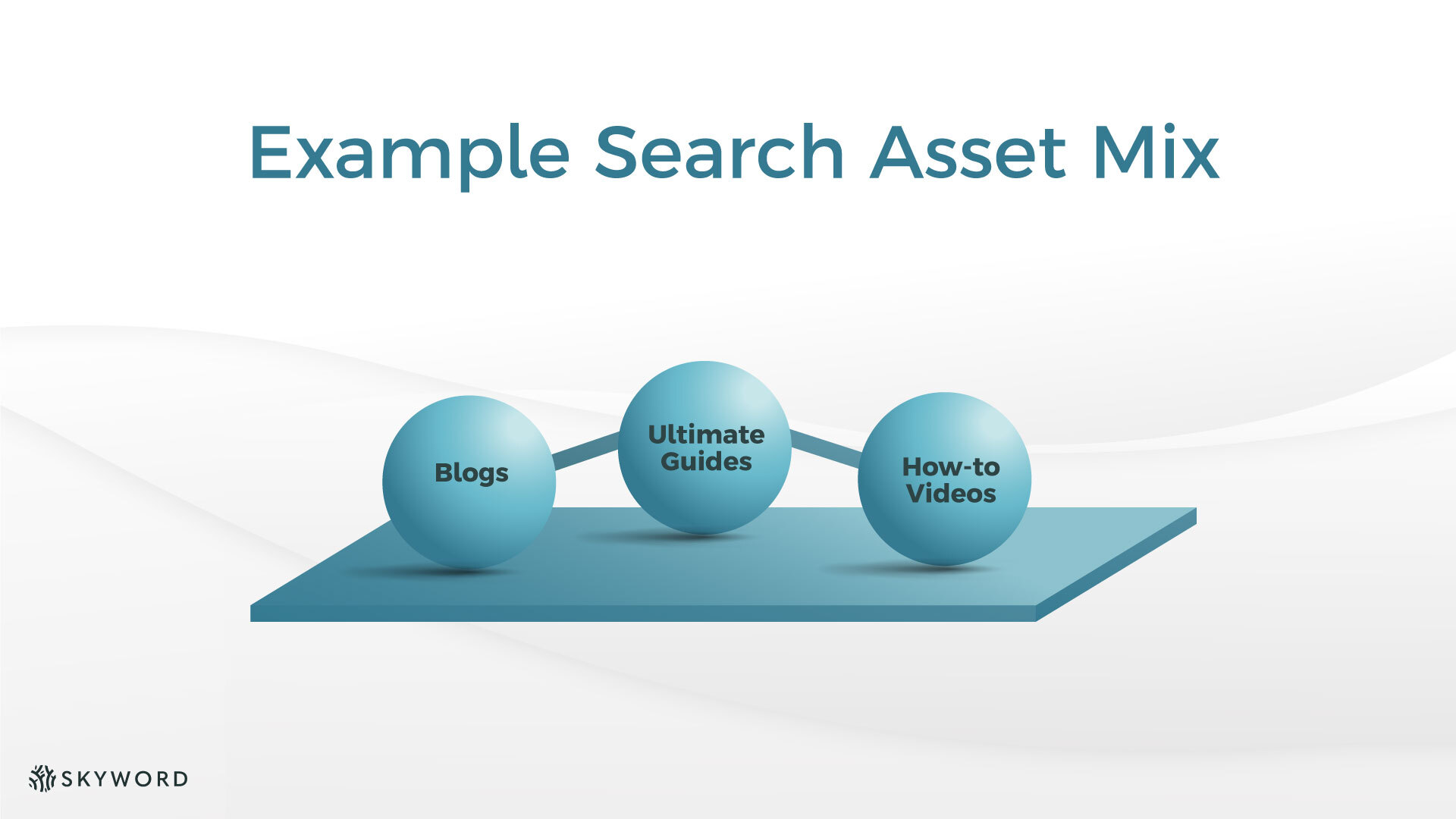 3) Topic Pillars
Topic pillars are the broad topic areas you want your brand to be known for in the market. These pillars determine the topics and subtopics that the content throughout your ecosystem will cover.
Think of topic pillars as the themes that organize your content. Especially when you have limited resources, topic pillars help you strategically anchor your content around what matters most for your business.
If you're a financial services brand, for example, you might want to be seen as the industry expert in debt management. Content in your ecosystem would align to that topic pillar in the following ways: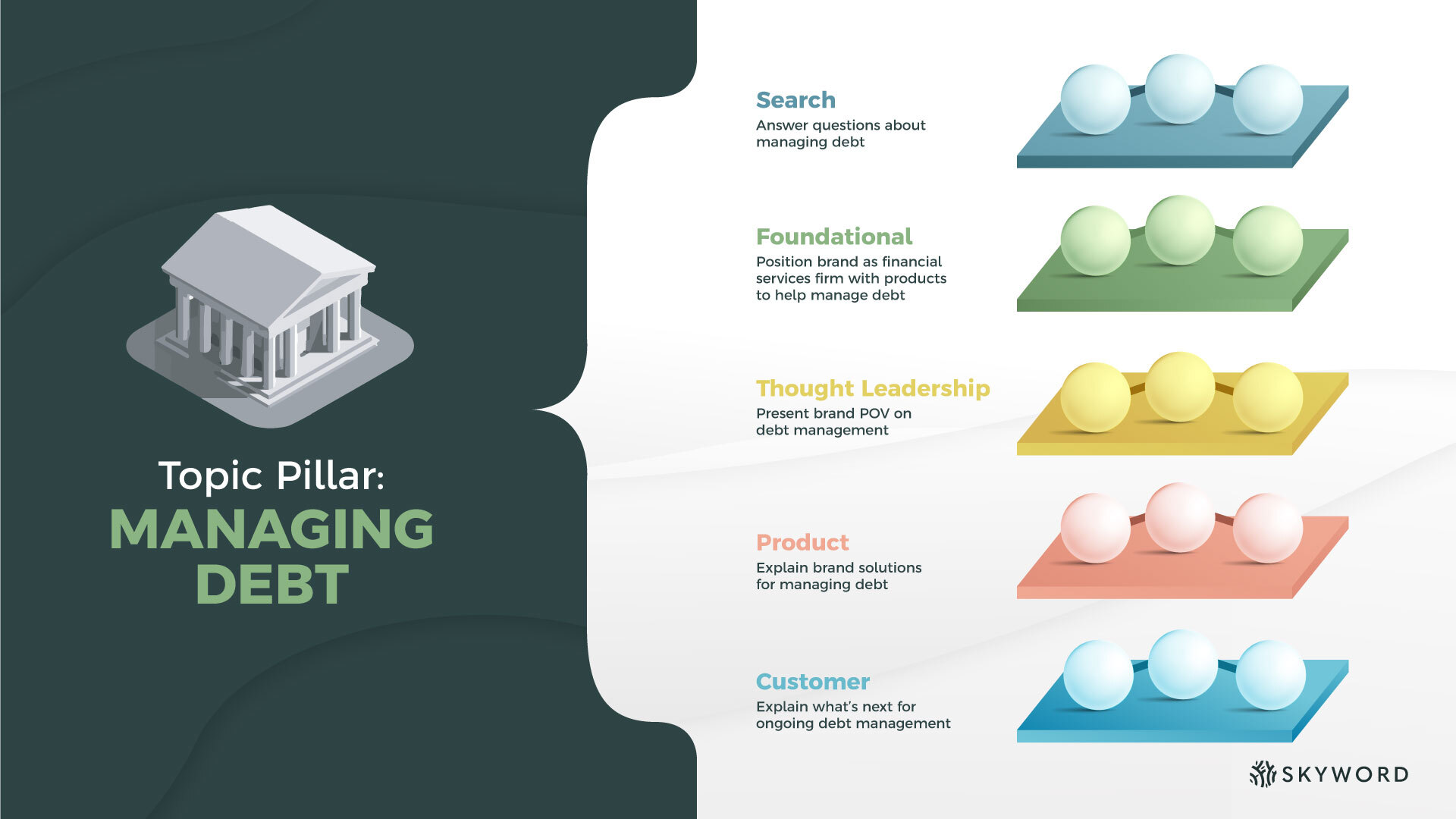 4) Strategic Links
Your ecosystem is only as strong as the connective tissue that binds it together. So, strategic linking is vital to ensuring that content within your ecosystem is built to 1) reinforce your topic authority and 2) lead customers through the purchasing journey in an organic way.
Crosslinks and Embeds
Content is primarily connected by crosslinking to or embedding contextually related assets within each piece of content you publish. As you plan content, you'll want to group related assets using a hub and spoke model, with an asset that broadly covers a topic linking out to assets that address related sub-topics in greater depth.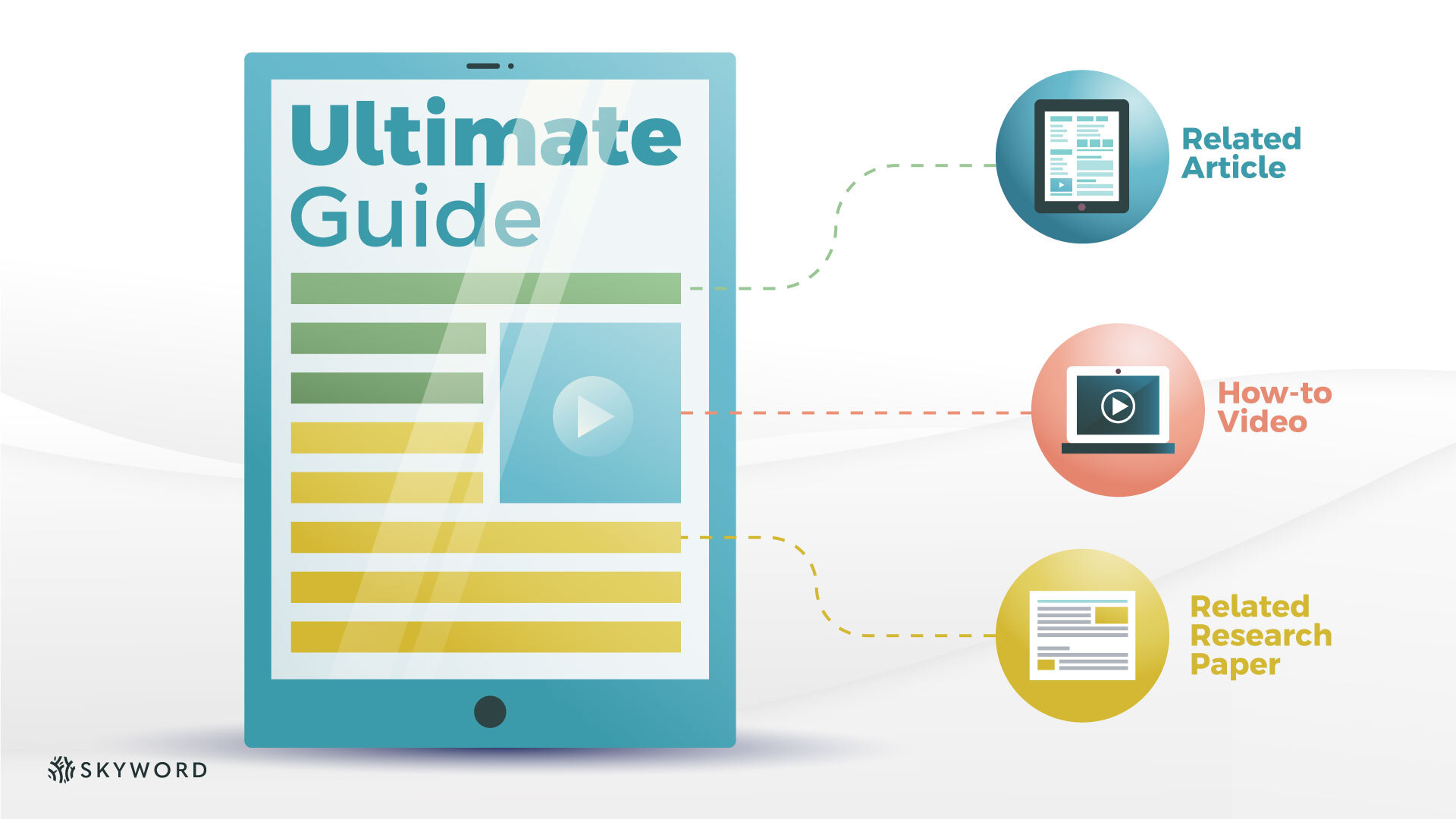 Because customers (and search engines) scan pages for topic relevance and give more credence to sites that demonstrate extensive topic expertise, relating content by topic is the best way to improve search visibility and build on-site engagement.
CTAs
There's also customer intent to consider, and that's where CTAs come in. Remember your content streams? Every asset in your ecosystem has a role to play in the customer decision-making process. Based on how an asset aligns with your customer's decision-making journey, you can reasonably predict what content CTA will appeal to those who want to take the next step toward learning about your solutions.
Is the next step a sales consultation? Registering for a webinar to learn more about the topic? Signing up to receive updates on the issue? Make your CTA a demo request, form fill, or email capture accordingly.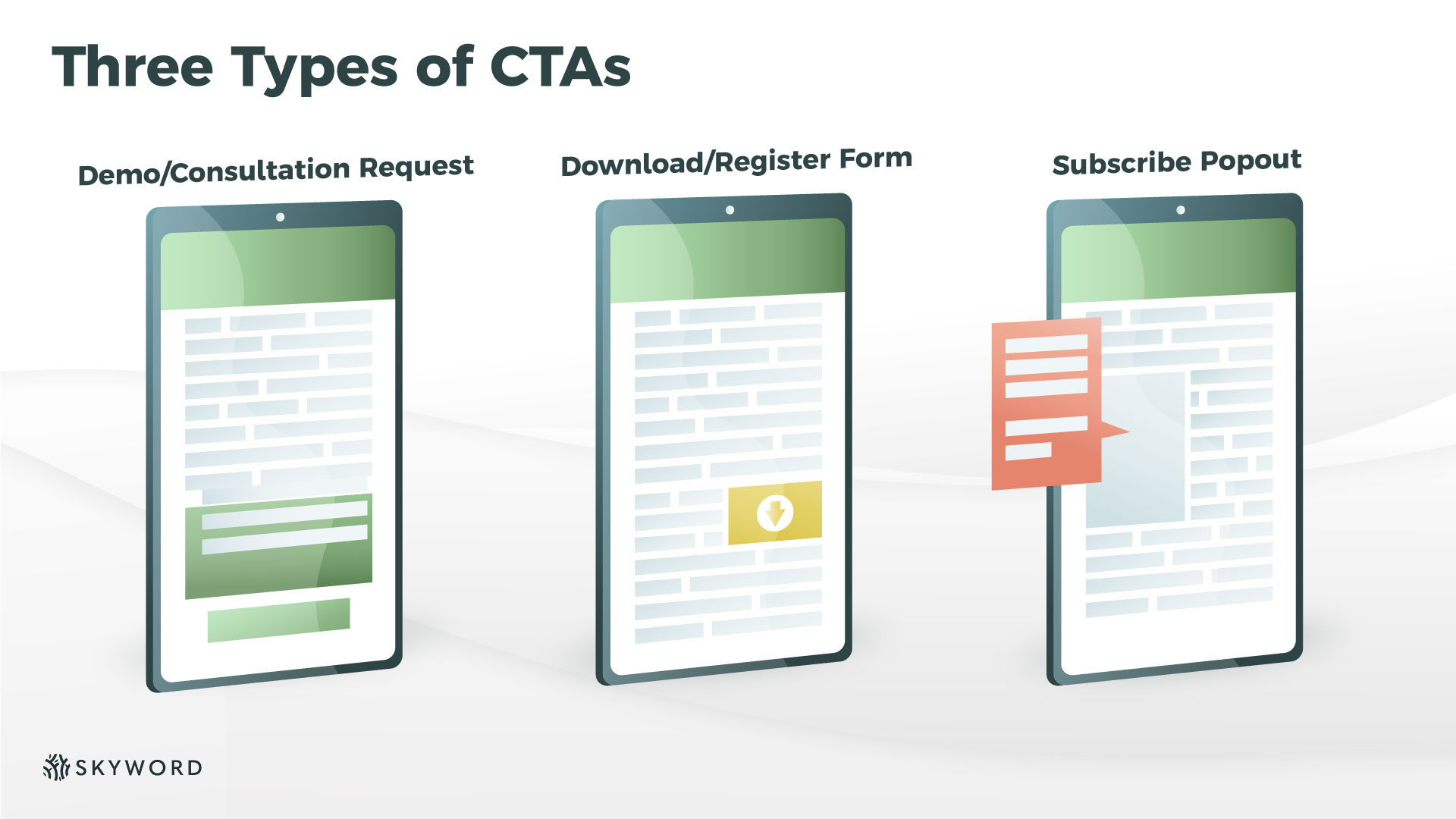 Every asset is a conversion opportunity, so the most important thing is to not miss it. Check out this article for tips on when and how to use certain types of CTAs in your marketing.
5) Content Bursts
With an ecosystem of content built around a core set of topics, you can now dynamically configure related assets into rich, value-based experiences and campaigns, also known as content bursts.
While your always-on content streams steadily increase your topic authority and expand your digital reach, content bursts capitalize on timely topics to give your brand an instant additional lift.
A content burst involves taking a cluster of content on a timely topic and promoting those assets as a series over a specific period to capitalize on rising demand.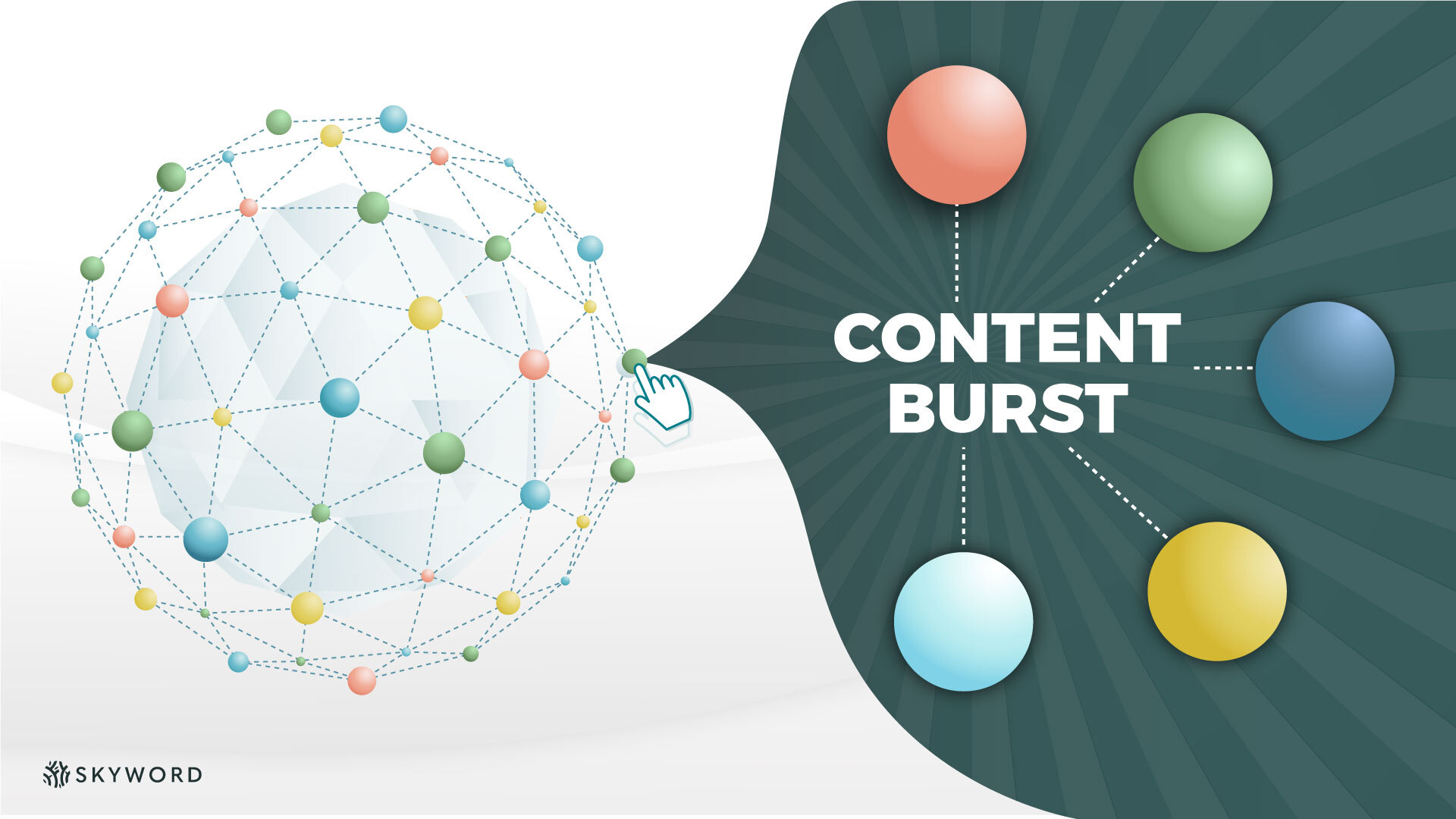 Continuing the theme of managing debt as an example, compiling content that specifically addresses the subtopic of student loan debt and promoting it during graduation season—a time when many college students face the challenge of figuring out how to pay off their school loans—is a perfect way to capture a disproportionate share of voice when interest in that topic happens to be spiking.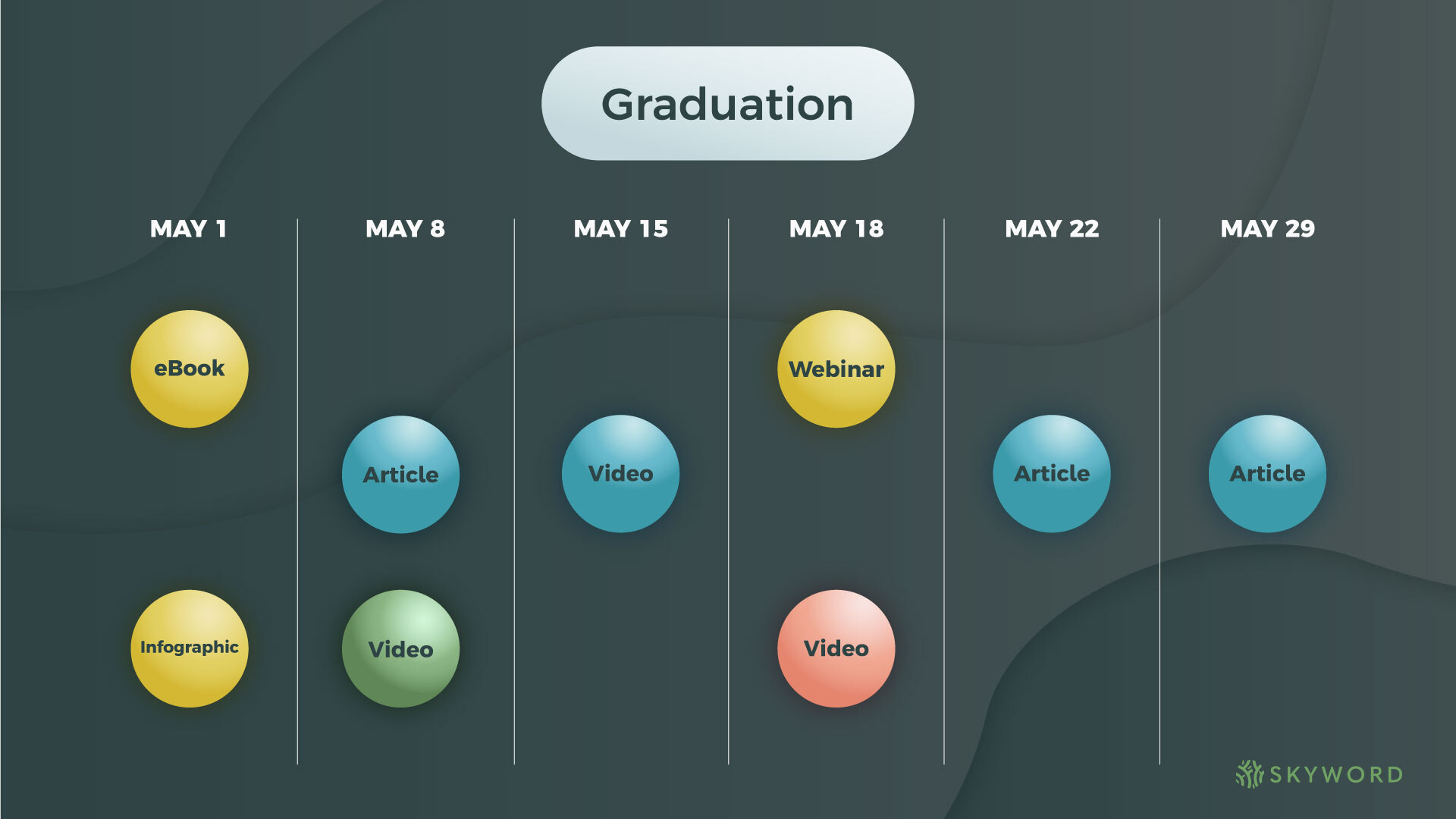 It's important to recognize that content bursts are no substitute for the always-on content that makes up the core of your ecosystem. Without an ecosystem to drive customers into, a content burst loses most of its value.
Check out this Skyword article on evergreen and timely content for more insight into the value of making both parts of your marketing ecosystem.
How does a content ecosystem work?
Sustaining Acquisition Activity
With content streams running on an always-on basis, your brand has fresh content in the market, driving customer acquisition 100 percent of the time.
Over time, this creates a rising tide of content that increases brand exposure across channels and, from a search perspective, compounds the traffic you're driving to your site.
Most importantly, as audiences engage with your content, you now have the infrastructure in place to convert them into leads and, ultimately, customers more effectively.
Accumulating Authority
Aligning all your content to a few topic pillars ensures that instead of boiling the ocean, you're stacking up assets that reinforce your brand's expertise in high-priority areas.
The more you build out the breadth and depth of your content coverage in each topic, the more authority you accumulate in the eyes of search engines and the higher the resulting lift in visibility across relevant search queries.
In the eyes of customers, a wealth of quality insights and advice in the subjects your solutions address positions you as a more credible and trustworthy solutions provider.
Connecting the Experience
Marketing is now largely the owner of the digital experience—in other words, the brand content experience. Customers expect that experience to be informative, well-organized, and frictionless.
A content ecosystem supports this by organizing and creating a logical connection between assets for customers.
By staging assets strategically across the customer experience and connecting them by both topic and customer intent, your brand is set up to influence the customer decision-making process at scale.
Unifying Creation
A content ecosystem unlocks an enterprise vision of content that keeps the whole marketing organization coordinated and working toward the same goals more efficiently.
As a high-level blueprint, it's a resource the entire marketing organization can use to orient their short- and long-term planning.
Using your ecosystem infrastructure to sync all the relevant teams—from those responsible for creating content to those distributing it—establishes clear lines of accountability and eliminates wasted efforts across teams.
How do I build a content ecosystem?
Every brand's content ecosystem will vary based on a combination of factors, including its industry, solutions, target audience, and business goals.
Here's a breakdown of the five crucial steps to mapping out the content ecosystem that's right for your brand.
Step 1: Assess your current content experience
Your content experience should help your brand by helping your target customer. So, the first question to ask is two-fold: Do you have the content your target customer needs at every stage of their purchasing journey, and is that content helping you achieve your marketing objectives?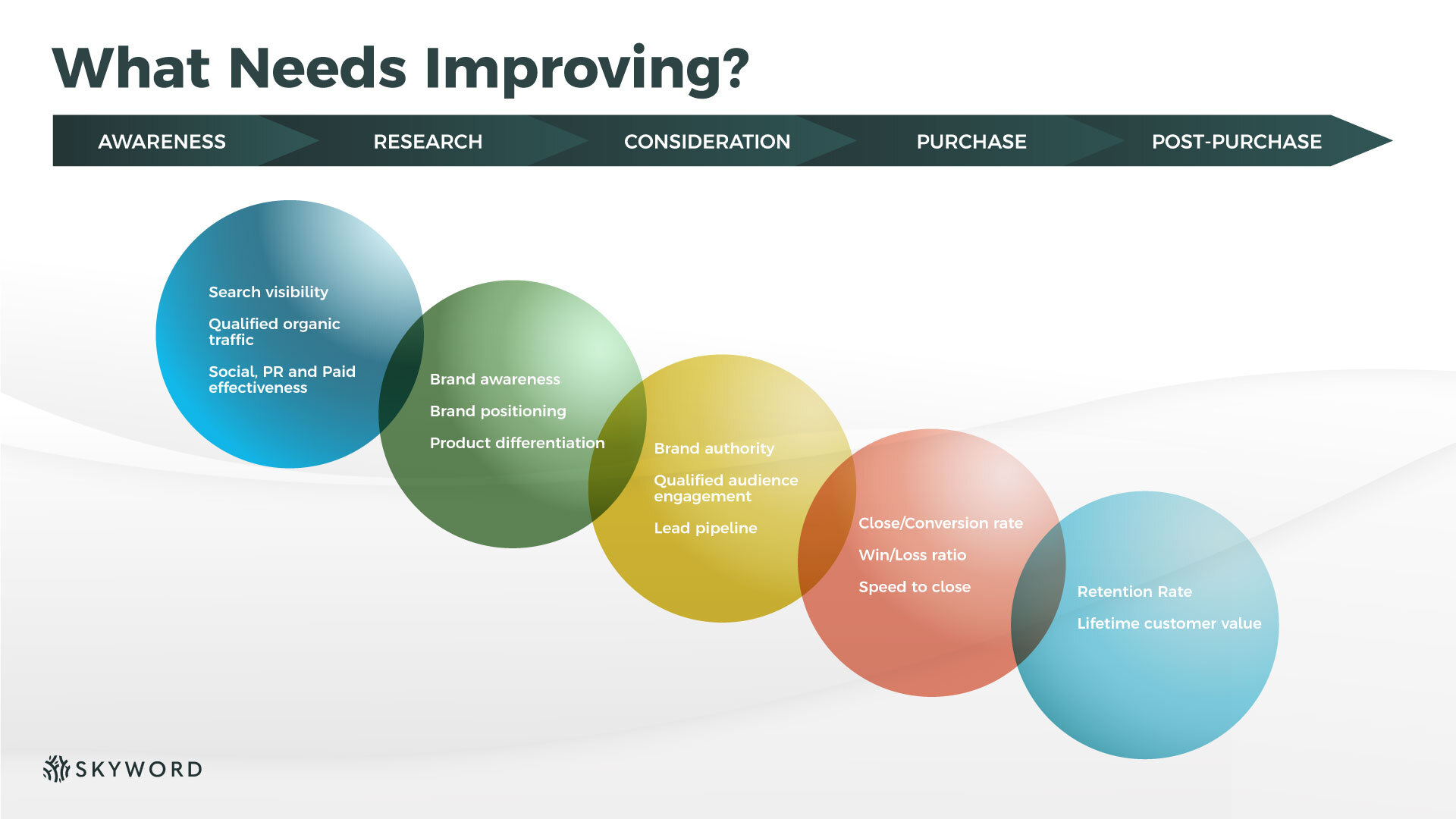 Using these criteria, review your customer experience from stem to stern and identify gaps and points of weakness.
Ask yourself: Are you driving quality traffic to your site but missing compelling, lead-generating content you need to meet pipeline quotas? Do your customers lack access to product explainer videos and case studies that could shorten the sales cycle and improve close rates? Are you losing out to competitors in part due to a lack of brand recognition and thought leadership positioning in the market?
If you need help with this process, consider a content audit. After all, you can't improve what you can't measure. An honest self-assessment is the best first step.
Step 2: Identify the content streams you need
As a next step, you'll identify the content streams you need to address those weak points. First, specify what content is required. Then, identify how it needs to connect to the rest of the content in your ecosystem to generate your desired results.
For example, you may need search content to attract more qualified traffic. Still, you need that content to link to your solutions pages and feature lead magnets that will allow you to capture visitor information and qualify them as leads.
Step 3: Define your content mixes
Now you'll identify the types of content you'll use in each content stream. At this stage, solid market intelligence should guide your decision-making.
Ask yourself: How does your target audience prefer to consume information at different stages of the decision-making process? How are your competitors approaching content at a similar stage? Are there opportunities for you to fill an information gap in the market?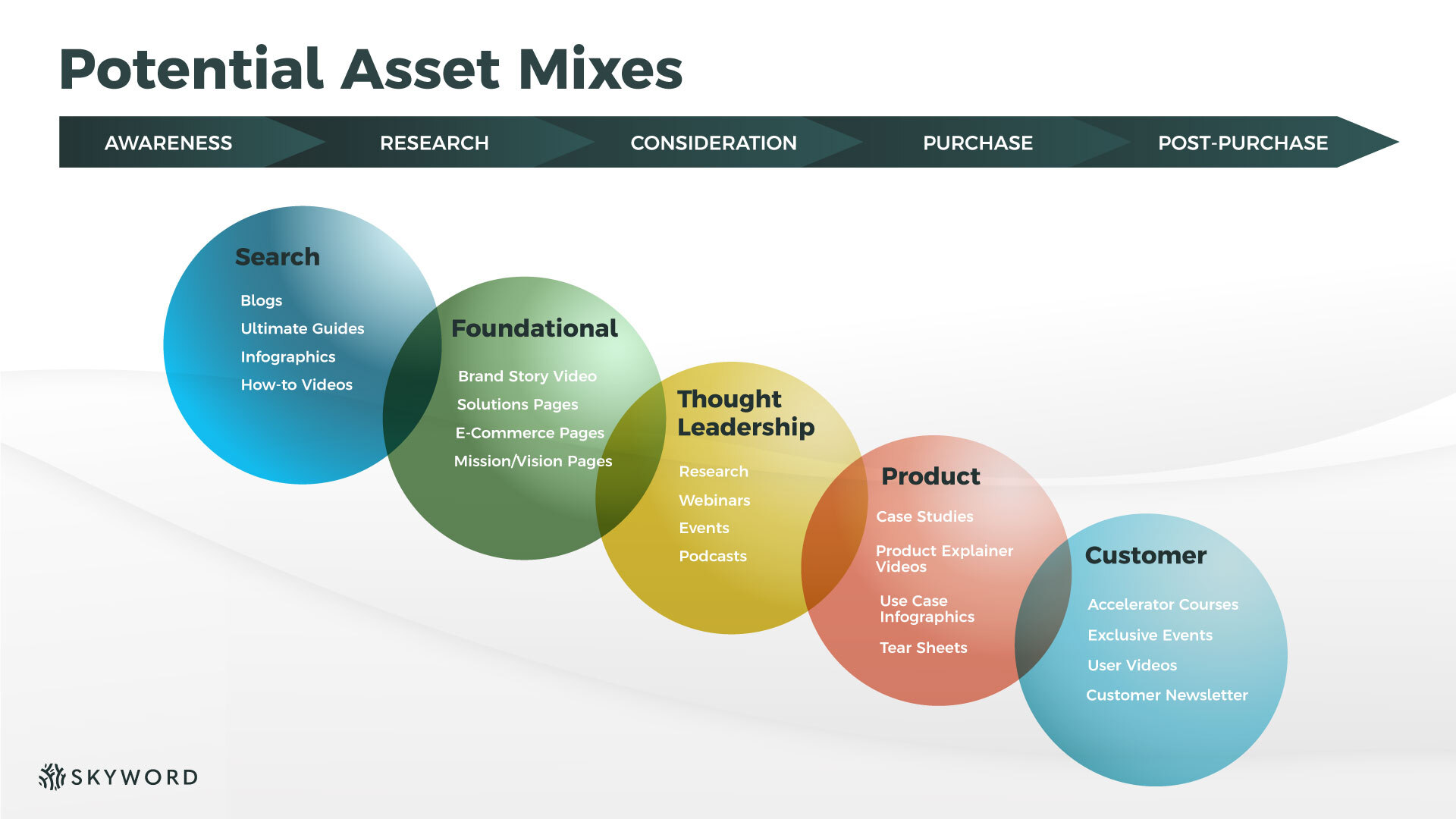 Answering these questions will help you make safer content bets and craft a signature approach to each content type that will help your brand stand out. It will also prevent unintentionally limiting your audience due to content type preferences.
As you select content types, consider how each will reinforce the others. And think about how each can be atomized (broken into smaller assets) for repurposing across the customer experience and different distribution channels.
Step 4: Set your topic pillars
Your brand may already have market themes identified at the corporate level, but these must be adapted to an audience-centric context.
Generally, your topic pillars should take the subjects you want your brand to be known for in the market and the solutions you offer and distill them through the interests of your target audience.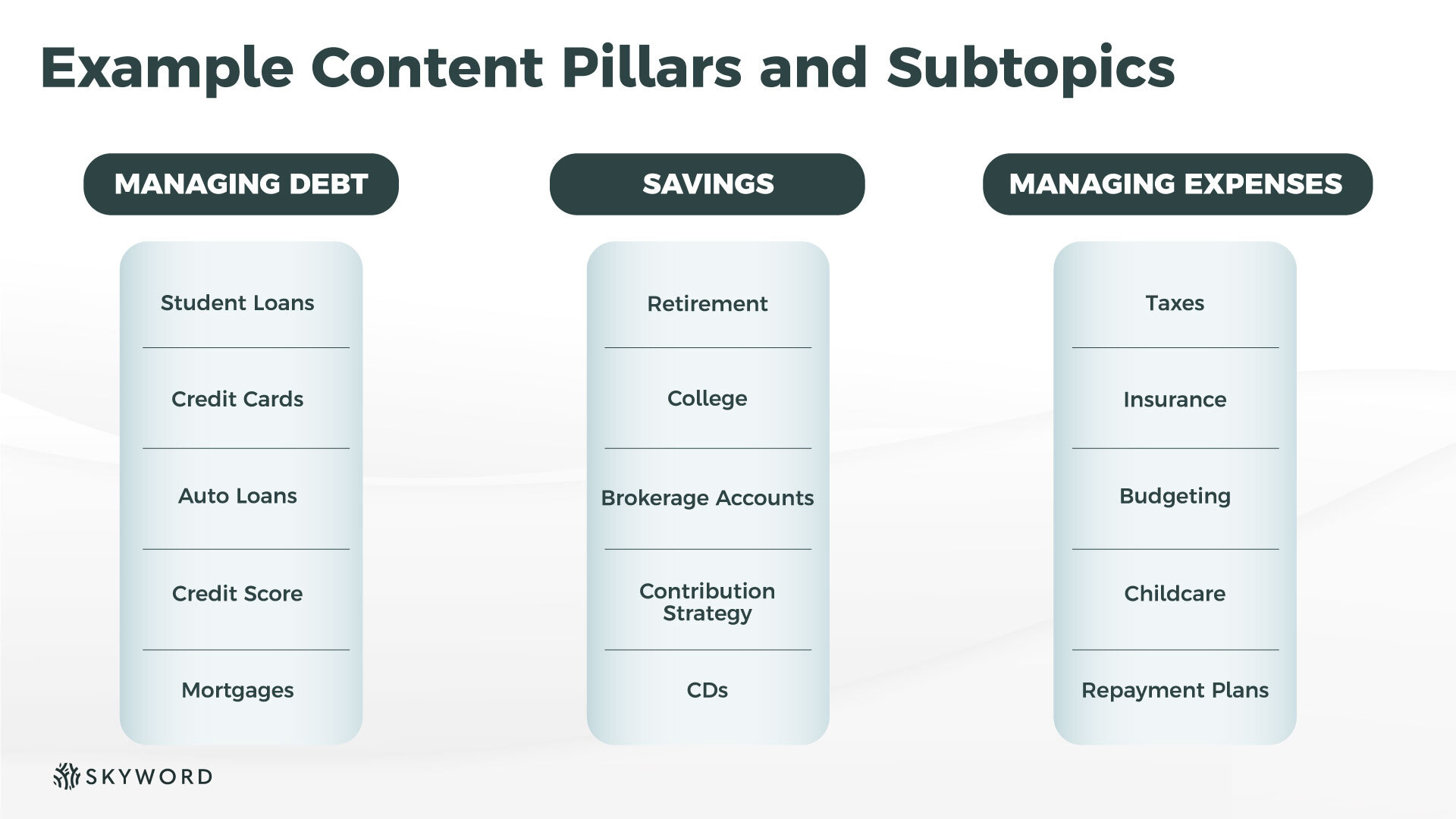 Once your pillars are established, you'll break them down on an ongoing basis into audience-centric subtopics, proving through your content that you're uniquely qualified to help customers solve challenges in those areas.
Content across all your content streams should tie back to your core topic pillars to ensure all the content in your ecosystem is focused, purpose-driven, and building subject matter authority.
Here, you can see how different assets addressing the topic of credit scores can connect to provide customers with a collection of valuable information on the topic that ties back to brand solutions.
Consult this expert advice if you need help identifying the right content pillars.
Step 5: Facilitate content creation
Now that you have a content plan that's unified and calibrated to drive your marketing outcomes, you need the resources to create that content at scale.
Your model may involve aligning content creation to lines of business or across lines of business by content stream.
Whatever your approach, we've found that blending teams by combining in-house content managers with freelance creatives (think designers, writers, videographers, etc.) is the best way to maintain a centralized strategy while ensuring access to the flexible bandwidth you need to fuel creation at scale.
In fact, according to our latest content marketing survey, 73 percent of marketing leaders plan to rely more on freelancers in the next one to two years, primarily to keep up with market demand.
Check out this article for more on how flexible collaboration models are transforming marketing.
Tips to Get Started
Here are a few important factors to consider as you look to operationalize your content ecosystem plan.
Use a content audit to map your existing assets to your content streams and topic pillars. Identify if assets are obsolete, need refreshing, or can remain as they are to ensure they're either removed or integrated into your new ecosystem and linking structure.

Make sure you have content and visual guidelines that specify the tone, style, and specific look and feel of your content to ensure that your assets are cohesive and consistently reinforce your unique brand identity.

Find expert content creators to ensure your content is contextually rich, impeccably crafted, and compelling. Freelance networks are an excellent tool for sourcing content specialists at scale.

Set up an enterprise content calendar with visibility across the marketing organization to facilitate seamless collaboration between content creation and distribution teams.

Establish a measurement framework that looks at the impact of content holistically, including traffic and engagement metrics as well as conversion, loyalty, and productivity metrics. We recommend tracking performance on at least a monthly basis, but making tactical adjustments based on quarterly data.
Of course, your marketing strategy will continue to evolve. Once you've established and executed your ecosystem plan, you should revisit and evaluate it in its entirety on an annual basis to ensure your goals, objectives, and tactics still tightly align with business and audience needs.
Consistently publishing audience-centric content is an important first step toward more effective marketing, but a more calculated approach to creation across the customer experience is the best way to galvanize your marketing at scale.
If you need assistance aligning stakeholders and activating the Content Ecosystem Model at your organization, we'd love to help. You can contact us for a consultation by filling out the form below.
Featured image attribution: Greg Rakozy on Unsplash

https://www.skyword.com/contentstandard/the-content-ecosystem-model/
https://www.skyword.com/contentstandard/the-content-ecosystem-model/
Casey Nobile