Creative Thinking
Toward More Diverse Marketing Campaigns: Karen Okonkwo on Shifting Mindsets Through Imagery
By Taylor Holland on July 30, 2019
Think for a moment about all the faces that represent your brand—the faces in stock photos that accompany your blog posts, the original photography on your website, and the videos that you create for social. Are those faces mostly white? If so, TONL co-founder Karen Okonkwo wants to help. But she isn't judging you.
As a Nigerian American millennial woman, she's a big proponent of diversity and inclusion, but during her first foray into online content creation, crafting diverse marketing campaigns proved to be a challenge for her, too. In fact, she created a sea of white faces without even realizing it.
"I started a blog with my sorority sisters called 'The Sorority Secrets,'" Okonkwo recalls. "This was in 2013, during the boom of blogging, and we got a lot of traction, and we were working with some major brands. Because we got so much attention, a lot of my friends were privy to the site. One of them, an African-American gentleman, pulled me aside and said, 'Hey, just out of curiosity, how come you don't have any people of color, particularly African-American women, on your site?'"
Okonkwo denied the accusation and insisted he was mistaken. Then, she scrolled through the website and discovered that he was right.
"That mortified me," she says. "I'm African-American, so how could I not have noticed? I quickly tried to rectify the problem, and that's when I realized there was limited imagery online of people of color. And the ones I did find were not aesthetically pleasing."
The diverse brand imagery problem, Okonkwo realized, had two primary drivers: unconscious bias and scarcity of resources. That second problem was one she could help solve. In August 2017, she partnered with Joshua Kissi, a Ghanaian-American photographer, to launch TONL.
Image provided by Karen Okonkwo
The site began with six professional photography collections that showcased people of different ethnicities, body types, sexual orientations, genders, ages, and abilities. The business quickly gained customers and attention. And a year later, Okonkwo was named one of Adweek's 39 Disruptors, which honors "women who are spearheading a revolution in advertising, media, and tech," according to the magazine's website.
Today, TONL has nine collections of diverse brand imagery, three photographers, 7,000 subscribers, and plans to scale its content and contributor pool soon. "Our success shows that our mission to allow people to see the world differently is working," Okonkwo says, "and that is very exciting and humbling."
Thanks to TONL and other inclusive stock photo sites, scarcity of diverse brand imagery is no longer an issue for marketers. As for the unconscious bias part of the problem, Okonkwo has some ideas for how marketers can solve that as well—and the answer is just as much about telling inclusive stories as it is about showing diverse people.
A Friendly Reminder: Diversity Matters
"Diversity matters." That's TONL's mantra. It's how Okonkwo signs her emails, and she peppers the phrase into conversations as she talks about inclusivity—not because anyone needs to be convinced that diversity matters, but because we do sometimes need to be reminded.
In marketing, the job is no longer about just building up a brand, but rather to build an audience—to connect and to relate, and that's hard to do when you're leaving some people out. In 2020, a majority-minority crossover is expected to happen in America, meaning the population of those born outside the country will outweigh those born here. But that's just race. There are plenty of other types of diversity to consider, which most marketers are already factoring into their campaigns.
Nine out of 10 Gen X marketers (91 percent) and millennial marketers (92 percent) say their audiences want increased diversity in brand imagery, according to a Shutterstock/Censuswide survey. Meanwhile, 88 percent of Gen X and 90 percent of millennials believe inclusivity helps a brand's reputation.
But believing and doing are very different things. When asked whether they had used more images featuring diverse models within the last year, the numbers were much lower. These marketers reported using:
Racially diverse models: millennials, 37 percent; Generation X, 27 percent; baby boomers, 16 percent
Same-sex couples: millennials, 27 percent; Generation X, 18 percent; baby boomers, 12 percent
Transgender models: millennials, 21 percent; Generation X, 11 percent; baby boomers, 6 percent
People with disabilities: millennials, 25 percent; Generation X, 17 percent; baby boomers, 12 percent
The World Isn't Just White
Despite having inclusive intentions, many marketing teams still fail to produce diverse marketing campaigns. We're still seeing young, attractive, white, able-bodied people as the stars of campaigns, even with diverse brand imagery at our fingertips. Why? Okonkwo believes it's a force of habit that marketers need to be made conscious of, so they can start to course correct.
"We've been conditioned to see the world white," she explains. "Movies, magazines, billboards, everything that's customer-facing—we've been conditioned to see that through the lens of white people, so you, unfortunately, become accustomed to what has been the norm. Until somebody says something, or you just become more self-aware, and recognize that the world is not white. It took someone else to bring it to my attention."
Growing up in the 1990s, Okonkwo says it was even harder to find black faces on TV and in magazines. "That made me strive to find black actresses and singers that I could look up to and relate to: Oprah Winfrey, Denzel Washington, Will Smith, Jada Pinket, Halle Berry, Tyra Banks, Naomi Campbell. Those were the faces I would look for whenever I felt like I didn't see myself. At the same time, I still embraced the things I saw on TV and welcomed white culture. So, I really wanted to create TONL, not for this to be a black and white thing, but to help brands and media outlets reach a turning point.
"Diversity matters, because we do have different experiences, and we have so much that we can learn from each other."
Karen Okonkwo, co-founder of TONL, poses for a portrait. Photo provided by Okonkwo.
Telling Stories to Storytellers
TONL doesn't just showcase images of diverse people—it also tells their stories.
Featured prominently at the top of their site, right between "Collections" and the "Prices and Plans" tab, is the "Narratives" section. Here, you can read about the people featured in each photo collection, usually in their own words. Most of them aren't models: They're people with interesting stories and interesting faces, doing things they do in their everyday lives—just with better lighting, better makeup, and a professional photographer to capture the moment.
TONL's collections cover a wide range of activities and emotions that journalists and marketers might search for when adding visuals to stories: staples such as "businesswoman with a laptop," "friends eating dinner," "doctor talking to a patient," or "student-athlete."
But that businesswoman staring at her laptop in a coffee shop isn't a model—she's an actual businesswoman. In fact, she's Jessica, a "black, queer-identifying, multi-faceted businesswoman who speaks about juggling her corporate job and her side hustle, unexpectedly being the spokesperson on mental illness, and what it means to be black while maneuvering in these spaces."
Those friends gathered around a restaurant table are actually friends (and UpNUp business partners) who like to get together to share meals. That doctor talking to her patient isn't someone who put on a white coat for a photo shoot. She's Dr. Anifat Balogun, a Nigerian doctor and the co-founder of GeneObesity.
And that student-athlete being cheered on by her coach is Antonia, who's played soccer since she was 4 years old and is posing alongside her real-life coach, Chalise. Here, you can learn about their challenges and triumphs, and what it's like to be minority women in a male-dominated sport.
Of course, you don't have to read their stories. You can just buy the pictures for your stories. But for Okonkwo and Kissi, the Narratives section is a meaningful part of TONL's core mission.
"It was important for us to tell the stories of our different subjects because we believe in education," says Okonkwo. "We wanted to allow our photo subjects to come to life, and remove any sort of stereotypes that you have about them, and allow them to show you who they are through their words.
"And that education is going to foster empathy. The next time you encounter someone who is Ethiopian, or someone who is in a wheelchair, you'll stop and you'll think, 'Maybe I won't judge their exterior. Let me take the time to listen to their story and to let them show me who they are, rather than me projecting my biases on them.'"
Telling diverse stories can evoke empathy and serves as a powerful way to negate unconscious bias. But that means calling on progressive storytellers who are aware of their biases, who see the world in all its diverse beauty and share that vision with the world.
Therein lies the opportunity for brands. By showing the world the way it is, you stand a far greater chance of creating diverse marketing campaigns and building a diverse audience.
Moral Responsibility, Business Obligation
These days, brands aren't just businesses. Thanks to social media and content marketing, brands are now trendsetters and storytellers. And with that power comes great responsibility—not just to your audience, but to the future.
"If the world is not white, and the world is a conglomerate of different races, it would behoove us to showcase what the world looks like, for that authenticity," Okonkwo says. "Think about history books and the material you see in there. Think about commercials and television shows from 50 years ago. That is a stamp of what that generation looks like, and it would be doing the future a disservice to depict what the world looks like now as white, when we know that we are so much more than that."
If your campaigns use visuals that are generally lacking inclusivity, there are three likely culprits: your biases, your culture, and your homogeneous marketing team.
1. Check Your Biases
Bias and diversity training can help, but only if it starts at the top, Okonkwo says.
"Successfully shifting an organization starts with the leaders. What I've seen in a lot of organizations is that they push diversity from the staff level, but the upper management doesn't look diverse. So, it has to start at the top, where directors and managers are participating in cultural training and trickling it back down to their staffs.
"I think getting a champion and devoting money toward it is important. It shouldn't be, 'Let me take as much as I want for free from people who have valuable insight on it.' You should have a department that is willing to pay for diversity and inclusion, toward that initiative, so put your money where your mouth is."
2. Check Your Policies
If your corporate culture doesn't celebrate diversity, it's unlikely that your marketing campaigns will. Yet, Okonkwo says many companies exclude minorities from day one—without realizing it.
"Most companies have good intentions, but there are often institutional things that divide minorities and majorities. For example, you might have a policy that says your hair needs to look a certain way—that it needs to be down and straight. That may be well-intentioned in terms of having a 'polished' look, but that rhetoric excludes people of color who generally have curly hair, who generally keep their hair up or change it, whatever the case. That's an elementary example of how companies may be confused as to why they're not seeing a lot of progress with diversity and inclusion. I would challenge them to look at their policies to see if they're excluding certain minorities."
3. Check Your Team
The most progressive brands with the most diverse marketing campaigns also tend to have the most diverse marketing teams, says Okonkwo.
"I would challenge brands to look at how they're hiring. Not to say all white people are the same or all black people are the same, but there are cultural norms that are specific to these races, and there are studies that show you have an affinity toward people who are just like you, so it's important to ask yourself what your staff looks like," Okonkwo says.
The people who are making these marketing decisions, are they all white? Are they all white males? Are they all women? Is there anyone with any sort of handicap? Do you have different ages and religions represented? Is anyone gay or transgender? You don't have to check all the boxes, but if everyone looks the same, it's very likely that you're operating through groupthink. If that's the case, it's time to reshuffle."
It might take a while to reshuffle your team, but TONL can help you reshuffle your visuals. And the stories on the site might also help you shift your perspective. At least, that's what its co-founder hopes.
"Diversity is so important to me, because I grew up in a very diverse community, and I don't think we're going to get to world peace and acceptance [if we're] leaving anybody out," says Okonkwo.
"We are glad to take the torch for everyone, and hopefully through our lead, others will pick up the torch, and it will just be a cascading effect," she continues. "And we'll start to see the world the way we want to, which is different, but still beautiful in that sense."
For more stories like this, subscribe to the Content Standard newsletter.
Featured image attribution: Karen Okonkwo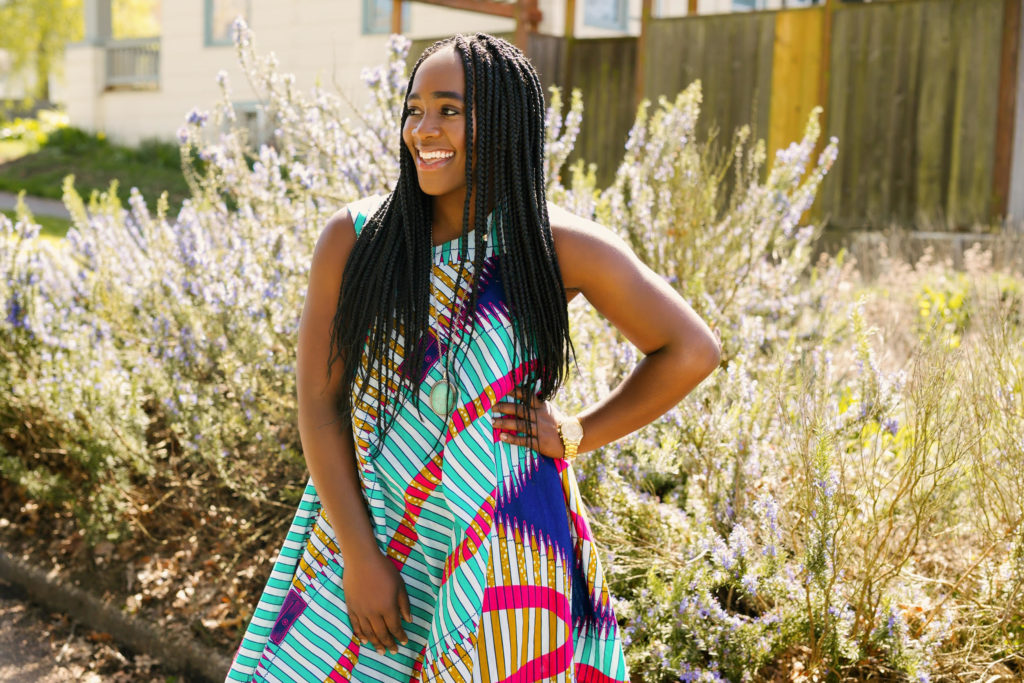 https://www.skyword.com/contentstandard/toward-more-diverse-marketing-campaigns-karen-okonkwo-on-shifting-mindsets-through-imagery/
https://www.skyword.com/contentstandard/toward-more-diverse-marketing-campaigns-karen-okonkwo-on-shifting-mindsets-through-imagery/
Taylor Holland