Communications
How Brand Purpose Impacts Your Ability to Attract Top Freelance Talent
By Angela Tague on June 16, 2021
When principles, goals, and ideals align, magic happens. Maybe it comes in the form of a first date you instantly click with or a business partner whose feedback you always look forward to—regardless, the common thread is that the conversation is free-flowing and natural.
Something similar happens when a freelance content creator finds a company that has a brand purpose or value they share. Only now, that powerful connection is reflected on the page. By nature, authenticity can't be faked; it comes when creators truly believe what the client believes and they love what the client loves. Expect vivid anecdotes, insider perspectives, and topic ideation that connects with audiences on a heart-to-heart level.
I'm a full-time freelancer of 12 years, and I've experienced this phenomenon firsthand with my client Tom's of Maine. Its brand purpose is in perfect harmony with my personal values, and my daily life closely mirrors the lives of its audience: I live a vegetarian lifestyle, make environmentally conscious decisions, explore natural personal care products, and volunteer in my community. I can infuse every assignment I receive with stories from my life, real testimonies using the products, and going-green advice straight from my heart.
We've remained in collaboration for eight years because we just click.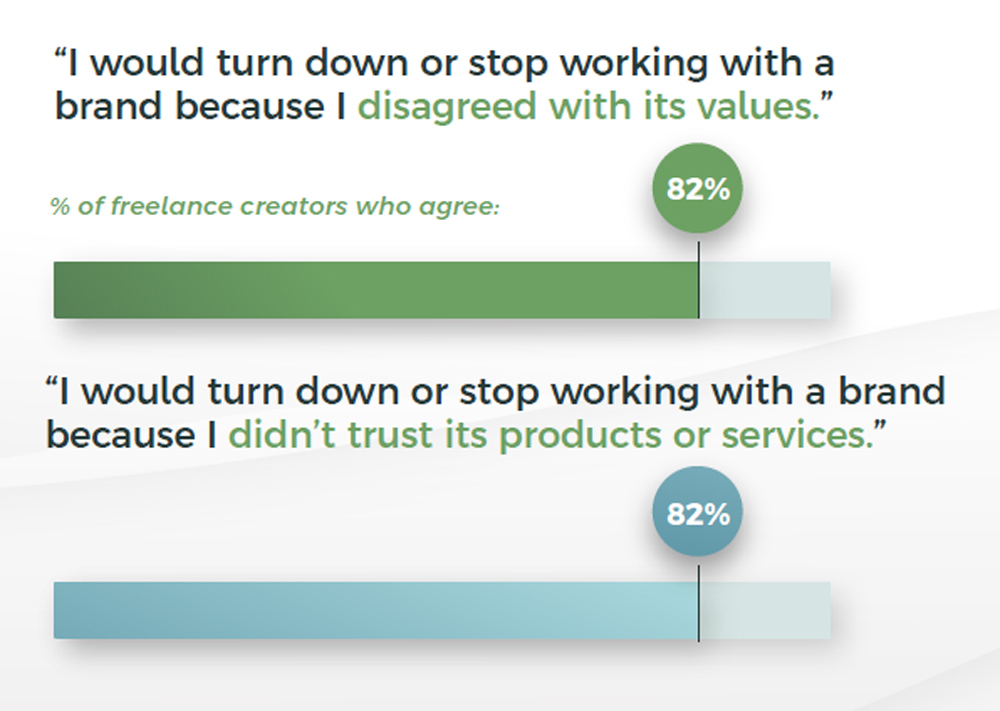 What Content Creators Think about Brand Purpose
The inverse is true as well. A poorly crafted brand mission—or a sudden pivot to one—may cost you top talent. In fact, 82 percent of creators will turn down a project or stop working with a brand if they disagree with its values or don't trust its products or services, according to the 834 freelance creators and 203 brand marketers included in Skyword's 2021 survey, Scaling Your Brand Marketing with Freelance Creators.
That is a whopping figure. It indicates that just as brands carefully consider the creators they work with, savvy freelance creatives are looking back at brands with an equally discerning eye. Writers, videographers, graphic designers, photographers, and UI/UX designers evaluate the clients we choose to share our bylines with; when I decide where to dedicate my desk hours, the decision goes beyond pay rates. As a small business owner, I want to work with businesses that align with my values and working style.
Here are some answers I need to help make my decision:
Do I believe in this brand's mission?
Would I, or do I already, buy the product or service?
Can I write authentically about the products and services from a consumer perspective?
Do I feel good having my byline linked to this brand?
Can I feel proud to be associated with the company's messaging?
If creators like a brand's answers to these questions, we're more likely to stick around for a while. The Skyword survey revealed that freelance collaborations are rarely one-offs; on average, 42 percent of freelancers work with the same client for over a year. Onboarding a new freelancer typically costs more in time and funds than it does to retain top talent, so attracting and keeping the creators that embrace your brand is essential—both for your bottom line and to meet your content creation goals.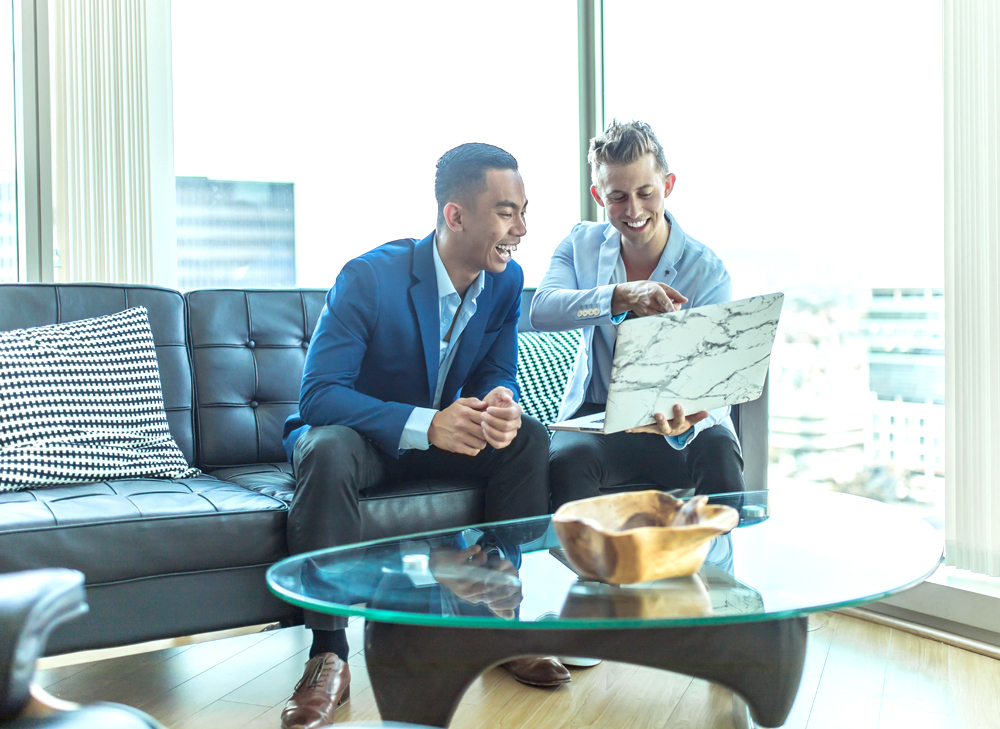 Image attribution: Austin Distel / Unsplash
How Brands Can Attract and Maintain Top Talent
Your company likely vets any freelance candidates carefully to find that match. But just because a freelancer made it onto your short list doesn't mean you've made it onto ours. As marketers work to recruit freelancers, freelancers are also in hiring mode to fill up our work calendars. Your outreach helps catch our eye as well as provides the details we need to make informed decisions.
I've already given some ideas on what I look for. Here are a few more, based on replies from the survey.
1. Have an Onboarding Process
You wouldn't bring on a new employee without introducing them to your company's practices, right? Extend this courtesy to freelancers. Share content creation guidelines, documents on brand style and tone, target audience information, SEO strategy, preferred sourcing methods, and the brand purpose. Twenty-three percent of brands questioned for the survey said that freelancers often "lack intimate knowledge of our brand." Prioritizing education sets everyone up for success.
2. Pinpoint Expectations
Thirty-three percent of freelancers mentioned that brands "lack clear direction and vision" and that they could use more "clarity about expectations and assignment goals." Essentially, freelancers don't simply want an assignment summary and a paycheck—we want to know how the work we're creating fits into the greater picture of a brand's content strategy.
3. Adopt Collaboration Tools
Productivity requires structure—sifting through emails, Slack threads, and Google Docs is a messy time-waster. Aim to streamline partnerships by embracing a platform that can encompass workflow management, assignment briefs, payment processing, document storage, and communications among team members.
4. Share Your Why
Most importantly, freelancers want to know why you need us. What is the purpose of creating this content? What are the company's values, beliefs, and stances on the topics in the content? This helps us evaluate if we're a sound match—beyond just skill set—for the collaboration.
For instance, plenty of marketers tackle strategies for brands with potentially controversial agendas. Let your freelancers know this. Is there a political bias? Is there a religious component? Is this brand making headlines that will trigger robust divides in the community? All of that is fine, but be transparent. For some creatives, this is exactly the type of content that revs up their creativity. For others, it's a clear signal to step aside.
Freelance writer Erin Laviola says, "I would decline to work with a brand if they stood for something I found to be immoral or reprehensible. I've written for clients I didn't necessarily agree with but as long as I don't feel they're hurting anyone, I'll take the project."
Open Up the Lines of Communication
If I could give one final piece of advice to marketers, it's to share. Share those branding documents. Share that slideshow from the meeting. Share the upcoming campaign strategy. Share what you learned in that monthly call. We are listening.
Although we aren't employees, freelancers are valuable members of your creative process, and we want to gather as much information about the brand as possible so we can deliver targeted content that aligns with its purpose and goals. We want to know that we're the best person to do it.
Download a copy of Scaling Your Brand Marketing with Freelance Creators to get the inside scoop on how freelancers and brands can best collaborate. After all, it's no longer a one-way application process.
For more stories like this, subscribe to the Content Standard newsletter.
Featured image attribution: Kayla Speid / Unsplash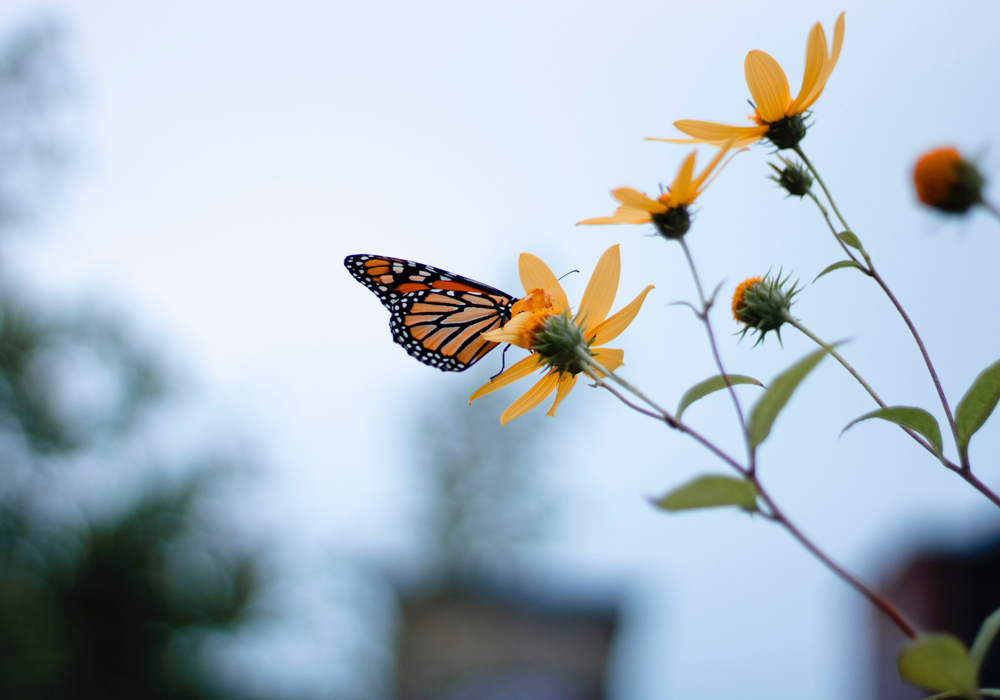 https://www.skyword.com/contentstandard/how-brand-purpose-impacts-your-ability-to-attract-top-freelance-talent/
https://www.skyword.com/contentstandard/how-brand-purpose-impacts-your-ability-to-attract-top-freelance-talent/
Angela Tague