Content Strategy
Key Takeaways from Content Marketing World 2021
By Jacob Roundy on October 4, 2021
At Content Marketing World 2021, an undercurrent of energy ran through the crowd and the presenters. This year's conference marked a return to the in-person event after an all-digital version last year, and that energy was born from a sense of normalcy coming back to the world. It felt good to reconnect with others in the brand marketing community again, and it was fascinating to hear about what everyone had been up to.
If you weren't able to attend this year but still want to know how the state of marketing has evolved, we've compiled some key takeaways from CMWorld 2021's keynote presentations right here. These broad, high-level themes paint a picture of where the industry is heading, so you can keep pace with the top marketers in the field.
Content Strategy Is Only as Strong as Its Ability to Evolve
Robert Rose, Chief Strategy Advisor at CMI, kicked off this year's CMWorld dressed as a steampunk-style plague doctor. His gritty outfit represented what we've all lived through over the past year and a half: a global pandemic that took lives, upended industries and forced us to adapt to a digital-first lifestyle.
As he removed the mask, Robert began to talk about how hard and strange these times have been, but he pointed out that we've survived. We have adapted, and we will continue to evolve, because that's what humans do best. We rise to the challenges presented to us, and we'll use whatever resources we can find to solve them.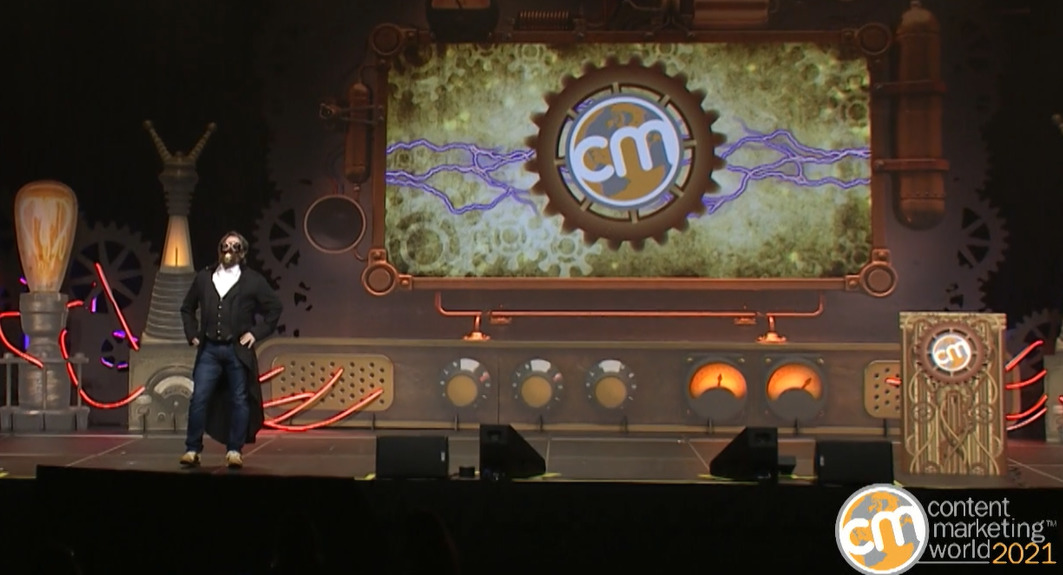 Evolution was the concept underpinning his presentation. Not only did we, as humans, adapt, but our approaches to content marketing evolved. Suddenly, the demand for content skyrocketed across the industry, and over the past year, we've seen many businesses launch brand new content studios and ambitious content initiatives.
But at the same time, organizations have adopted more sensitivity to the type and amount of content they produce, because audiences are suffering from "content fatigue." Since people are online all day, every day, they've grown tired of seeing their feeds and inboxes bombarded by content, so marketing needs to evolve in kind.
Robert set the stage for the entire conference with his presentation, and his message was focused on hope. Yes, the industry is booming, but there are still challenges ahead, and we need to prepare for the next storm. The key to doing so is to build a content strategy that can change and adapt — that can evolve and grow, no matter what gets thrown at it.
Focus on the Emotional Journey
Next up was Jill Grozalsky Roberson, Product Marketing Director, Experience Platform at Sitecore. She continued the thread of content fatigue, citing that:
These are worrying statistics — how can digital marketers make a connection with an audience that's disengaging from their efforts? The key, according to Jill, is in finding a balance between providing thoughtful content and not overwhelming the audience.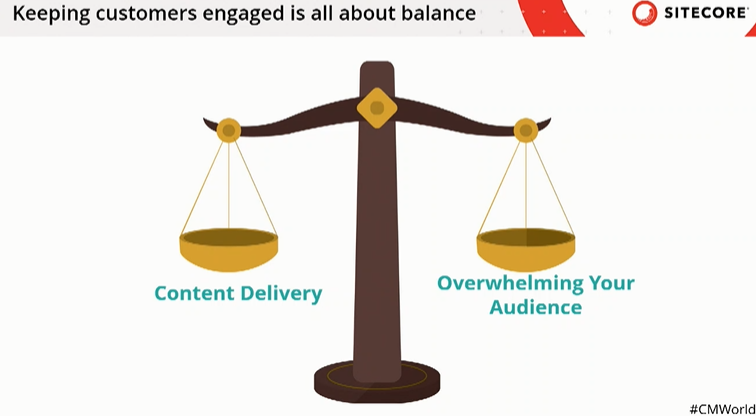 To achieve this balance, you need to tap into emotions to make a good first impression. Positive, emotional brand associations result in more loyal, trusting customers with a higher lifetime value. While it may seem simple to achieve this on the surface, it's easier said than done. But Jill had a few pointers to guide marketers in the right direction, including:
Don't do all the talking. Listen to your customers, and don't make assumptions.

Watch your tone. Connections are based on evoking different emotions, but make sure you are using the right emotions.

"Dress" for success. In other words, use the right technology and platforms to reach your audience.

Treat them like they're your one and only. Know who they are, personalize the experience and deliver the right content at the right time.
Customers must feel to convert. Learn about your customers and figure out their emotional journey. By focusing on that journey and using these tips, you develop and deliver content that truly connects and builds relationships with your audience.
The Art of Storytelling
Ann Handley, Chief Content Officer at MarketingProfs, is a master storyteller. When she joined the stage, she brought with her an energy that lit up the room, which reflected what her presentation focused on: How do you sell something with enthusiasm, even when you're not the perfect buyer for it?
Corporate-centric messaging tends to default to product-centric marketing. While your organization may have an excellent product, it doesn't belong at the center of your story. Instead, your brand story should put the customer at the heart of everything.
Ann acknowledged that this isn't always easy to do, but she had a solution: "Rudolph the Red-Nosed Reindeer." That might seem out of left field, but Ann explained that she believed the creator of Rudolph, Robert L. May, may have been the world's first content marketing hero.
An aspiring writer turned marketer, Robert May was tasked by his boss at Montgomery Ward in 1939 to develop a story that would inspire people to shop there. While it was a difficult task, Robert May succeeded in doing exactly that and more — he created an iconic Christmas character and story that's still appreciated to this day.
What can we, as marketers, learn from this story? Ann's advice is to use the Rudolph framework. It's an excellent example that can be used to highlight the need for storytelling in your organization. Here's a look at the framework, as broken down by Ann: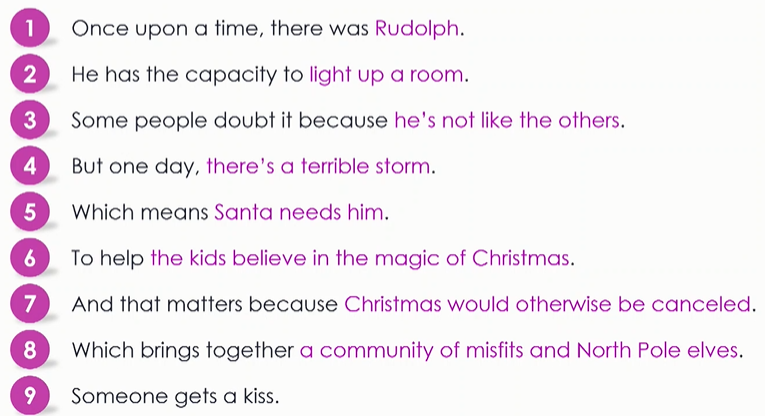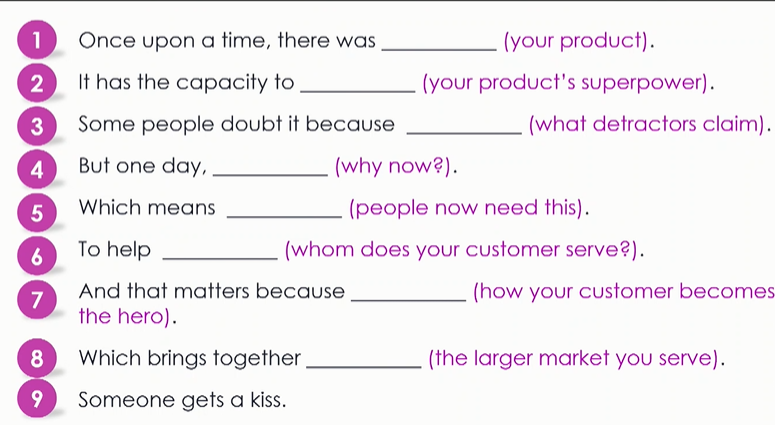 Use this framework for your own brand as a creative exercise, and compare it to how you currently develop and position your content. Are you putting your audience, rather than your product, at the heart of your story? If not, it may be time to rethink things.
Remember Ann's wise words: Stories add context, and context adds value. Invite your audience to be part of your narrative.
Radical Relevance: The Right Message, Messenger and Modality
Jay Baer, founder of Convince & Convert, hosted the final keynote session, and it was a perfect summation of all the themes we've talked about so far. He started by discussing how the pandemic created a lot of winners and losers, touched on how marketers worldwide have changed their content strategies and emphasized creating even more content, and noted that content fatigue is real and damaging to marketers' efforts.
With this in mind, he created an analogy of a castle and moat. The customer has built a castle and defended it with a moat to protect themselves from unwanted content and marketing messages.
If you know anything about castles with moats, then you understand it's nearly impossible to siege a moated castle. If you manage to get past the moat somehow and approach the castle with ladders, the defenders can merely push your ladders away, leaving you stranded as they pelt you from above.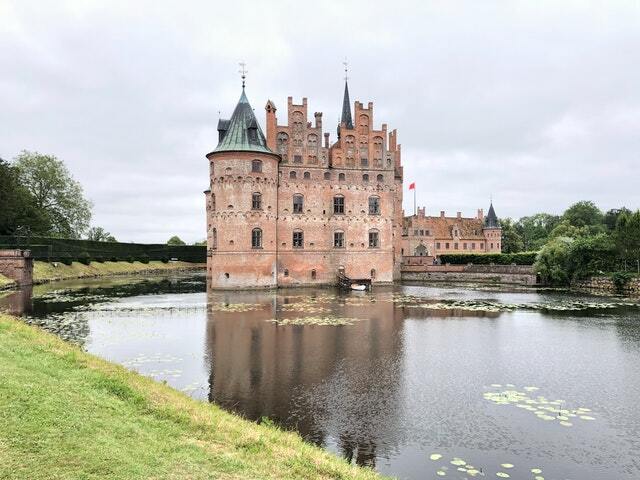 Photo by Bruna Noronha from Pexels.
So how can you gain access to the stronghold? The drawbridge, of course.
Every castle must have a drawbridge to let people in and out, and the key to crossing that bridge is getting invited in by the customer. For marketers, Jay pointed to three drawbridges they can use to build trust with customers:
Deliver the right message. Going too narrow or too broad with your messaging will hinder the effectiveness of your content. Instead, you need to think about how your content can be radically relevant to your customer. No one likes getting information that isn't tailored to their needs, so make sure you are delivering a customized message that will resonate with your customer and address their specific circumstances.

Select the right messenger. Can your customers see themselves in your content messaging, or is everything from "the brand"? Customers tend to trust others who have been in their shoes, whether they're friends or influencers, more so than a message from a vague entity like a brand. Think about how you can tell stories from the perspective of your customer, and you'll find a messenger that can safely make it across the drawbridge.

Pick the right modality. People want different things based on where they are in making a decision. As such, you should identify what type of content you need for someone at a certain step in the journey, but it doesn't have to be the last or only content item for that stop in the journey. You should develop a content ecosystem that allows customers to fully self-educate using the modalities they prefer.
While you may not be able to storm a moated castle head-on, you can get invited inside across the drawbridge. To do so, seek ways to be radically relevant to your customer through the right message, messenger and modality.
CMWorld 2021 and its keynote presentations demonstrated that the industry has evolved over the past year. Content marketing has become more mature, more thoughtful and more resilient. As we move forward, keep these key takeaways and broad themes in mind, and imbue your marketing plans with them. By doing so, you can craft a brand message that will not only capture your audience's attention but resonate with them in the year ahead and beyond.
Curious to learn more about the latest trends and best practices in marketing? Check out The Content Standard, Skyword's guide to leveling up your marketing prowess.
Featured image attribution: Photo by Daria Shevtsova from Pexels.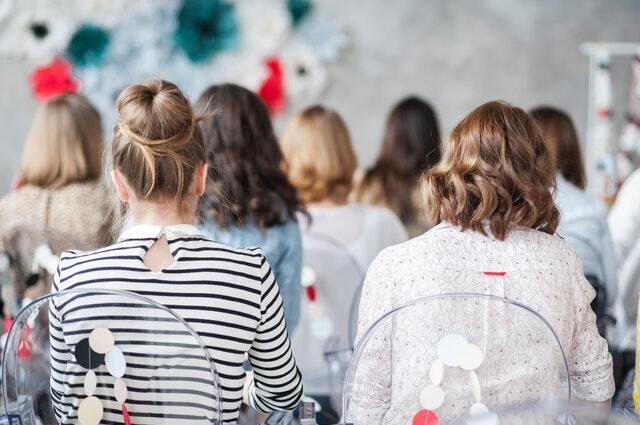 https://www.skyword.com/contentstandard/key-takeaways-from-content-marketing-world-2021/
https://www.skyword.com/contentstandard/key-takeaways-from-content-marketing-world-2021/
Jacob Roundy