Content Creation
Winning at Search: The Rising Importance of Having Diverse Content Types
By Erik Mathes on March 9, 2022
As Google's algorithm changes, so do the strategies of SEOs, content creators, and marketers vying for the precious digital real estate that comprises its SERPs. For the search engine's 23-plus years of existence, written content has been its bread and butter, historically making up the majority of initial query results one sees. Yet as the online behemoth's algorithm gets better at understanding search intent, its machine learning technology is moving beyond merely "reading" blog posts, web copy, articles, and transcripts and is now beginning to gain a similar level of proficiency at decoding other content types by "watching" videos, "listening to" podcasts, and "viewing" images.
Let's take a look at where Google's search capabilities are heading in the near, mid, and distant future after a flurry of activity in 2021 and how savvy SEO content strategists can continue winning in search as the most influential search engine's algorithm evolves.
2021: A Massive Leap in Language Processing Within Google Search
Last year saw major shakeups in the Googleverse as the company rolled out a trio of SEO industry-rattling core updates on top of numerous updates across product reviews, spam and link spam, page experience, local, and more. While the official count for updates has yet to be made public, the company initiated 4,500 updates to search in 2020, with experts expecting 2021's total count to have exceeded that.
The most significant update is Google's Multitask Unified Model, or MUM, a groundbreaking machine learning model that allows it to process information and train in 75 languages simultaneously. And we're not just talking text, either: MUM can understand and contextualize across 75 languages in videos and podcasts and even glean data and context from static images. MUM technology will eventually enable Google to become more of an "answer engine" than a traditional "search engine." It will be able to respond more conversationally as opposed to simply providing a series of (hopefully) relevant links.
The 2019 BERT update was a sign that Google was headed in a multilingual direction, and just two years later, the company is saying that MUM is "1,000 times more powerful" than its predecessor. In fact, it has already wowed the tech world by identifying 800 variations of COVID-19 vaccine names in more than 50 languages "in a matter of seconds," and we can only expect more of these remarkable applications to come from it.
What the Future Holds for Marketers Now That MUM Is Here
When it comes to specifics on MUM's impact in the short, medium, and long term, mum's the word from Pandu Nayak, VP of Search at Google, and his cohort. "We have tens of teams that are experimenting with MUM right now. Many of them are finding great utility in what they're seeing here," Nayak told Search Engine Land without providing details on timelines or implementation.
Still, one can expect that, in the near term, we'll find MUM's language processing capabilities offering richer search results containing high-quality content from other countries that's been translated by Google into users' spoken languages, especially where there is a dearth of information on certain topics in a region's native tongue.
MUM will start to essentially bridge the gap in content across countries and cultures, making it so high-quality content can rank for certain keywords regardless of the language (and, down the road, the media format) it was published in. For places with limited access to content on certain subjects, MUM will help expand the knowledge base for those seeking information that could previously not be found.
In the middle term, Nayak alluded to multimodality being the next big thing with MUM. Users will find richer knowledge graphs providing a variety of content formats instead of just written words, from images to videos and podcasts. Moreover, searchers will begin to see more timestamped results for both videos and podcasts, taking them to the exact point in a recording where they'll discover the answers they're seeking.
You can see an example of early-phase MUM in action by searching for a term like "gua sha," which serves up a product image carousel, definition results, a knowledge box, a time-stamped video on gua sha practices further down the SERP, and even local results for gua sha practitioners on a map. Down the road, Nayak and team envision a Google where users can upload images and ask questions related to those images, seamlessly connecting the graphic and text with relevant results.
While we're far from there, these insider visions are all strong indicators that, in the future, the variety of content you create, as well as the quality of that content, will have a heavy impact on both your search rankings and your marketing team's ability to connect with their audience and meet their needs.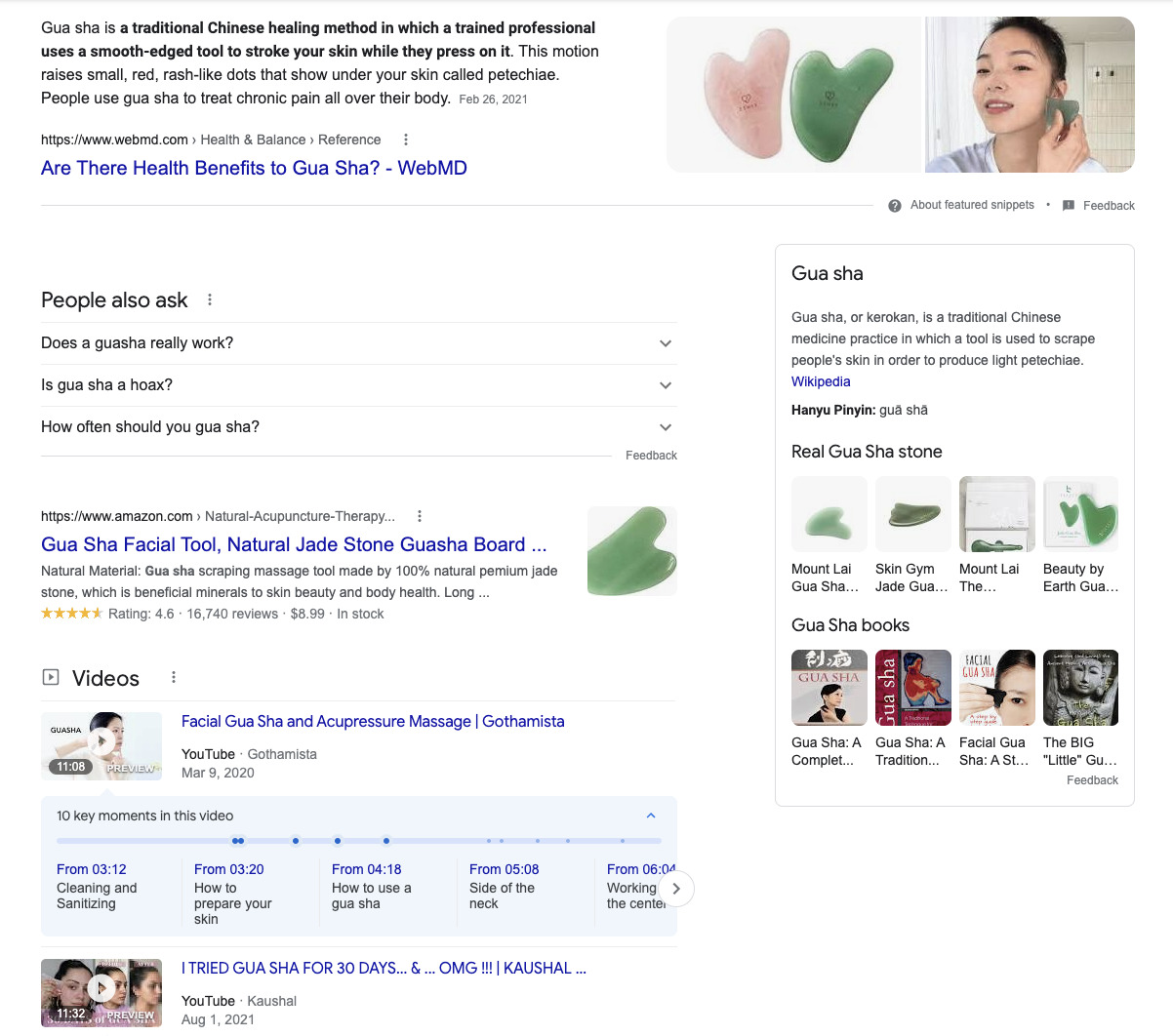 Image attribution: Google Search.
What Does It All Mean?
With Google aiming to become just as good at parsing the information from videos and podcasts without transcripts, as well as from images, we can expect purely written content to gradually lose its foothold as the dominant influencer in search rankings. Brands that have not expanded into other types of content may find their search visibility suffers as a result. More competition from other content formats will force marketers to aim for higher quality and more diversity in publishing formats to succeed in SEO, with companies that rely strictly on quantity losing out.
At Skyword, we believe that covering a topic in depth across multiple mediums will prepare clients to win. As our VP of Professional Services, Heather Pidgeon, said, "Brands need to get beyond keywords and focus on understanding and analyzing audience intent. At the same time, they will need a diverse, well-thought-out, and interconnected content ecosystem in order to win in search in the future." Planning and organizing a multimedia content calendar has never been more important.
How to Stay Ahead in Search in a Post-MUM World
With MUM just starting to make its mark on the Google search landscape, it's vital to assess, adjust, and prepare your current content strategy for a future in which all content types can reign supreme. Here are some recommendations that will help you benefit from the shift resulting from MUM's release and stay at the top of the SERPs.
Assess Your Content Mix
Is your content too focused on one format? If you've only got a blog or resources page devoted to text, consider bulking up your marketing team with a video producer, professional photographers, on-camera personality, podcasters, and voiceover artists to add a wider variety of content types to your mix and help build brand authority.
Learn How to Properly Markup Content
Get familiar with Schema.org markup to help communicate to Google exactly what your content is about. Optimize videos, podcasts, and images with the right markup tags to give your content the greatest chance of being awarded by Google's algorithm, now that it is starting to give other types of content equal weight to text.
Develop Content Testing and Repurposing Strategies
Content that exists in one form can typically be translated to another with ease. Consider taking your best blog posts and turning them into videos or podcast episodes, and start to maximize the mix of assets you create on each topic. If you have a podcast, consider recording it on video, as well, and then upload it to YouTube and your preferred social media channels.
Test, iterate, and evolve your content strategy and distribution channels as you continue to publish, analyze results, and learn from your successes and failures to discover what best resonates with your audience.
Timestamp Your Videos and Podcasts
Take advantage of timestamping videos and podcasts. This can help you benefit from an extra layer of SEO since it allows you to input strong keywords into each chapter or section of a recording and lets Google know these specific moments in your content are highly pertinent to certain queries. The companies that take this extra step will find that timestamped content will become a quality lead source over time.
Mine Feedback for Content Gaps
Take time to listen to questions, comments, and general feedback from your audience across your social media, webinars, videos, and any other channels to uncover what would be most helpful to them. Identify content gaps, including specific areas where more depth is needed to round out your content mix.
And, finally, always keep your eyes and ears open to discover new ways to help the people you serve and those within your team by creating impeccable content. By doing so, you can stay one step ahead of these updates and remain relevant to your audience for the short and long term.
Want to learn more? Check out 6 Effective Content Types and How to Use Them in Your Content Marketing, and subscribe to our monthly newsletter for more insight like this.
Featured image attribution: Mitchell Luo on Unsplash.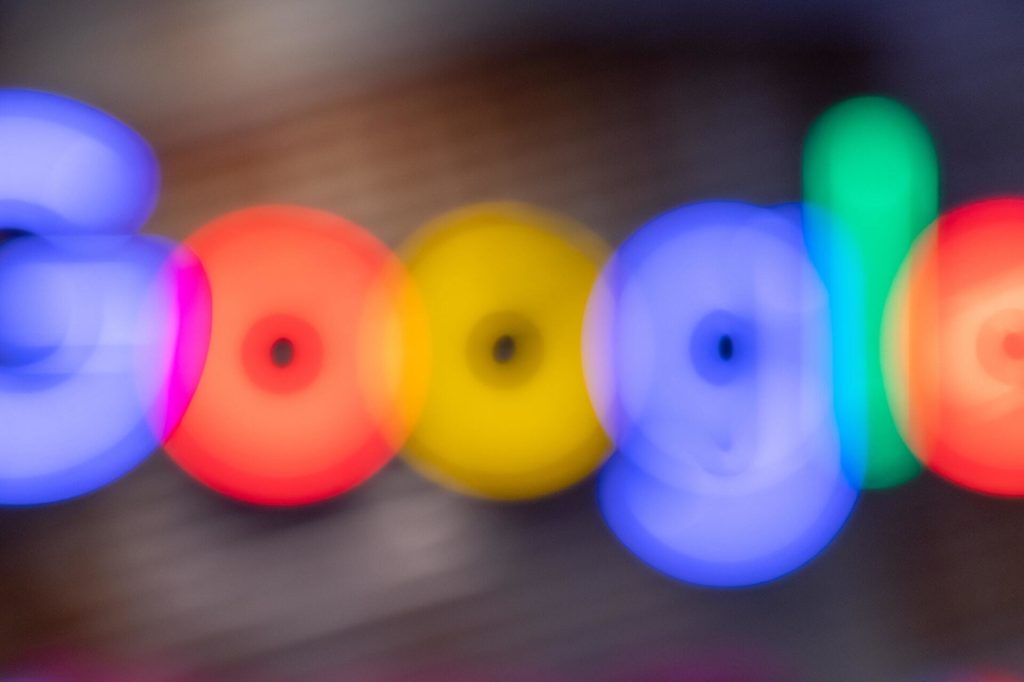 https://www.skyword.com/contentstandard/the-rising-importance-of-having-diverse-content-types-to-win-at-search/
https://www.skyword.com/contentstandard/the-rising-importance-of-having-diverse-content-types-to-win-at-search/
Erik Mathes