Content Strategy
The Ultimate Marketing Analytics Checklist: How to Get the Most Out of Your Data
By Bernie Smigel on July 29, 2020
Pie charts. Bounce rates. Line graphs that look like ski trail maps. They're enough to make even the most sophisticated marketer's head spin. The value of marketing analytics is no secret, but even if you've set up Google Analytics to track every click, bounce, and loop the loop on your website, what should you do with all that information?
Let's break it down with an analogy. Think of marketing as having three major muscle groups: wisdom, intimacy, and operations. Just like in a balanced workout regimen, each of these muscle groups—or in this case, content components—needs proper attention because they depend on each other for support. When you use data to inform and improve your performance in all three of these areas, your content marketing becomes much stronger and much more successful.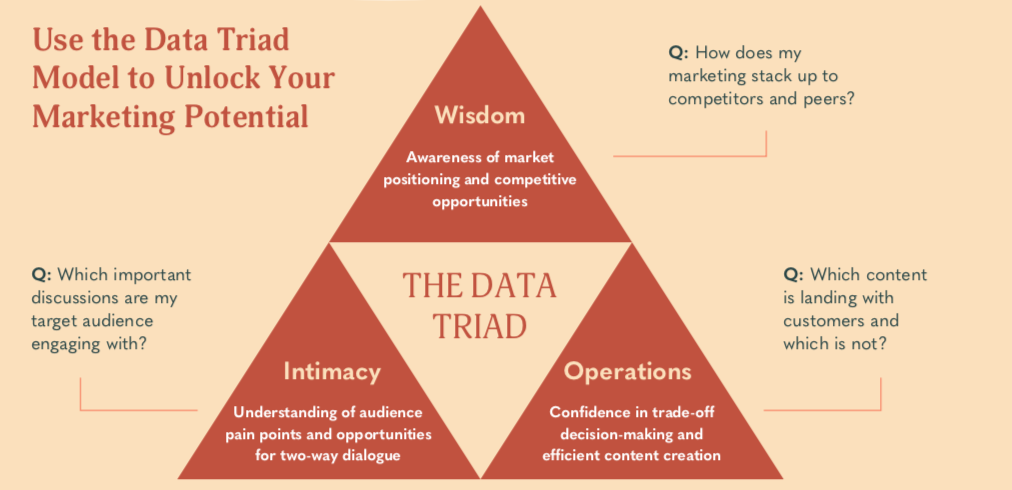 So where do you begin? While sifting through your marketing analytics, you'll want to stay laser-focused on the data surrounding wisdom, intimacy, and operations—the components laid out in Skyword's Data Triad shown above. This checklist of questions can help you get more value from your analytics, uncover golden data points to fuel your next winning marketing campaign, and ultimately flourish in these three content areas.
1. Wisdom
The wisdom group is all about understanding your company's position in the market and finding new competitive opportunities. It's the information you typically want to gain from a data report, such as how your business is performing relative to your competitors, where you can get the most bang for your buck in terms of ROI, and how your company can push ahead of the pack.
As you seek to become wiser regarding your brand's market positioning, keep one eye on your industry or competitor standards and another on your various topic areas and channels. You should be able to see where you're soaring in order to capitalize and where you have weak spots that need some TLC.
Checklist for Wisdom:
How does our marketing stack up to that of our competitors and peers?

What is our level of visibility and authority within our competitive space?

Who are we competing with in the topic areas we want to own?

Which topics and channels do we have the opportunity to lead in now?

How is our industry evolving, and what trends should we be prepared for?

How are our customers' behaviors evolving, and what shifts can we expect?

What benchmarks should we use to measure our performance?
2. Intimacy
While wisdom is a look at your business and related environmental factors, the intimacy group focuses on interactions. It's the measure of how well your brand is connecting to your audience. Naturally, you'll want to know if your content is giving you those all-important conversions, but the insights don't stop there. Data also helps you understand how your audience is engaging with your content and if your brand's talking about the right things to pique their interest.
Think about your core readers or website visitors (refer to your buyer personas) as you go through your data. Consider how they feel when they encounter your content and while they process it. They're likely engaging with certain topic areas more than others. Having a clear understanding of these intimacy elements allows you to better understand your audience and more precisely address their pain points with quality content.
Checklist for Intimacy:
Which important discussions are my target audience engaging with right now?

What is the audience sentiment surrounding our brand and products?

What are our audience's needs and challenges related to our industry and solutions?

Which content types are preferable to our audience?

Which channels are the most popular with our audience, and which assets drive the most engagement on each channel?

Are certain segments of our audience engaging more with content than others?

Which influencers should we engage to increase our industry reach?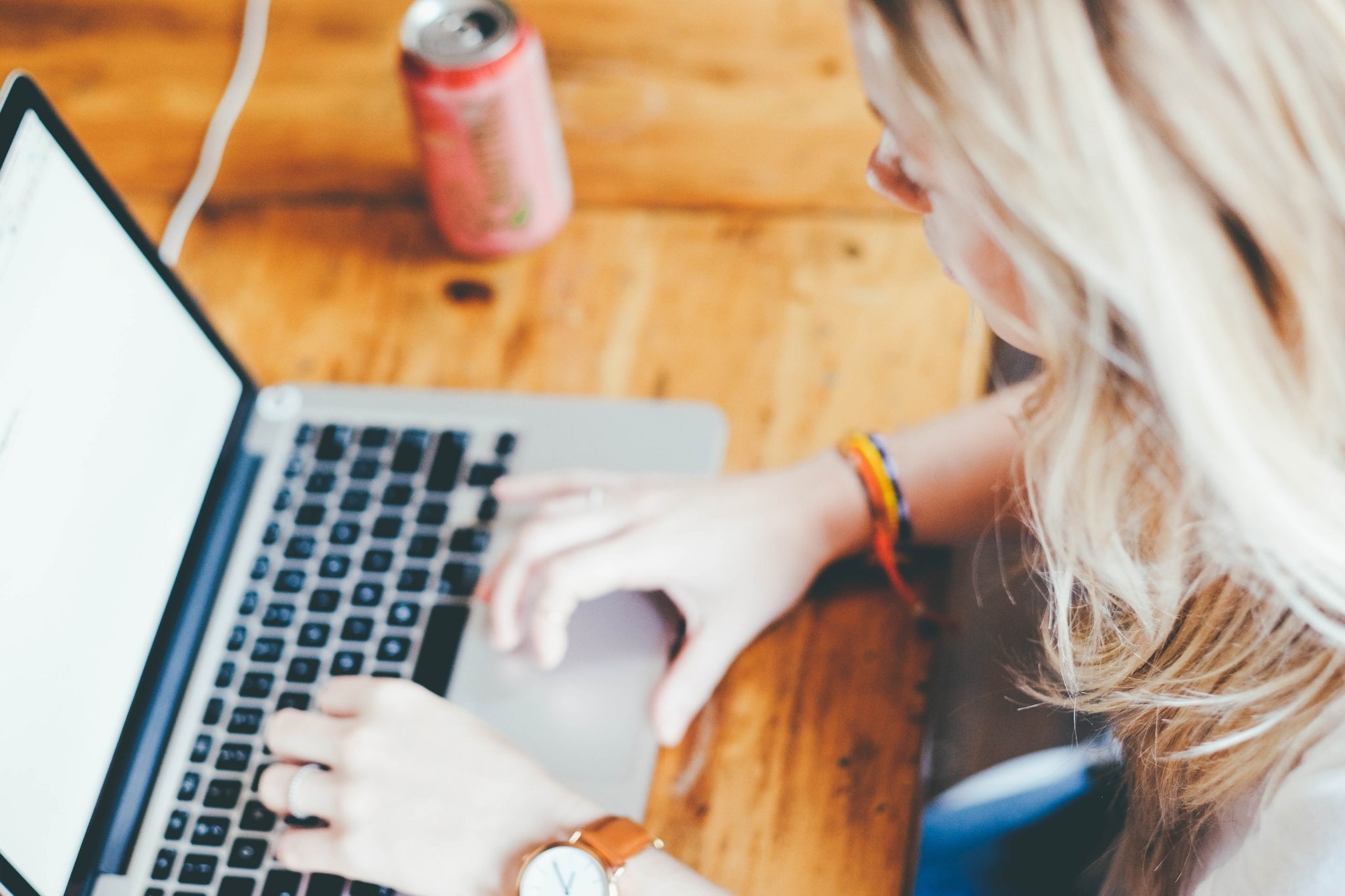 Photo attribution: Photo Mix on Pixabay.

3. Operations
A surge in sales isn't the only way to boost profits. Implementing a more efficient content creation operation can also boost your bottom line. Combing through your marketing analytics is one of the best ways to find opportunities to improve efficiencies.
Start by comparing all of your channels and content types. You may be proud of your blog posts and infographics, but if your videos are leading to more assisted conversions, they may be the medium your team will want to focus on—at least for now. Metrics in this area can spark important conversations about content creation priorities, such as if it's beneficial to create enhanced assets or if producing traditional content will generate more ROI.
Checklist for Operations:
Which content is landing with users and which is not?

Which distribution channels should be prioritized over others?

Which content types should we create more of/less of?

Where is our content marketing most effective and least effective in the audience journey?

How effective is our paid strategy compared to competitors and peers?

What is the ROI of a content marketing dollar compared to budget spent on other marketing initiatives?
Take these questions along as you perform your next deep dive into performance data. Additionally, by understanding these three marketing muscle groups, and knowing the looming mysteries that your marketing analytics have the potential to solve, you'll have a much sharper eye for data analysis and those charts, graphs, and big numbers will all start to be a lot more fun.
See how your business can use data to soar to new heights with our free whitepaper, Secrets to Raising Your Data IQ.
Featured image by Ioannis Ritos on Pexels.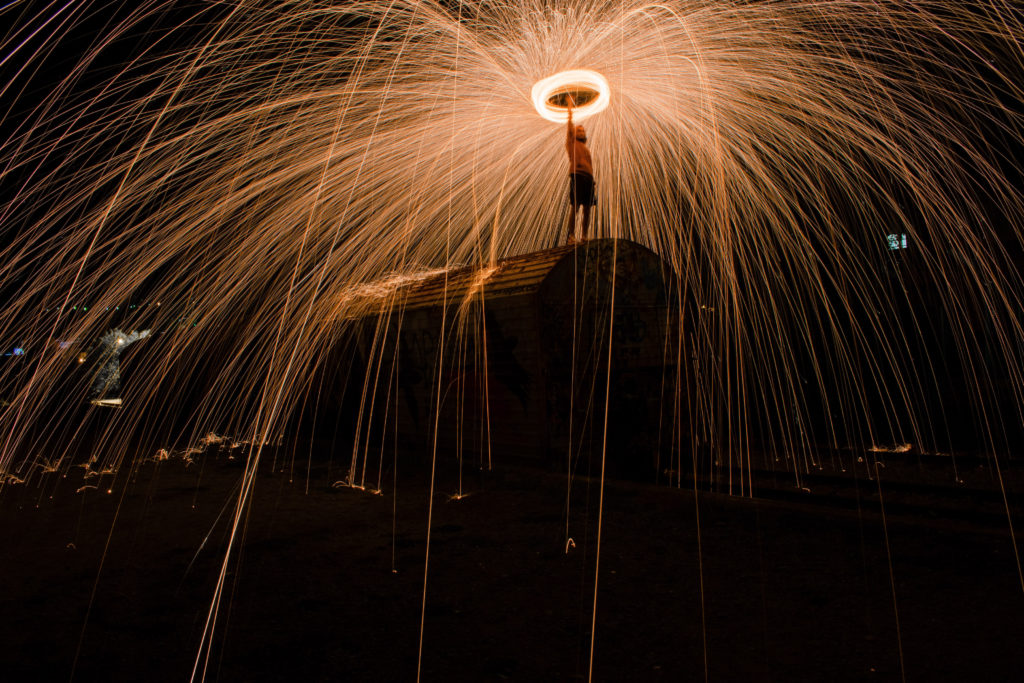 https://www.skyword.com/contentstandard/the-ultimate-marketing-analytics-checklist-how-to-get-the-most-out-of-your-data/
https://www.skyword.com/contentstandard/the-ultimate-marketing-analytics-checklist-how-to-get-the-most-out-of-your-data/
Bernie Smigel